Amaryllis Fox: Meet the Former CIA Agent Host of 'The Business of Drugs'
Amaryllis Fox is a former CIA agent used to working undercover in dangerous locations like Karachi and Myanmar. However, her new role is as the host of The Business of Drugs, Netflix's new documentary series.
Prior to hosting the series, the first six episodes of which are streaming now on Netflix, she spent a decade working for the CIA, after joining the spy agency at 22. In college, she created an algorithm that revealed likely terrorist safe havens, which secured her a job.
For most of this time, she worked under what is called "nonofficial cover," living abroad under a false identity and without an official passport of diplomatic protections. During this time, she was pretending to be an art dealer, when in reality she was recruiting arms dealers as assets and trying to persuade people out of detonating bombs, as per an interview Fox did with the New York Times when her book was released in October 2019.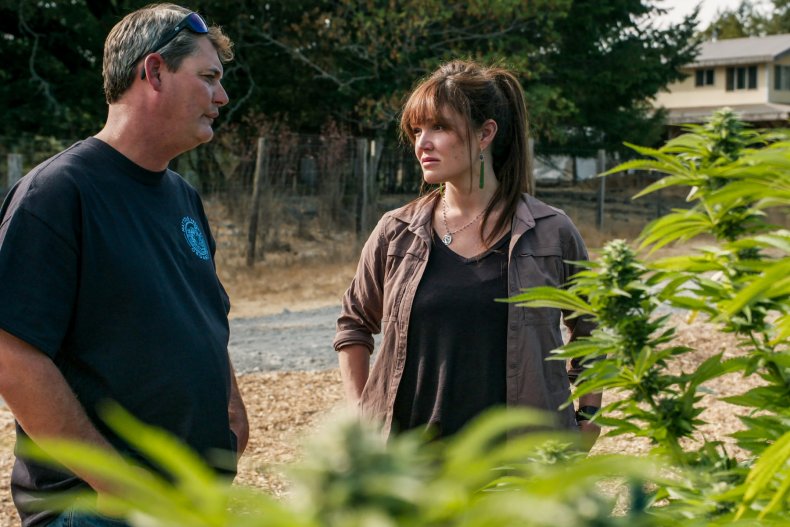 While her first husband was a civilian, her second was a fellow CIA agent, with whom she went undercover with as an art entrepreneur in Shanghai, during that time, those two spies were themselves spied on by the Chinese, with their housekeeper informing on them. In her book, she revealed that they were briefed by the CIA to have sex "regularly, but not too regularly, keep it hot but not too hot."
If this all sounds to you like great material for a TV show, then you are on the same page as Apple TV+, who has ordered a show based on her book Life Undercover, expected to star Brie Larson as Fox.
Since leaving the CIA in 2010, Fox has remarried. Her new husband is Robert F. Kennedy III, the son of Robert Kennedy Jr. Fox's father-in-law has his own experiences of the business of drugs—he was charged with heroin possession in 1983, after which he entered a drug treatment program.
Fox and Kennedy, who met via a friend at Burning Man festival, have a daughter named Bobcat, while Fox has another daughter named Zoe from her previous husband. She was pregnant with the latter, she revealed to the New York Times, while traveling to Kenya, Thailand and the other locations she visits in The Business of Drugs. "I did the whole thing in my third trimester," she told the newspaper.
The documentary, which Fox worked on with Anthony Bourdain's Parts Unknown producers Zero Point Zero, makes an argument that the current "war of drugs" has only made the drug business worse, and that new policies are needed to tackle the issue. She told The Guardian: "We think that we can go in and stop it at the point of supply, but as long as that demand continues, the reward is high enough that the economic reality is that this is going to continue."
The Business of Drugs is streaming now on Netflix.