Amazing NFL Records Set Through Week 9 of the 2020 Season
The 2020 NFL season has been a strange one. Though there have been a barrage of record-setting performances for a nine-week stretch, and probably more to come, the season will likely be remembered for very few fans, no preseason and a whirlwind of offseason moves.
However, the productivity on the field through the first nine weeks has been eye-popping. Looking at history, no other season compares to 2020, with exception of a couple of rookie categories, where more key newcomers played pivotal roles in the 1987 "scab" season, in which replacement players were used during a strike.
Here are some of the extraordinary numbers posted by NFL teams and players so far in 2020:
6,737 Points
Most combined points through nine weeks in NFL history. The Kansas City Chiefs lead the league with 286 points at this point.
778 Touchdowns
That's the most total combined touchdowns in the first nine weeks since the AFL-NFL merger in 1970.
745 Offensive Touchdowns
This is the most offensive production through the first nine week of any season. The 2020 leaders are: Seattle Seahawks (36), Kansas City Chiefs (32) and Green Bay Packers (30).
95.1 Passer Rating
Highest through nine weeks in history.
65.8 Completion Percentage
Highest through nine weeks of any season.
50.7 Points Per Game
This is the highest average points per game between two teams through the first nine weeks. In addition, there are four teams still averaging more than 30 points a game, another record through nine games. Those teams are the Seattle Seahawks (34.3), Kansas City Chiefs (31.8), Green Bay Packers (31.6) and New Orleans Saints (30.5).
13-Point Deficits or Greater
2020 is only the second season in history where there have been comebacks of 13 points or greater in every week through the first nine weeks of the season.
13,046 Scrimmage Yards by Rookies
This year's crop of rookies has piled up more scrimmage yards than any class in history, barring the aforementioned 1987 season.
89 Scrimmage TDs by Rookies
Second only to the the 1987 season.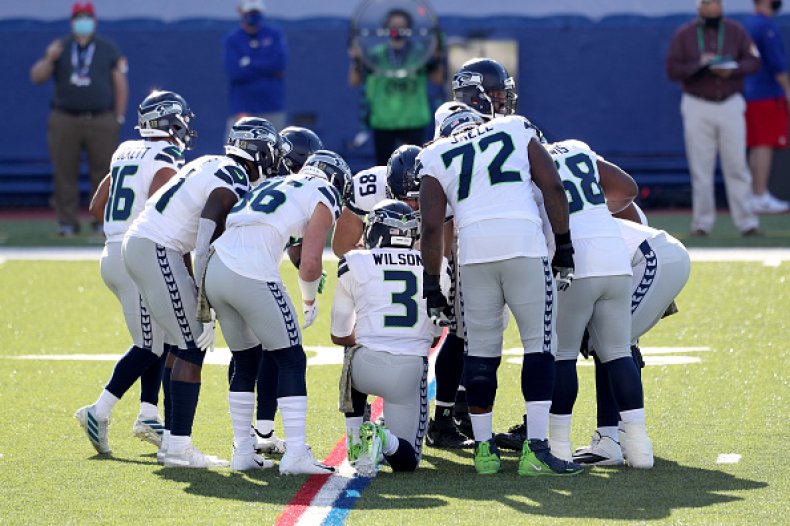 There are some records not quite reached in 2020, but these are some that are within striking distance through nine weeks:
472 TD Passes
Second-most through nine weeks in history.
6,182 Total Completions
Second-most combined completed passes through nine weeks in recorded NFL history.
29 Comeback Wins After Trailing by 10-Plus
This is the second-most in NFL history through the first nine weeks. There have been a total of 37 games—4.1 per week by now—in which an NFL team has come from behind to lead or tie a game after trailing in the fourth quarter this season.
Stats compiled by the National Football League