Amazon Advertises 'Let's Go Brandon' Items After Walmart Takes Down Listings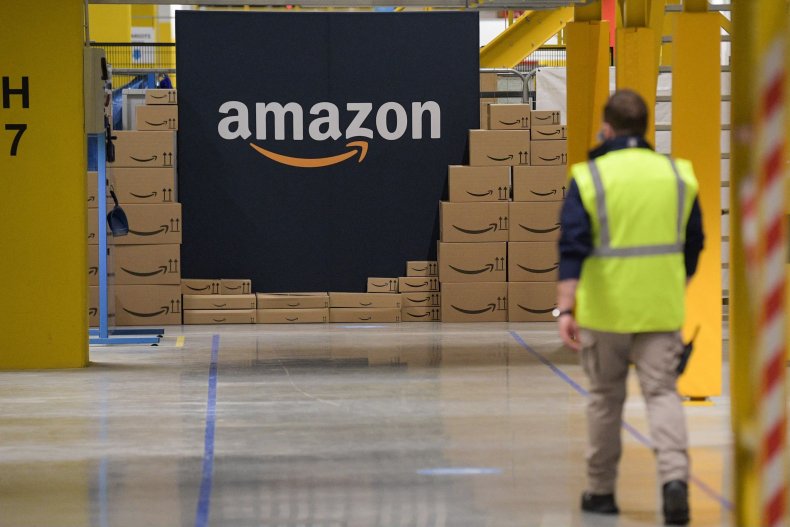 Amazon was advertising a bevy of "Let's Go Brandon" products on Thanksgiving after Walmart removed controversial listings for the anti-President Joe Biden merchandise.
Walmart earlier this week removed multiple third-party online listings bearing the phrase, which has recently become a popular way for some supporters of former President Donald Trump to bash Biden while avoiding the direct use of a swear word. Prior to being removed from the Walmart Marketplace, items being offered on the platform by U.S.-based apparel company Wild Bobby included shirts featuring the right-wing slogan alongside American flags and seasonal phrases like "Merry Christmas," according to Insider.
On Thursday, one of the first results of a Google search for "Let's Go Brandon Walmart" was an Amazon ad urging people to "Shop Let's Go Brandon: Amazon" while noting that free two-day Amazon Prime shipping was available. Clicking on the link revealed an Amazon page that included "Let's Go Brandon" T-shirts, sweatshirts, socks, mugs, hats, stickers, bracelets, Christmas ornaments and at least one holiday-themed faux sweater featuring a festive image of Trump alongside the phrase. The page noted that "over 10,000" products related to the phrase were available.

A search on Amazon also revealed that the company was also selling merchandise that includes that acronym "FJB," as well as items that openly display the explicit phrases "F**k Joe Biden" or "F**k Biden." At least one flag bearing the phrase "F**k Joe Biden and F**k You For Voting For Him" was being offered with a 5 percent off coupon and had over 700 positive reviews dating back to the day after the January 6 attack on the U.S. Capitol.
A review of the flag posted on January 7 remarks, "This will look beautiful flying on my truck during the inauguration of a illegitimate president." Other reviews complained that the intentionally offensive phrase was printed on only one side of the flag and that the company making the flag was based in China.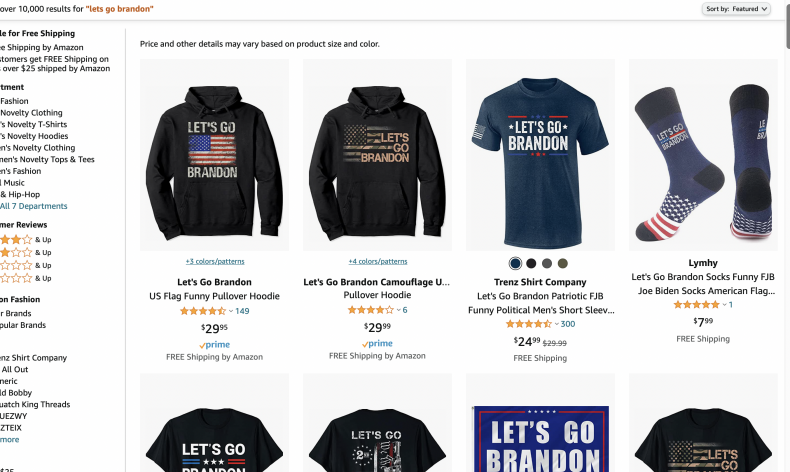 Newsweek reached out to Amazon for comment.
"Let's Go Brandon" entered the U.S. conservative vernacular in early October after a reporter misinterpreted a crowd chanting "F**k Joe Biden" as a phrase of encouragement for NASCAR driver Brandon Brown. It has become a popular anti-Biden epithet among Trump enthusiasts since then, with sitting Republican members of Congress wearing associated items or repeating the phrase at the Capitol and the former president's campaign team selling "Let's Go Brandon" T-shirts in exchange for donations.
A Walmart spokesman stressed to Insider that the anti-Biden items were being sold by "outside third-party sellers" and had been taken down "because they do not comply with our policies." A search for "Let's Go Brandon" on the Walmart website did not return any results that featured the phrase on Thursday.
Although over 10,000 items are being offered on Amazon, they are also likely all from third-party sellers. The company has been criticized in the past for allowing sellers to offer intentionally offensive politically charged items—clothes bearing the phrase "Joe and the Hoe" were popular before last year's election—as well as for being a platform for third-party price gouging of personal protective equipment and related items during the early months of the COVID-19 pandemic.