Amazon Prime Day: Protesters to Deliver Petition of 270,000 Signatures to Jeff Bezos' Home Calling to Cut Ties with ICE over Raids, Detention Centers
Protests against Amazon are planned in cities across the U.S. and Europe to voice opposition to its labor practices and the help activists say it gives to American authorities to deport immigrants. The protests will coincide with the annual sale known as Prime Day which has netted the company billions of dollars since its inception in 2015.
Activists take exception to how Department of Homeland Security databases, which allow U.S. authorities track down immigrants, are hosted by Amazon Web Services. Amazon is also looking to extend its partnership to host DHS biometric databases that contain other details about people, The Guardian reported.
Activists also say that workers at the company, which is worth more than $1 trillion, face long hours with few bathroom breaks and do not get a living wage.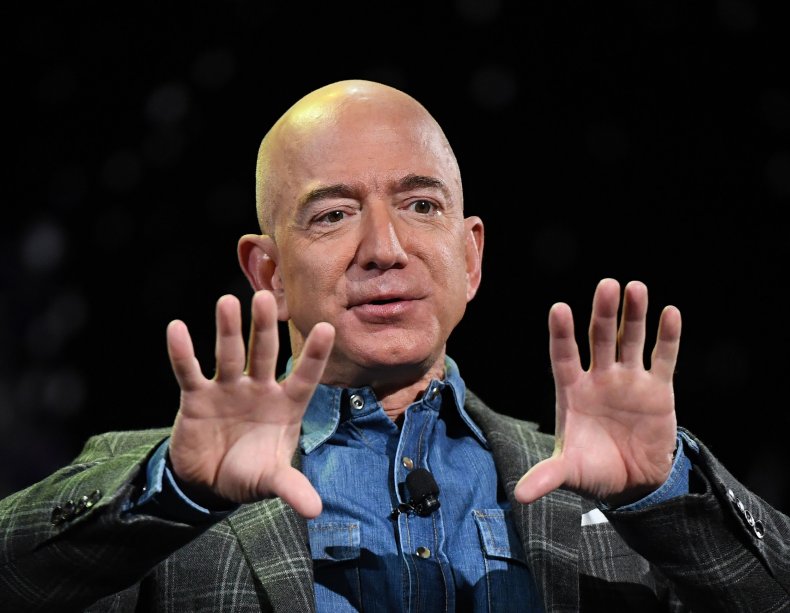 On Monday, protests will take place outside Amazon's offices in San Francisco and Seattle. Warehouse workers in Shakopee, Minnesota, will down tools for several hours as they call for the company to make temporary jobs into full-time jobs, make all benefits available for all employees and to reduce quotas, which they say are unsafe, Z6mag.com reported.
More than 270,000 people have signed a petition to protest against workers' rights and this will be delivered to the Manhattan home of CEO, Jeff Bezos, CBS reported.
Kung Feng, executive director of Jobs with Justice San Francisco said: "We're coming together to say it has to stop, its monopoly power and abuses, and that takes the form of abusing its warehouse workers, which many are immigrant, and sort of abusing the public in terms of using its technology to facilitate the targeting, the detention and the deportation and separation of families."
In a statement to Newsweek, Amazon said there was "clearly a need" for more clarity from governments on what is acceptable use of AI and ramifications for its misuse, "and we've provided a proposed legislative framework for this."
"We remain eager for the government to provide this additional clarity and legislation, and will continue to offer our ideas and specific suggestions," Amazon said.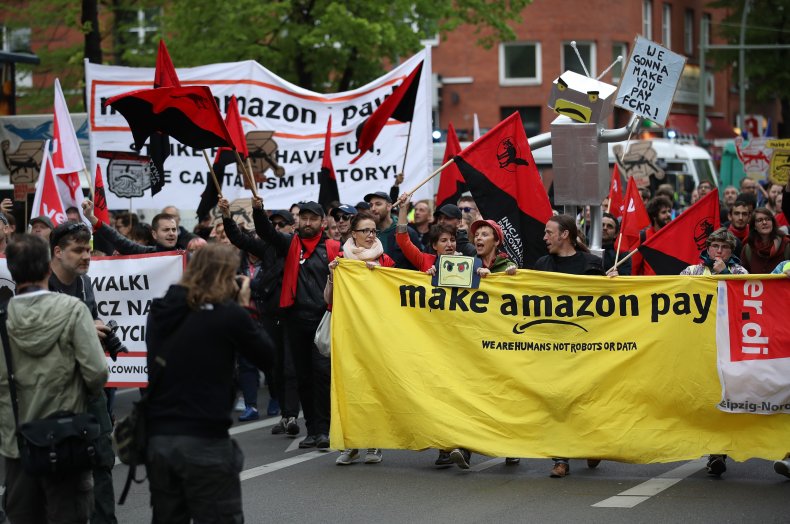 Actions are also planned in Germany and the U.K. Britain's GMB Union has called on workers to protest at Amazon warehouses across the country. "The conditions our members work under at Amazon sites across the UK are appalling," said Mick Rix, GMB National Officer in a press statement.
"Amazon workers want Jeff Bezos to know they are people—not robots. It's time for him to show empathy with the very people that have helped to contribute to his vast and increasing personal fortune," Rix said, according to Yahoo.
In Germany, Amazon workers went on strike late Sunday night with the country's powerful union Verdi saying that action could last two days.
Verdi retail spokesman Orhan Akman said according to Reuters: "While Amazon fuels bargain hunting on Prime Day with hefty discounts, employees are being deprived of a living wage."
In a statement to Newsweek, Amazon said regarding the protests, that the company's critics, including unions, are using Prime Day to raise awareness for their cause, which in this case was increased membership dues.

"These groups are conjuring misinformation to work in their favor, when in fact we already offer the things they purport to be their cause — industry-leading pay, benefits, and a safe workplace for our employee," the spokesman said.
"We can only conclude that the people who plan to attend the events are simply not informed.
"We encourage anyone to book a tour of our fulfilment centers and compare our overall pay, benefits, and workplace environment to other retailers and major employers across the country."
This story has been updated to include statements from Amazon.