Amazon Black Friday Strike in Germany as Amnesty Urges Workers to Unionize
Amazon employees are striking in Germany over pay and working conditions in an effort to disrupt trading over Black Friday.
The strike involves an estimated 2,500 people, the Verdi union said, and is set to last until Saturday, affecting six Amazon distribution facilities across the country.
The walkout is the latest in a string of measures by the union to encourage Amazon to agree to new wage agreements for the more than 16,000 staff it employs in Germany.
It comes as Amazon was urged to respect the rights of its staff as the company enters its busiest trading period in the run up to Christmas, with Amnesty International accusing the online retailer of undermining attempts by workers to form labor unions.
In a report entitled "Amazon, Let Workers Unionize" the rights group said employees' ability to speak out and bargain collectively was under pressure from the retail giant.
Barbora Černušáková, Amnesty International's adviser on economic, social and cultural rights, said it was "alarming" that Amazon had treated attempts to unionize "with such hostility."
She said Amazon workers had risked "their health and lives" to achieve record profits for the company over the pandemic.
"As Amazon approaches its busiest time of year with Black Friday and Christmas, we are urging the company to respect the human rights of its workers and comply with international labour standards, which state clearly that workers have a right to unionize," she said. "Amazon must refrain from breaching its workers' rights to privacy, and stop treating union activity as a threat."
Černušáková claimed the retailer was employing "sinister 'Big Brother'" techniques to monitor employees' attempts to form unions.
Amnesty said Amazon had reintroduced controversial productivity targets last month with workers in the U.K. having reported receiving a text message stating that, "starting 21 October we will resume measuring and delivering productivity performance feedback to ensure we are ready to deliver for customers in the coming weeks."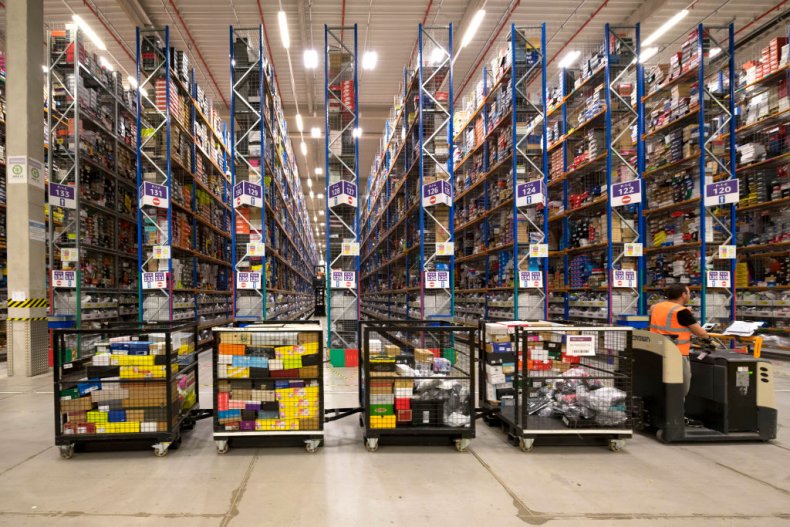 Concern was also raised over the company's policy on hazard pay. Amnesty said that while some increased hazard pay for Amazon employees was introduced in Europe and North America, up by $2 an hour, it was withdrawn in most countries at the end of May 2020 despite the pandemic continuing.
"This festive period comes at the end of a long and difficult year for Amazon workers, who have had to fight for their rights at work in the midst of a pandemic," Černušáková said.
"Amazon is facing increasing scrutiny for its treatment of its workers, and we are urging the company to step up and fully comply with its responsibility to respect workers' rights."
In a statement provided to Newsweek, the retailer said: "Amazon provides some of the most advanced workplaces of their kind in the world, with industry-leading pay, processes and systems to ensure the wellbeing and safety of all employees.
"We respect our employees' right to join, form or not to join a labour union or other lawful organisation of their own selection, without fear of retaliation, intimidation or harassment. Across Amazon, including in our operations facilities, we place enormous value on having daily conversations with each associate and work to make sure direct engagement with our employees is a strong part of our work culture."
In terms of COVID safety measures, Amazon said it had made over 150 "significant process changes" since the start of the COVID-19 pandemic, and invested over $800 million on safety measures including personal protective equipment, enhanced cleaning, staggered and flexible shifts, revisions at workstations, and developing in-house COVID-19 testing capabilities.
As shown in the infographic below from Statista, Americans intend to spend even more this year via online purchases due to the restrictions brought on by the coronavirus pandemic.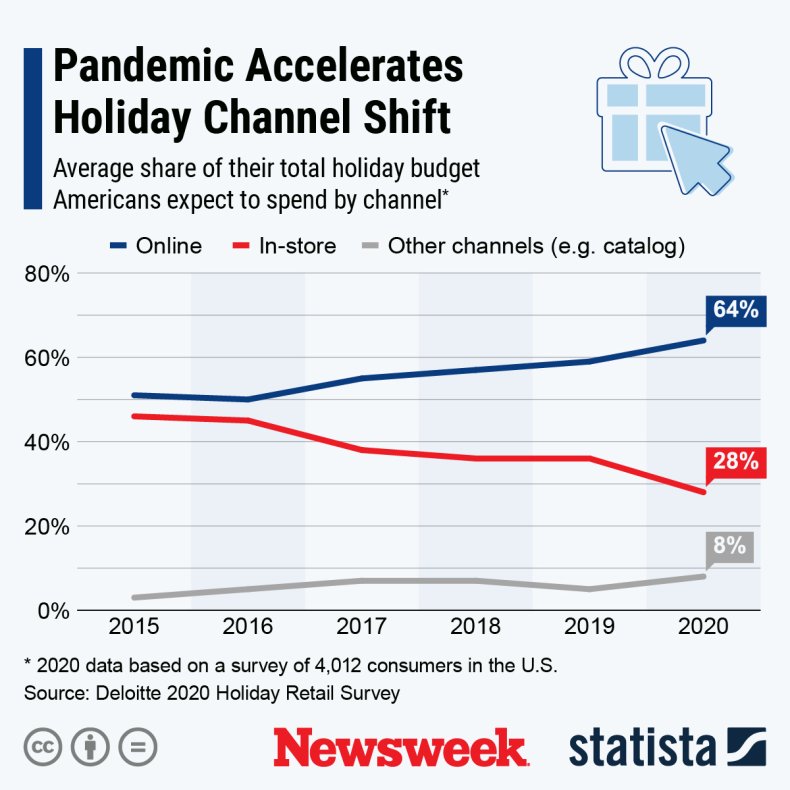 Update 11/27/20, 5:25 a.m. ET: This article was updated to include a statement from Amazon. This article was updated to include an infographic.