'Amazon's Choice' Badge is Exploited by Fake Reviews and Could Mislead Millions of Customers, Researchers Say
A shopping feature on Amazon intended to highlight popular or well-reviewed products is open to abuse and could mislead "millions" of customers, researchers say.
If you have ever browsed products on the website, you may have been influenced by a badge that reads "Amazon's Choice." But experts warn this algorithmically generated label should not be considered an endorsement or sign of quality—despite first appearances.
In fact, new research from consumer advocacy group Which? suggests the label has been applied to products boosted by either incentivised or fake reviews.
A team analysed almost 200 Amazon's Choice products from five product categories and said dozens had suspicious reviews, including comments from users claiming they were offered products or refunds in return for gleaming reviews and taking down criticism.
In one instance, a dash cam product—the Innosinpo Upgraded Dash Cam Car Camera 1080P—had 24 reviews noting the vendor offered a free SD card in exchange for a positive review.
Another item—an ANCwear fitness tracker—had a 4.2 rating, but one reviewer posted an image of a card offering an incentive. "Don't believe the five-star reviews, the watch looks and feels very cheap... only reason it is getting good reviews is the £15 bribe," the person wrote.
In a third example, Which? said a company selling a baby monitor—the Victure 1080P FHD WiFi IP Camera—included a comment from a person claiming an employee asked them to upgrade their previous negative review to a full five stars in exchange for a new camera free-of-charge.
Also of concern to the analysts, the Choice label appeared on products from little-known brands. Some sellers linked to boosted tech products didn't even appear to have websites.
It was found that some item reviews were describing entirely different products, a process known as product merging, that works to give the items more algorithm clout. Which? said a pair of wireless headphones had 2,000 reviews, including some for acne cream and razor blades.
"Amazon risks betraying the trust millions of customers place in the Amazon's Choice badge by allowing its endorsement to be all too easily gamed," said Natalie Hitchins, Which? Head of Home Products and Services, calling for a shake-up in how the site boosts its goods.
"Amazon must ensure its customers aren't being misled about the products it is recommending to them or reconsider whether it should continue with the endorsement in its current form."
Which? said its own research indicated some Amazon customers perceive the 'Choice' badge as only being given to items that have been quality checked or verified by the company. The organization said the feature can directly influence some customer buying decisions.
On its website, Amazon describes the badge not as a firm endorsement, but instead being given to "highly rated, well-priced products" that are "available to dispatch immediately."
But how the algorithms work in reality remains a mystery, Which? said.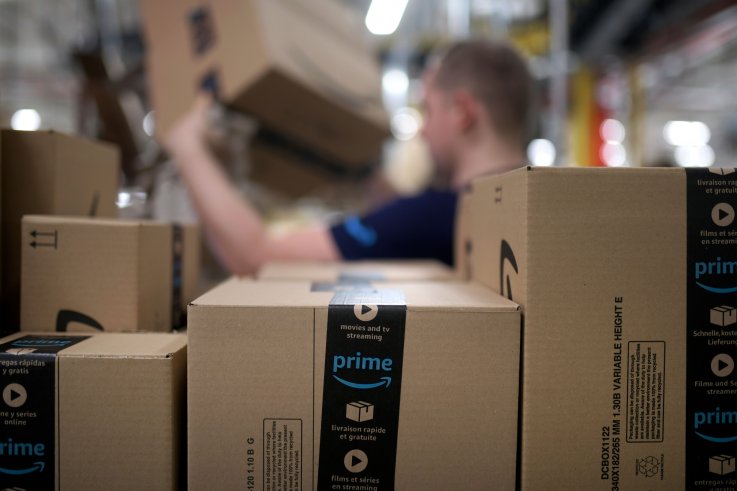 This picture shows an employee at his working place at the distribution center of US online retail giant Amazon in Moenchengladbach, on December 17, 2019.
INA FASSBENDER/AFP/Getty
Newsweek understands Amazon uses various factors before awarding the Choice badge, not only popularity and pricing, but also customer service contacts and return rates.
The firm has suggested that its technology is helped along by human auditors, but the exact process remains unknown.
An Amazon spokesperson told Newsweek via email: "Amazon's Choice is our choice for a product we think customers may like, and customers can always shop for any brand or product that they want to purchase. We know that customer trust is hard to earn and easy to lose, so we strive to protect customer trust in products Amazon's Choice highlights.
"We don't tolerate... policy violations, such as review abuse, incentivized reviews, counterfeits or unsafe products. When deciding to badge a product as Amazon's Choice, we proactively incorporate a number of factors that are designed to protect customers from those policy violations. When we identify a product that may not meet our high bar... we remove the badge."
Amazon confirmed it had removed badges from a number of products that researchers named in the study and took action against some sellers, who were not identified.
A spokesperson for ANCwear, a vendor of one product in the Which? report, said: "Only those who are satisfied with our products and are willing to leave feedback will [get] a coupon."