Amazon Delivering Real Christmas Trees, Sparks Family Tradition Debate About Picking Trees
Amazon began officially selling real, full-size Christmas trees Monday, which allows for six-to-seven foot real trees to be delivered to customer doorways.
Amazon announced it would start shipping its first real Christmas trees November 19 -- including Fraser Firs, Balsam Firs and Black Hills Spruces -- for people in a rush to get their trees up as early as Black Friday. The trees are delivered within three to 7 business days to customers with free Prime shipping and CNET reported that Amazon couriers deliver them in a box wrapped in twine. Amazon told ABC News the trees are supplied by local growers in North Carolina and Michigan.
But many tree farm owners said Amazon can't deliver the traditional experience of going out with one's family to pick out a tree to bring it home together.
"Parents say these are the memories their kids are going to remember," Natalie Sare, the owner of Santa's Tree Farm in Half Moon Bay, California, told ABC News. "Walking through the field, cutting down the tree together and putting it on the car."
"Buying a Christmas tree can be a divine experience," Monday's Good Morning America segment noted. "But will this web disruptions make your life easier or take one of the last local traditions out of Christmas?"
The Amazon Christmas tree packaging attempts to personalize the tree-buying experience by including care instructions for customers who are new to buying real trees as well as natural tree preservatives and a biodegradable bag to dispose of the tree after the Christmas season ends. The trees cost between $20 and $110 depending on the type and size chosen by the customer.
Santa's Tree Farm in Half Moon Bay, California told ABC they sell their trees for only $65 apiece.
The Christmas trees are fresh-cut and range from tiny one-foot Charlie Brown-style trees to large, pre-cut pines and firs up to about 7 feet in height.
Amazon's delivery of Christmas trees directly to customers' homes is the company's latest aggressive move to becoming a one-stop shop for nearly every holiday item. But many on social media complained that Amazon's delivery of real, live trees would ruin their Christmas traditions with their family.
"I can't do it, would miss the yearly argument with the kids on who picked the best one....," wrote Kajetan Leitner via Twitter. "Amazon is selling live Christmas trees they just can't be stopped," wrote another Twitter user.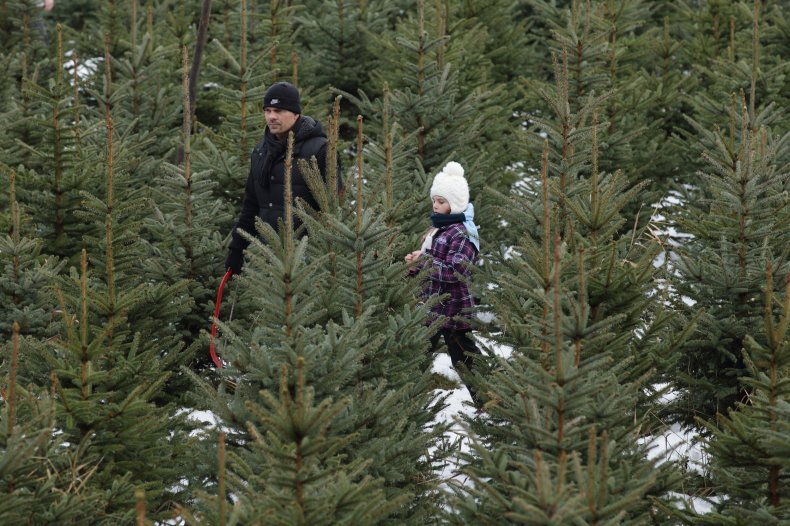 Amazon's sale of real Christmas trees is not the first time the company has been accused of "ruining" the holidays. Last year, several customers reported their children were "absolutely fuming" as gifts were delivered without the appropriate wrapping to conceal the purchases.