Amazon Customer Outraged To Find 'Baggie Of Drugs' Inside Package Containing Gift For His 8-Year-Old Niece
An Amazon customer said he was outraged after he opened a package containing a gift for his 8-year-old niece and found a "baggie of drugs" inside.
Vishal Solanki said he used his Amazon Prime membership to order a children's art set, but when it arrived the following day, he was stunned to find a baggie containing several kinds of pills inside the same package.
"The baggie of pills dropped out of the box the art set was in," Solanki told Newsweek. "If my niece has opened the box and thought I had put some candy in there and she digested them, it would be a whole other conversation."
Solanki told Newsweek that he emailed Amazon earlier this week saying he was "disgusted" that the drugs had found their way to his home in Ontario, Canada and asked them to explain how it got there.
He wrote that he usually wraps gifts he orders from Amazon without opening them, but had opened the package containing the art set because it had arrived in an unmarked box.
"When I pulled the box out a small plastic baggie fell out of the package and to my utter shock and dismay, I picked it up and it's a small bag of drugs!!" Solanki wrote in the email. "I want to know why this bag of drugs was in a children's toy and secondly, what do you intend to do about it as I am extremely furious and upset!!"
But Solanki said he was angered to receive only a "cookie-cutter" response from a customer service representative, apologizing for the "problem" and offering to send a replacement item.
"I'm sorry to hear about the problem with the item received," the reply from an Amazon customer representative, which Solanki provided to Newsweek, said. The email added that it might have occurred "due to error on the packing."
The email said the issue has been directed to the shipping department "with high priority" so they can investigate how the error occurred.
"At Amazon, customer satisfaction is something that we take very seriously and would never compromise under any circumstances. Unfortunately, sometimes unavoidable mistakes happen," the email added.
"We want our customers to have a happy and trust worthy shipping experience with us, we feel so sorry that we were not able to fulfill your expectations for this level of service. In this case it is with great regret for us to know that we have not met our standard."
Newsweek has contacted Amazon for further comment.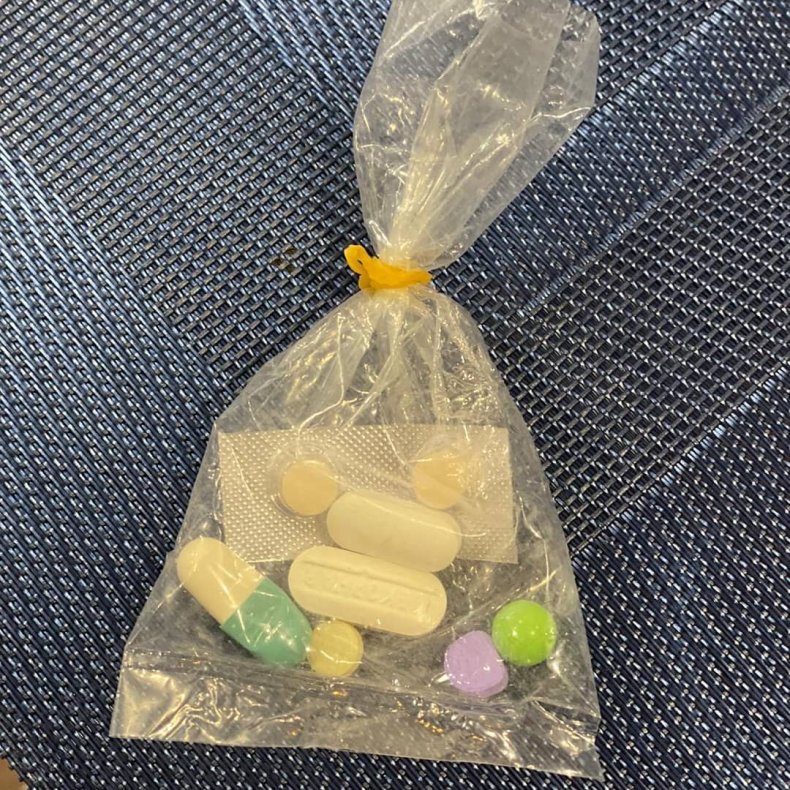 The response frustrated Solanki so he took to Facebook to post about the incident along with a picture of the pills he found as a warning to others to be careful with online orders.
"I immediately sent @amazon an email to express my concern and dismay and the only thing I got from them was a "cookie cutter" email apologizing for sending the "wrong product" and that they were shipping me a new Art Set as a resolution. I mean that's it?!"
He added: "Somehow, within Amazon's supply chain, this bag of drugs was inserted into the packaging of the Art Set meant for a child! What if I had not opened it and my niece thought it was candy and ate it? What if it was your child who opened it and had an overdose or worse?! I am absolutely p***ed off, angry, shocked and annoyed. As the holidays are approaching just be aware to check your packages."
Solanki added to Newsweek: "I'm not looking for fame or anything from this. Just want to spread awareness for people to be careful during the holidays. Packages are arriving from all over the world!"
Update: This article has been updated to include additional quotes from Solanki.