Amazon Delivery Truck Smashes Through Front Door of Home in Georgia
An Amazon delivery truck crashed into the front door of a home in Georgia last week with what police described as "the accuracy of a 300-club bowler."
Pictures posted on Facebook showed the truck impaled in the property in Roswell.
"DELIVERY NOTIFICATION: Package has arrived," the Roswell Police Department post read. "LOCATION: Inside your living room."
The crash happened in the 100 block of Thrush around 3 p.m. on Wednesday, police said.
The Mercedes had reportedly rolled down a driveway after a parking-brake failure. No one was injured in the incident, police said.
"One of our officers responded to a private property crash this week and was greeted by this sight," police said.
"A delivery truck had apparently suffered a parking-brake failure, and rolled backward from a driveway across the street, striking the front door of a residence with the accuracy of a 300-club bowler."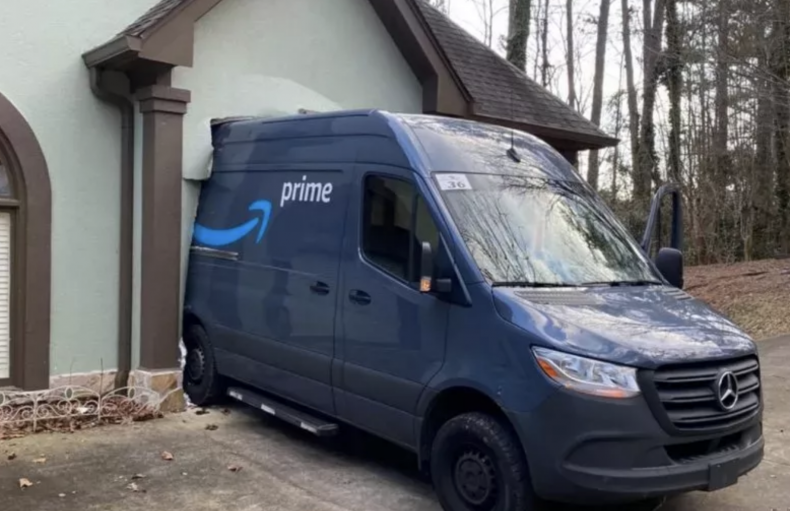 Officers also posted a picture showing the driveway that the van is thought to have rolled down, gaining speed before hitting the building.
The image suggested the vehicle managed to fit through the treelined avenue without hitting anything that might have reduced its speed or changed its course.
It is unclear who is liable for any repair costs.
Amazon and Roswell Police department have been contacted for comment.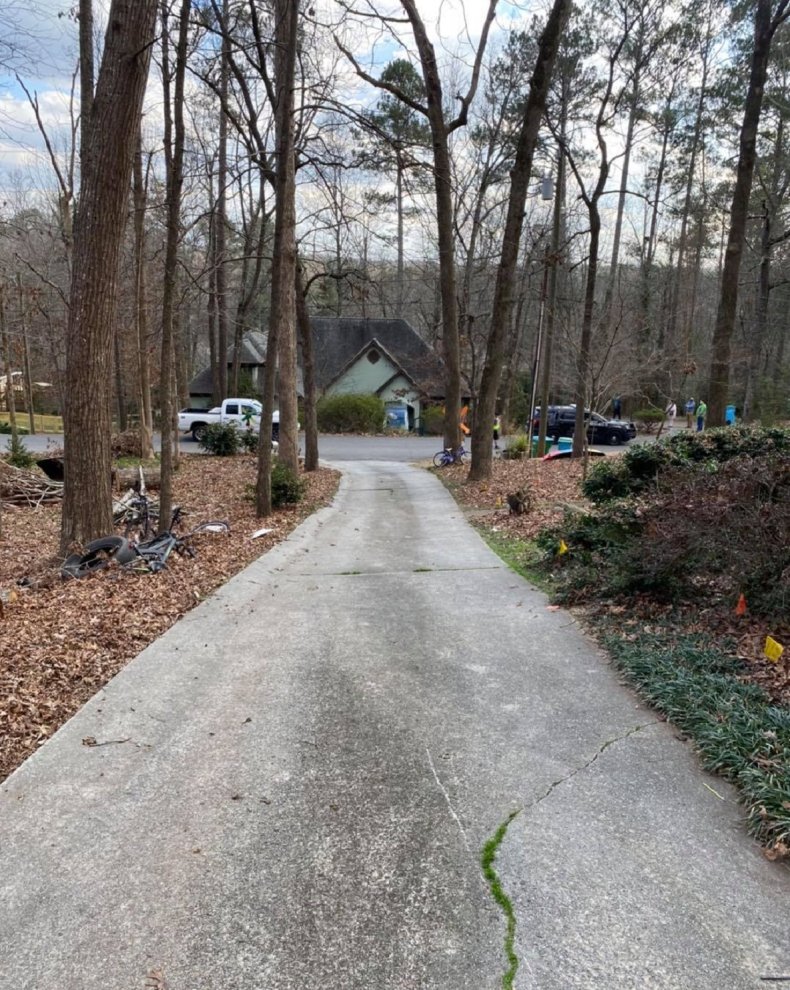 The crash comes less than four months after a video showing a similar incident, also in Georgia, went viral.
Surveillance footage showed an Amazon truck rolling into a garage at a separate home in Covington, about an hour's drive from Roswell, last October. Video showed the delivery driver hurl a package onto a porch as the van rolled forwards.
The video, posted to his TikTok, has been viewed more than 3 million times.
Homeowner Trevor Mckinley only noticed the damage days later. He told the MailOnline that an entire wall had been pushed off its foundation, costing him $12,500 to repair.
"I was laying in the family room with my three-month-old baby asleep on my chest when I hear a loud crash outside of my house, thinking nothing of it due to construction next door I let my baby sleep," he said.
Mckinley said Amazon had initially offered a $75 gift card, but later agreed to cover the cost of the repairs.
An spokesperson for the company said at the time: "We were immediately in contact with the customer and made things right."
Amazon has previously faced criticism for shielding itself from liability for accidents involving its drivers.
A New York Times/ProPublica investigation in 2019, reported that the company assumes little responsibility for accidents involving its delivery drivers, with agreements signed by smaller private companies and contractors involved in deliveries.
An Amazon operations manager quoted in the article, said these "delivery service partners" assume all liability and responsibility for legal costs including "all loss or damage to personal property or bodily harm including death."