Amazon Driver Saves Lives of 3 Puppies After Spotting Florida Home on Fire
An Amazon driver saved the lives of three puppies after noticing smoke coming from their home on Tuesday.
The three Boston terriers were rescued from the burning home and revived from smoke inhalation by Columbia County Fire Rescue (CCFR).
CCFR says the Amazon driver saved both the dogs and the home after calling 911 while working and noticing smoke. The homeowner was not at home at the time.
"During a structure fire yesterday, three puppies were saved and revived from smoke inhalation. Thank you to the Amazon driver who noticed the smoke and called 911," wrote CCFR.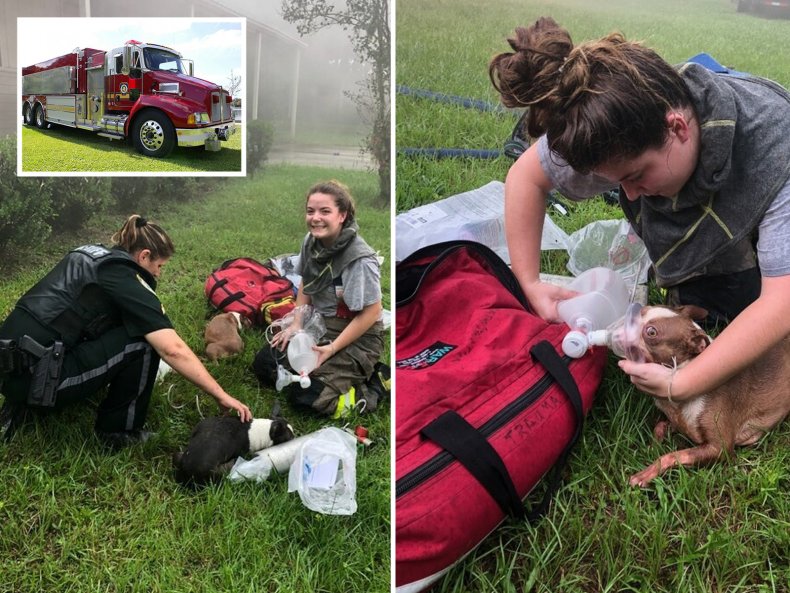 "Since the homeowner was not at home at the time, she saved the home and puppies' lives!"
The driver was identified in social media comments as Angeline Starkey, who wrote that she was "just happy I got there when I did."
Nurse and mom Lauren Sutton is the alleged owner of the dogs and took to Facebook to thank both the driver and well-wishers, writing: "Thank you for all your kind words, prayers and donations. I can never thank you enough.
"As you can imagine, I am in a whirlwind right now trying to figure things out so I apologize for not responding to your individual messages. Please know they are seen, they are appreciated and they mean the world to me."
Sutton's mom Lisa Dunn gave an update on the health of the dogs online, confirming that they are still in the hospital but are doing well.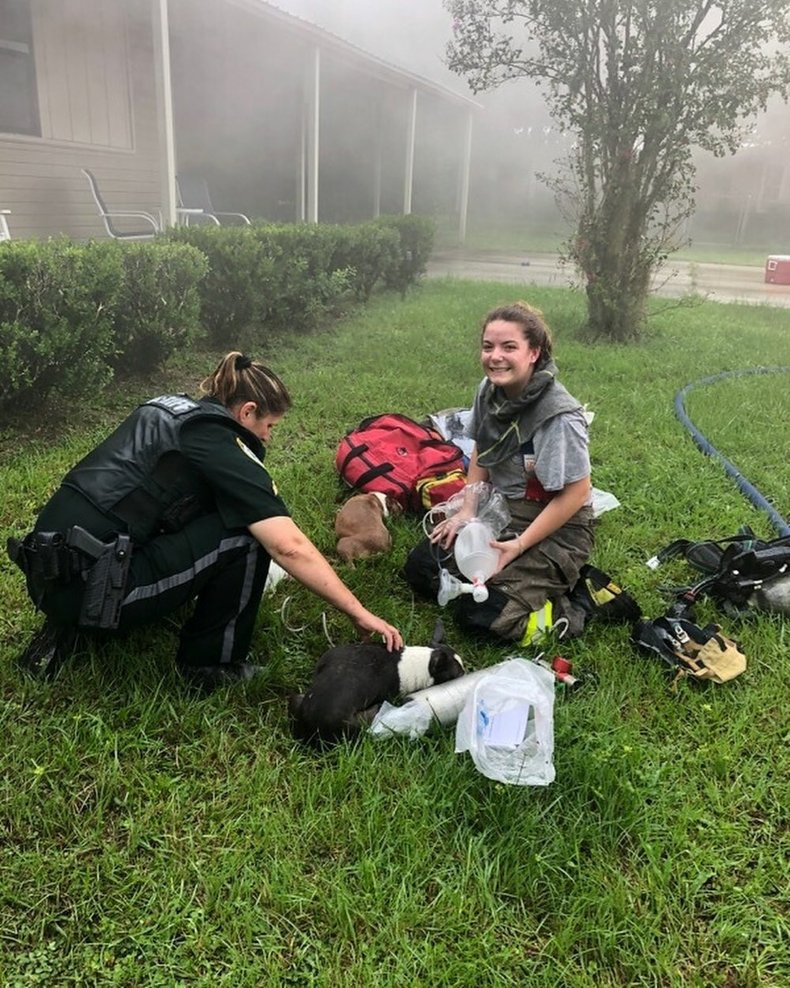 "One of the rescues has helped tremendously by paying the deductibles for their care at the hospital," she wrote. "They will need to be there another 48 hours most likely. They had significant lung damage but seem to be stabilizing."
Newsweek has contacted Lauren Sutton and Angeline Starkey for comment.
It isn't the first time a delivery driver has become the hero of a situation. In March a daughter publicly thanked a local delivery driver who saved her father's life after finding him having an aneurysm.
Donald Crisman, a war veteran from Washington, was calling for help on his front porch when an Amazon delivery driver drove past in her car. She was delivering to a house on the road but stopped to help.
The driver called 911 and flagged down neighbors for help, but left before she could be thanked properly by the family, who discovered her on CCTV footage.
In 2020, another Amazon driver was hailed a hero after rescuing an elderly man from a burning home. The 23-year-old heard screams while on a routine delivery run in Florida and dropped his packages and ran to help.
Sean Campbell found an elderly man stuck inside the home, unable to move from the kitchen. He ripped the front door open to access the home and helped the man out.