Amazon Driver Says Van Was Stolen While Delivering Packages in Viral TikTok
A driver for Amazon in Texas said her van was stolen during a route and now she's been suspended.
In a TikTok video that has now been viewed over one million times, a woman whose username is @mjo.98 reveals that while delivering packages, her vehicle was snatched.
In text overlaid onto the video, she wrote: "My keys, cards, & packages are GONE! think im finna get fired."
In the footage, the driver is standing on the curb where she says she parked the van. She also explains a dispatcher was tracking the whereabouts of the vehicle.
"I'm just so m******f***ing mindblown that somebody hopped in my m******f***ing van and drove the f**k off," she says.
In a follow-up video, @mjo.98 wrote in the caption that she had 73 stops and 125 packages left in her shift that day. At the beginning of the video, she shows a still image of the person she alleges was responsible for stealing the van.
"They said he's getting charged with grand theft, DUI, & package theft for each package [I] had," she wrote in text over the image.
@mjo.98 says the dispatcher initially told her she was not going to get fired but to just lock her van while completing deliveries.
Once the vehicle was returned, the driver finished her route.
She says she was written up because "they need to make an example" out of her.
In a video posted the day after the incident, @mjo.98 shares that she was being suspended for three days and that Amazon would be conducting an investigation to figure out if she will lose her job.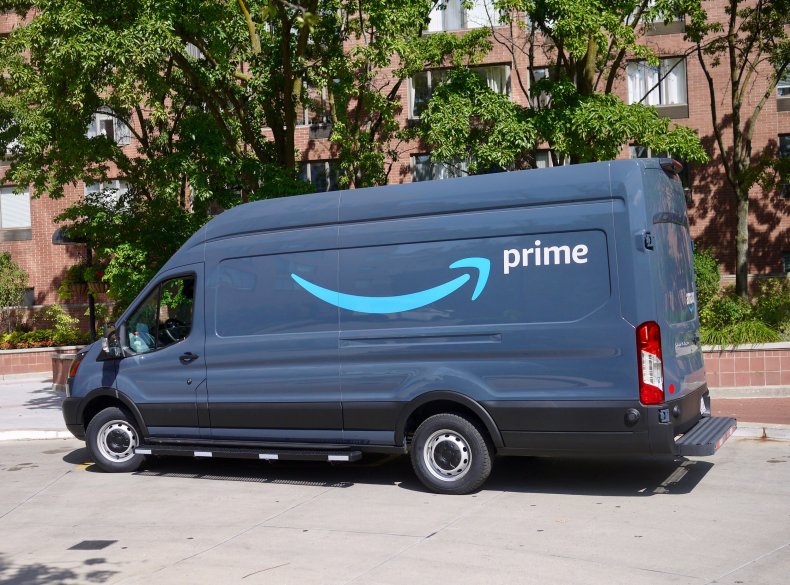 Amazon did not respond to Newsweek's request for comment.
"I might as well gonna quit and find a new job because there is no point in waiting a week and I'm going to still get fired," @mjo.98 says.
She says from the training she received for her job, she was told that turning the van on and off during a route takes too much time.
"I'm getting two different stories."
Late last month, a video made the rounds online of a woman exiting the back of an Amazon van, which left viewers to speculate about why she was inside at all.
An Amazon spokesperson told Newsweek at the time that the driver in the video no longer worked for the company.
"​​...Allowing unauthorized passengers to enter delivery vehicles is a violation of Amazon policy, and the driver is no longer delivering packages to Amazon customers," the representative said.
Newsweek contacted @mjo.98, but she did not respond in time for publication.