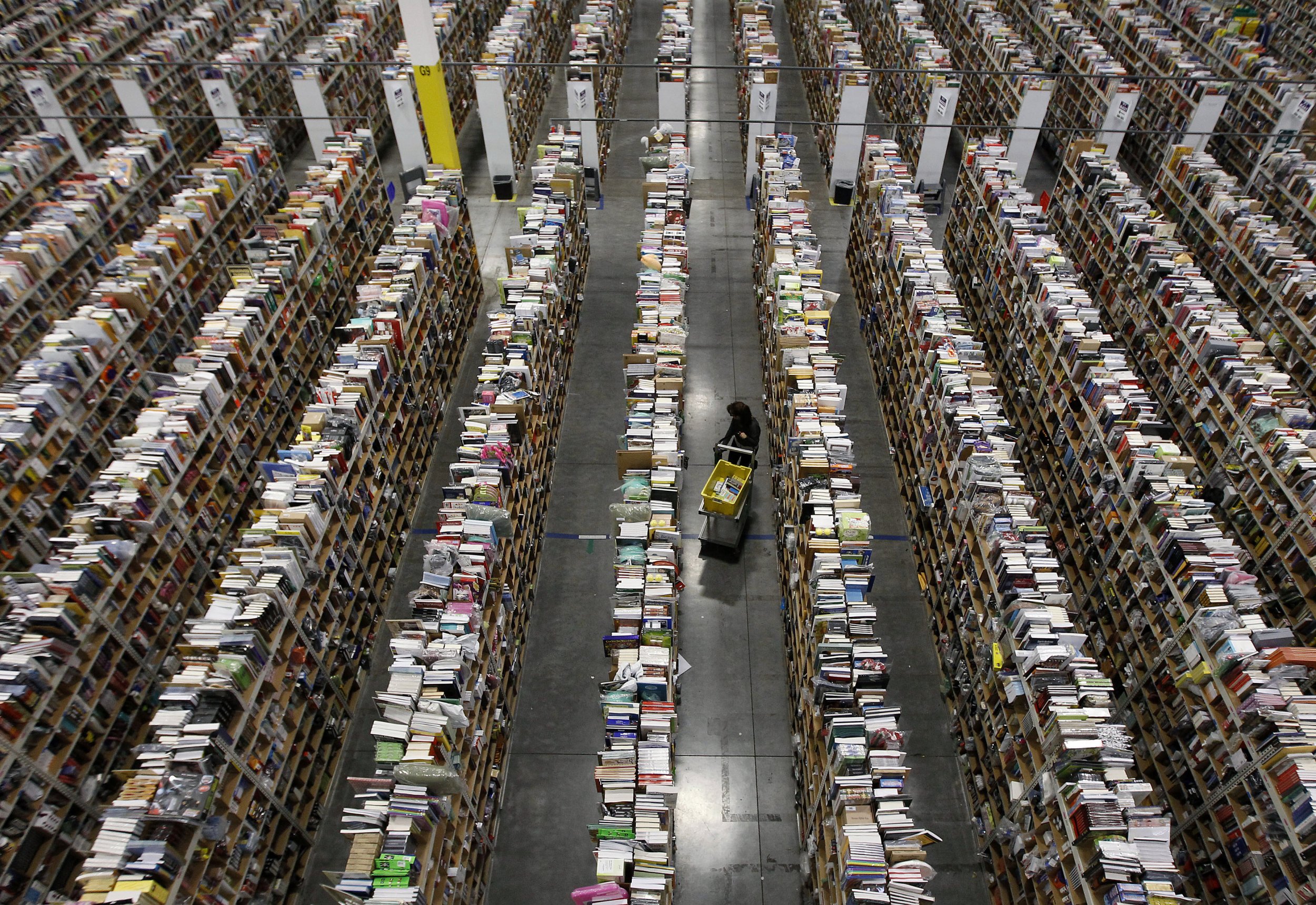 Amazon Anonymous, a UK-based anti-Amazon campaign website has cost the web company £2.3 million in pledges so far, as people promise to have an Amazon-free Christmas, a rate which is increasing at around £50,000 a day.
"They don't pay their workers a Living Wage. They dodge their tax. They take money away from our local shops. So this year, let's take our money away from them," the website says. The Living Wage is a voluntary standard based on the basic cost of living in the UK currently set at £7.85 and £9.15 in London. The compulsory national minimum wage is £6.50 for those over the age of 21.
The Christmas challenge to go cold turkey on Amazon is an escalation of a campaign that has been running since 2013 when three friends, all former Amazon shoppers in their early 20s, launched an online petition after several news articles and a BBC Panorama programme exposed exploitative and demeaning working conditions in the company's warehouse.
The Change.org petition, titled 'Amazon UK: all we want for Christmas is a fair wage', called for the company to "end poverty pay". In less than a month it received around 55,000 signatures and on the 28th February it was hand-delivered to Amazon's headquarters in Holborn.
"Amazon has more than enough money to pay its workers (both permanent employees and contracted agency workers) the Living Wage," the petition read. "This is the wage needed to support a basic standard of living. With UK sales in 2012 of £4.2 billion, you'd think Amazon could afford to pay its workers enough to be able to feed and clothe themselves and their families. Amazon is an enormously successful company. This petition calls on Amazon to recognize the humanity of its workers and their very real needs."
Emily Kenway, one of the founders of Amazon Anonymous and who put the petition online called many of the company's policies "disgusting". She cited practises such as the monitoring and timing of toilet breaks, the 'sack if you're sick policy' which sees workers let go if they are sick three times in three months, and the 50-hour working week which pushes the limits of the EU working time directive.
According to 24-year-old charity worker Bex, another of the masterminds behind AA who declined to give her surname, the petition fell largely on deaf ears. "Amazon simply responded by telling us how well they treat their 'permanent staff' and they didn't even comment on the Living Wage," she told Newsweek. "It was a fob off."
But the campaigners didn't let Amazon off lightly. In June 2014 the battle was brought to the company's front doorstep again when a mocked-up book, titled 'A Living Wage for All Amazon Workers' was launched on the website.
In it's product description it said: "Over 62,000 people have called on Amazon to end poverty pay in 2014 – but Amazon has yet to take our demand seriously so we've brought it direct to Amazon.co.uk." It asked readers to "review this product below and let Amazon know that it's time to pay the human cost of its operations".
The book was quickly taken down by the company.
Bex went on to explain that Amazon Anonymous is designed to unite all strands of opposition and frustration against Amazon's "disengagement" from the issues of the campaign. "We have stepped up to AA to unite. If we all put Amazon in the spotlight and pressurize them we can get them to change," she said.
As well as raising awareness, the website also encouraged many workers to come forward and anonymously share their experiences.
One worker described how, after one week of working in the Amazon warehouse his knees were swollen from all the walking he had had to do. "I would never work for this company again, I felt like a slave trapped in a big metal cage," he told AA.
According to Bex, Amazon are the "poster boys" for all that is wrong with big global companies. As well as paying its workers less than living wage, Amazon's British business paid just £4.2 million in tax last year, despite selling goods worth £4.3bn.
Amazon is able to pay low tax because in 2006 it moved its UK business to Luxembourg. When a shopper buys from the Amazon website, the payment is taken by a subsidiary, which employs 20,500 fewer workers than the UK operation, based in the low-tax jurisdiction of Luxembourg.
Most Amazon warehouses, generally found in areas of high unemployment and low economic opportunity, also receive government subsidies "by claiming they are helping the economy with their temporary jobs", Bex told Newsweek. It's warehouse in Swansea, the size of 11 football pitches, received £8.8m in grants from the Welsh government when it opened in 2008.
Amazon has also been accused of being one of the most aggressive eliminators of human labour. Amazon has had a seriously detrimental effect on local bookshops and has just 14 employees per $10m of revenue compared to 47 in shops which, according to research done by a company called ILSR, led to a net loss of 23,000 jobs in 2012.
"Amazon claim to be the 'Earth's most customer-centric company', well we're going to use our power as customers to put that to the test," says Bex. "We want to send a strong message to Amazon, during their busiest time of the year, that if they don't make a proper contribution to our society, we won't give them our money."
Newsweek contacted Amazon for comment but none was immediately forthcoming.