Do you trust Amazon with your life? You might have to, because the big tech companies of Silicon Valley are looking to do for medicine what they've already done for retail, publishing, finance and other sectors of modern life: they want to bring on another digital revolution.
What could go wrong?
Ever since the Federal government began encouraging health care providers to adopt electronic health records a decade ago, Apple, Google and a slew of Silicon Valley startups have sought to bring about their own vision of telemedicine—turbocharged by data from wearable health-monitoring devices, artificial intelligence and smartphone apps. Apple's bio-monitoring watches and Fitbit, the wearable exercise monitor recently bought by Google, are two prominent examples of products in the market now. Other companies are readying artificial-intelligence products that could augment or replace advice from medical professionals.
So far all these promising technologies have failed to bring about the kind of sweeping change that Silicon Valley has wrought in so many other industries. What's been missing so far is a way to tie all the disparate technological developments into a coherent service that seamlessly connects patients with the tangle of health care providers, insurers and services—in the same way that, say, Amazon brings nearly all of retail to your doorstep with little more effort than saying "Hey Alexa."
Are we ready for Amazon to do to health care what it's done to retail? In exchange for two-day delivery, it put thousands of stores out of business and established hegemony in the entire industry. Big Tech also turned what you thought were your private political leanings, social connections, guilty pleasures and spending habits into a marketable product—and the money you generate doesn't come to you.
Nevertheless, Amazon is positioning itself to move into health care in a big way. Experts think the $230-billion-in-annual-revenues retail giant is preparing to launch a service aimed at bringing nearly all health care together in a single, user-friendly app with all the convenience and pricing-transparency of its online store (and all the privacy concerns, too—but we'll get to that). Just as consumers who want a new lamp can go to Amazon to sift through multiple offerings complete with detailed specs, extensive reviews, steep discounts and convenient delivery, so they may soon be able to fire up Amazon's website or app to hunt down the best deals in telehealth or in-person services, complete with any needed drugs and supplies. "Health care has never been a shoppable industry," says Jeff Becker, a senior health care-industry analyst at Forrester Research. "Amazon is going to change that."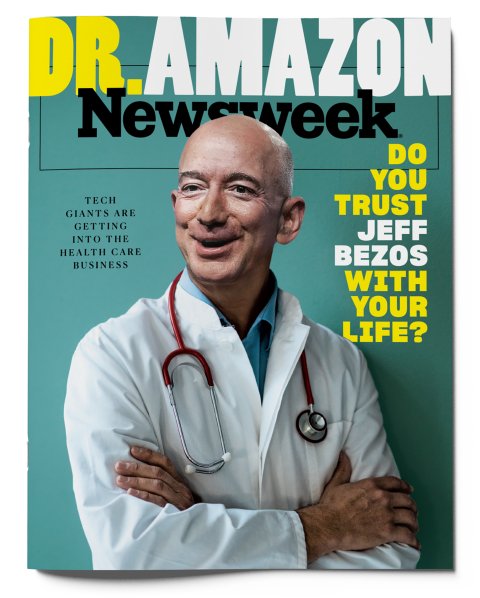 Many physicians believe the kind of high-tech delivery of health care that Amazon could bring about is just what the doctor ordered to fix the deeply dysfunctional U.S. health care system, which each year sticks Americans with a $3.5 trillion bill. It is the most expensive in the world and delivers some of the worst patient outcomes among developed nations. An app-based, customer-centric delivery system could provide a more personal, responsive and caring experience than what most patients get from the traditional family-doctor model. "Some patients think all they want is Marcus Welby," says physician Steven Strongwater, CEO of Atrius Health, a highly regarded New England health care system that has been active in telehealth. "But a high-tech system that at first glance seems colder may actually be very, very good at taking care of people."
There's a big difference, of course, between shopping for a new desk lamp and seeking medical advice for abdominal pain. The prospect of app-based health care raises many questions. Can online services really do as good a job in meeting many needs as the traditional pilgrimage to the health-plan-assigned doctor and clinic? Will people who distrust Facebook and Google for abusing customer data willingly vouchsafe their private medical records to another tech giant? Should they?
Digital medicine
So far, Amazon hasn't rolled out anything to the public. In September, it invited its Seattle-area employees to sign up for an optional new company health care-benefits program. Called Amazon Care, the program would provide employees with a telehealth app that could serve as the starting point for any health care needs. "They can get immediately connected with a nurse or a doctor," says Dene Sparrman, Amazon's director of global benefits, noting that if they connect via text messaging the consultation is free, and video and in-person consultation are available for a small fee. "If they get what they need, that's good," she adds. "If they need an in-person visit with a specialist, we can point them to one. We don't want employees wondering where to go, we want it to be seamless." Other benefits of the program include visits from mobile nurses to the employee's home or office, and delivery of prescribed medications in as little as two hours.
Employee benefits programs don't normally get much attention outside the companies offering them, but this one made national news. The reason: in January 2018, Amazon announced a non-profit joint venture with Warren Buffett's Berkshire Hathaway and financial giant JP Morgan aimed at coming up with health care solutions for the three companies' combined 1.25 million employees. Though little information has surfaced about the venture since then, industry experts have taken that alliance as a sign that Amazon is gearing up to make a big move into health care that would eventually extend beyond the three companies.
The September Amazon Care announcement is widely seen as a potential first step in that direction, potentially laying the groundwork for an Amazon telemedicine-heavy health care service. The announcement suggests the company may follow the same strategy it relied on to develop its cloud computing business—which was initially a service it built for its own internal use before offering it to the rest of the world and growing it into a now-$35-billion-a-year business.
Were an Amazon health care service to catch on, it could dwarf the cloud business. If five percent of health care spending—a modest share by Amazon's industry-dominating standards—were to flow through an Amazon health care unit, that would represent nearly $200 billion in revenues and $10 billion in profits at typical insurance-industry profitability rates. And that's thinking small, says Jon Melnick, who directs digital transformation research at consultancy Lux Research. "Amazon can not only add telehealth to health care, it can build a health care platform that includes food, consumer data, and all the products and services that can contribute to health," says Melnick. As consumers come to demand this broader approach to health, he says, the market could become far larger than the current $3.5 trillion, with Amazon well positioned to take a big share of it.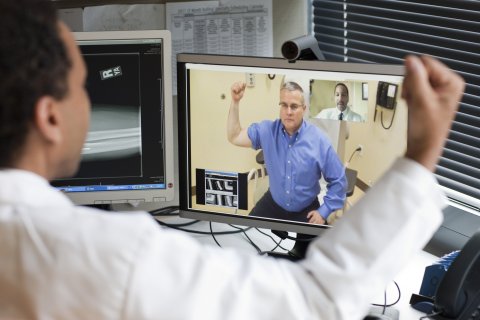 Patients seem amenable to telemedicine, whether by video, voice or text. In fact, one out of five patients insists on a doctor willing to do some sort of remote consultation, according to a 2017 Harris poll, while a Rock Health Survey found patient interest in telehealth nearly doubled between 2017 and 2018. Some large health care providers have responded. At Atrius, more than half of the encounters between its 740,000 patients and 715 doctors now take place through some form of electronic communication. The University of Utah's medical center is another pioneer, offering a wide range of telehealth services to all its patients. In a study of 200 pregnant patients the university found that offering telehealth nearly halved the number of face-to-face visits during the pregnancy, cut costs substantially, and raised patient satisfaction from an already impressive 97 percent among face-to-face-only patients to a perfect 100 percent among those who used telehealth. "It improves patient engagement in their health," says Maia Hightower, the university's chief medical information officer.
The Veteran's Affairs Department, meanwhile, has provided more than 2.6 million telehealth interactions to nearly one million veterans, about 100,000 of them having engaged in a video consultation. The services have been especially valuable to the 30 percent of VA patients who live in rural areas far from VA hospitals, as well as providing the more frequent monitoring and care required by those with diabetes, heart disease, and other chronic diseases suffered by 60 percent of all Americans and 85 percent of older Americans. "We can do more online to help control a patient's high blood pressure or diabetes by talking to them about their meds than we can by putting our hands on them," says Dr. Leonie Heyworth, director of synchronous telehealth for the VA. Video patients had 28 percent fewer missed appointments than in-person-only patients, Heyworth added.
The resistance
Most U.S. health-care providers and insurers are resisting the move to include telehealth options. Instead, they're sticking to the tried-and-true business model of getting patients to come into a relatively nearby office or hospital and charging handsomely for the privilege—even though patients rarely know exactly what those costs will be. In large part that's because for all the concerns about U.S. health-care costs, most private hospitals and health-insurance companies are doing just fine financially. Why risk the leap into a lower-cost, less-familiar style of health care? "In the current health care world, the only way you're going to get paid is by having the patient come into the office, even if that's not always going to lead to great care," says Atrius' Strongwater. As a result, fewer than 15 percent of U.S. physicians offer telehealth consultations, according to the American Telemedicine Association's Johnson.
What health insurance companies, as well as employers who foot the bulk of the U.S.'s health care bill, especially fear from telehealth is that it's so easy to use that people will reach out more often for care. "It creates the risk that every little ache and pain results in a claim that has to be paid out," says the University of Pennsylvania's Asch. "Making people come into the office is health care rationing by inconvenience." Even Medicare currently won't reimburse for most telehealth services. And yet almost all doctors and experts agree that getting people to check in more often, more cheaply and more conveniently with their health care providers would almost certainly lower total costs by giving providers more opportunities to catch problems earlier when they're easier and less expensive to treat.
While providers and insurers seem stuck on the status quo, patients are losing patience. The HealthPocket survey found that more than half of adult Americans have skipped medical care to avoid costs, and some have presumably done so to avoid the inconvenience of an office visit. Employers are equally eager for a fix, says Fontanetta, who heads up strategic growth for Willis Towers Watson's North America health care practice. Not only do employers on average pay upwards of $10,000 a year in health care costs per employee, notes Fontanetta, they're seeing annual costs for employees with cancer and other complex diseases rising at double-digit rates from an already astronomical $50,000 a year, making them the biggest source of health care cost increases. "There's a big opportunity to use telemedicine to reduce those costs by linking individuals with world-class care outside of their local area to get more accurate diagnoses and more effective treatments," he says.
Amazon may be better positioned than traditional health care providers are to revamp the industry, says the University of Utah's Hightower. "You can't overestimate the impact Amazon could have," she says. "It already understands consumers in ways we as traditional providers don't understand our own patients. They're capable of developing a user experience for health care that would resonate with employees everywhere."
Amazon's Sparrman downplays the significance of the company's new benefits program. "It's early days," she says. "We need to get it right for our employees first, then we'll see where it goes from there." Health care industry executives think they already know where the company is going: In a survey by research firm Reaction Data, they named Amazon the new health care entrant most likely to disrupt the industry, ahead of Apple by more than a four-to-one margin.
Forrester's Becker, who has just completed an extensive study of Amazon's likely path in health care, insists the company is on track to offer employers a compelling alternative to current health insurers and health care providers. "We think Amazon is moving toward building a consumer-friendly digital front door to health care that it will market as a service," he says. That would include online tools that screen symptoms in order to help route patients to the right type of care, whether it's a virtual consultation, or a visit to or from a local provider, or even to more distant providers for those patients willing to travel to save money or get better care.
Amazon will make it easier to find the best options by injecting a trove of information on costs, quality measurements and ratings for different providers, says Becker. That way employers can offer only the most cost-effective options, and employees can choose among them with an eye to out-of-pocket costs, convenience, and top ratings and quality. Rather than collecting premiums like an insurance company, Becker thinks Amazon will collect pre-negotiated payments from employers for each employee case it handles, keeping some for itself and using the rest to pay providers. "Instead of having contracts with three local hospitals, employers will have access to the hundreds of providers that Amazon will work with," he says. "Amazon will own the initial touch points in the system, adding the choices and price transparency that make it a shoppable experience." The results, he adds, should lead to lower costs, and possibly better outcomes.
Others in the tech world could help flesh out and improve a telehealth-based service from Amazon or others. Google and Apple are among those working on a variety of health technologies, including wearable and home-based digital-health devices, and artificial-intelligence software to interpret the data they gather, as well as other patient data. Such devices can alert a doctor to signs of a brewing problem with a patient, such as rising blood sugar, irregular heartbeats, or dropping oxygen levels, prompting fast video or other interventions that could head off more serious problems requiring far more costly treatments and even hospitalizations. And if a patient's signs look good, doctor's may not have to check in with them as often to run tests, saving more time and costs. "What's most exciting about telemedicine isn't just having doctors provide the same care they provide in the office," says Asch. "It's automating much of what doctors do."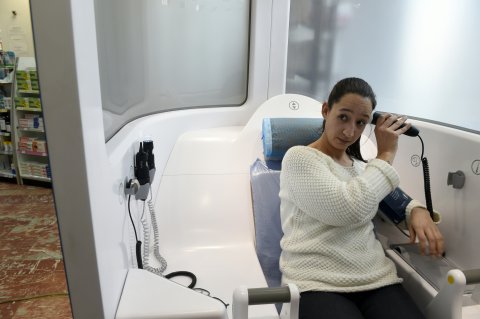 The Apple Watch, for example, is already FDA-approved for diagnosing certain irregular heartbeat conditions. And Verily, the health technologies venture mostly owned by Google's parent company Alphabet, has in partnership with medical-device maker Dexcom developed a glucose monitor worn on a diabetic patient's skin. A companion phone app prompts patients who wear the monitors to take pictures of their meals and snacks, enlisting AI to recognize any of a million different foods. "That provides a visual association between what people are eating and what those foods are doing to blood sugar," explains Vivian Lee, Verily's president of health platforms. Lee adds that the information can not only help nudge patients into healthier eating, it enables health coaches and clinicians to provide more effective guidance and interventions via text or tele-consults.
Consumer concerns
Converting tens of millions of people from conventional health care plans to the sort of telehealth-first scheme that Amazon is testing is no slam dunk. For one thing, any tech-company-driven health care effort is likely to raise privacy concerns. Critics are howling, for example, about recent revelations that Google has been working with Ascension, one of the U.S.'s largest health care systems, to allow Google to analyze Ascension patient data with AI and other software.
That analysis can provide exactly the sort of tech-driven insights that health care providers need to provide better, more cost-effective care. But patients may balk at letting Amazon, Google and others have at their health information. Another Rock Health survey found that while 72 percent of people trust doctors with that data, only 11 percent wanted tech companies to get their hands on it. Verily's Lee acknowledges the data barrier between health care systems and the tech world. "We want to share the insights we can get from monitoring patients back to the patients' electronic health records, but it's not easy for us to do that right now," she says.
For all their complaining about the high price of U.S. health care, consumers are in many ways spoiled by its money-is-no-object approach to treating patients. They're used to running to the doctor's office or even the emergency room when they feel they need to, and rarely think about shopping for the best deal, other than making sure their provider is in their health plan's network. They also expect to get the most effective treatment available, even if another treatment might work nearly as well at lower cost.
If a health care system like the one Amazon may be planning is going to cut costs, patients will have to let the system nudge them toward choosing less expensive solutions for their problems. That could be a text message, a visit to a provider who charges less than their favorite doctor, an X-ray instead of a more-costly MRI, a medication that's cheaper than the one they're used to taking, or wearing a small monitor for weeks or even years instead of coming in for a few hours of tests. "The $64,000 question is whether Americans will be willing to shop for health care," says Becker. "They don't now, but they're going to have to find out what each option will cost them before they walk out the front door to get care."
They'll also have to get used to the idea of making more of their health care decisions, as well as having some of their health problems solved, via text messages, apps and websites. Many older patients may have trouble making the leap, notes Fontanetta—which means it will be up to younger people to pave the way. "Millennials and Gen Xers already prefer virtual interactions," he says. "The way they access health care will likely track with all the other virtual ways they buy goods and services and communicate with others." Jay Sanders, CEO of the Global Telemedicine Group, a health care management consultancy, agrees that the transition to a telehealth-first system will be in the hands of a new generation of patients. "The speed of adoption will be set by how quickly younger people come to see it as routine," he says.
Ironically, patients who do switch over may actually find it easier to share their health problems with their electronic providers than they do with the human versions. "When a doctor asks you how you're doing, a lot of people have a tendency to say 'fine,' even if they're not," says Priyanka Agarwal, a physician who recently left the Center for Digital Innovation at the University of California San Francisco to head up digital health at MyoKardia, a biotechnology firm focused on heart disease. "There might be hundreds of small signs of problems that patients don't know how to communicate in a face-to-face meeting with a doctor, but that a monitoring device or a software program can pick up on." Such signs might be anything from minor aches to trouble sleeping to bouts of fatigue.
No one thinks human care is going away, or even that it necessarily will be reduced. But under new, more electronically driven health care systems it may be redistributed in a way that reduces costs and improves outcomes. "Everyone in the system could get all the digital touches they need all the time, because they're so easy to scale," says Utah's Hightower. "That way we can give more of those higher-cost human touches to the higher-risk patients, even up to sending clinicians to their homes."
Hey Alexa, I need a house call. Disruption is on the way.