Amazon HQ2 in New York Could Eliminate 1,500 Affordable Housing Units in Long Island City
Amazon's planned new headquarters (HQ2) in the Queens borough of New York City has caused a bit of uproar—and now it could even threaten the city's affordable housing stock.
Politico reported late Thursday that the planned location for HQ2 could upend plans for affordable housing in Long Island City. Two sites where affordable housing developments had been planned could be handed over to Amazon, which could mean a loss of up to 1,500 affordable housing units.
"The fact that massive public subsidies are helping eliminate affordable housing units is just the latest reason this bad deal needs to be torn up and thrown away," State Senator Michael Gianaris, who represents Long Island City, told Politico.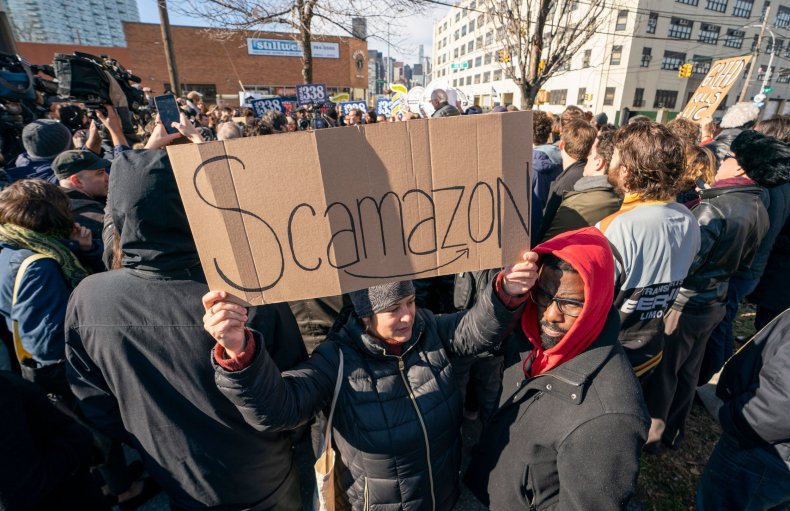 Affordable housing wasn't the only thing Amazon would upend. The tech giant will also be kicking out 1,000 public school employees as their building is turned over to Amazon.
"We will be identifying new space for staff currently in this building as soon as possible," schools spokesman Will Mantell told the New York Daily News. "We've notified staff and will work closely with staff throughout the transition process."
In a rare moment in which they worked together, both New York City Mayor Bill de Blasio and New York Governor Andrew Cuomo celebrated luring Amazon here. The company said it would bring about 25,000 jobs to New York City, but the city and state gave up quite a bit in return. The state handed over more than $1.5 billion to Amazon, including an offer to reimburse the company $48,000 for every job. The city, meanwhile, gave Amazon tax credits reportedly worth about $1 billion.
Criticism of Amazon HQ2 has been widespread and has crossed political boundaries—the editorial boards of both The Wall Street Journal and The New York Times,for example, slammed the deal. Fox News's Tucker Carlson even went as far as to say newly elected Representative Alexandria Ocasio-Cortez was correct in her criticism of Amazon's new Queens HQ.