'Straight Pride' Pin Removed From Amazon After Relentless Mockery and Criticism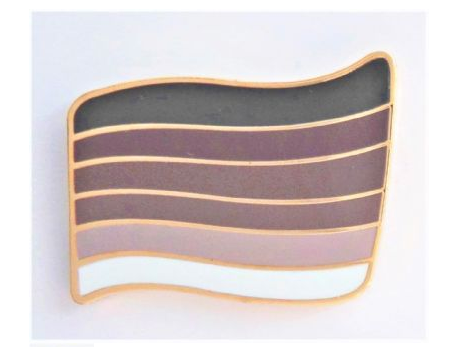 A U.K.-based seller removed a "straight pride" pin badge from its website and from Amazon on Friday, after the product caused outrage.
Amazon shoppers recently discovered they could buy a "Straight Heterosexual Pride Wavy Gold Plated Flag Pin Badge" on the website, courtesy of the seller 1000 Flags, for the price of £4.50 or $8—and the reactions spanned from mockery to disgust.
Some people left 1-star reviews describing the product as "terrible" and "anti-LGBT," among other comments. One user asked "Does this come with a KKK membership?"
Several people on Twitter also remarked on the flag's "boring" appearance, some comparing it to cuts of bacon, or salmon, or even an eyeshadow palette.
There is no official design for a straight pride flag, except perhaps the one Russian President Vladimir Putin's United Russia party created in 2015, which features the white silouettes of a man and a woman each holding the hand of a child against a blue background and a hashtag reading "real family."
Other candidates for "heterosexual" or "straight" pride flags that can be found online feature either a black-and-white-striped flag or a gradient of gray, and are usually meant as a caricature of the colourful LGBT pride rainbow.
The rainbow flag was first designed by artist Gilbert Baker in 1978 and was used as a symbol of LGBT pride ever since, meant to represent the diversity of the community. The original design was put under discussion last year, when the city of Philadelphia's office of LGBT Affairs launched the More Color More Pride campaign to include the colours brown and black, to give better recognition to people of color.
1000 Flags also sells the traditional rainbow pride flag pin badge and a pink triangle pin badge—a homophobic symbol under the Nazi regime, which LGBT rights activists reclaimed as a protest symbol in the 1970s.
"We were asked for a pink triangle badge numerous times by our LGBT customers and they continue to purchase these alongside our extensive range of LGBT Pin Badges," Mark Horler, one of the company's director, told Newsweek in an emailed statement.
He said the idea for the straight pride flag pin badge design came from an "existing image available online."
"In no way were either badge produced as an anti-LGBT item and we take offence with that suggestion. These are not hate symbols.Our extensive range of LGBT flags, Pin Badges and Embroidered patches has helped spread LGBT pride across the world," he added.
The seller took down the flag from its website and from Amazon shortly after Newsweek reached for comment and pointed to the criticism left on the page.