Ordering Food? Amazon Meal Kits Are Now Available in Select Markets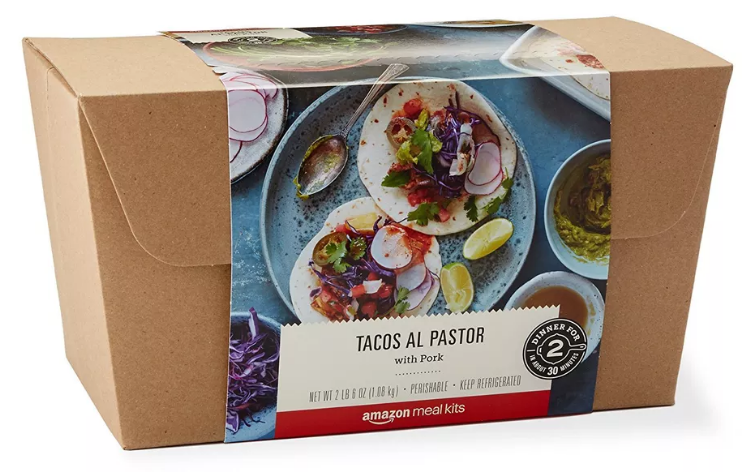 In what comes as a surprise to absolutely no one, Amazon is angling to take over the bourgeoning meal delivery industry. On July 6, the retail giant filed a trademark for the phrase, "We do the prep. You be the chef." The trademark is attached to a service offering "prepared food kits." It's a meal kit, essentially, similar to those offered by Blue Apron, a company you're probably familiar with if you've ever listened to a podcast. It's barely been a week since the trademark was filed, and Amazon is already selling meal kits to AmazonFresh users.
Related: Amazon isn't Whole Foods' enemy, it might be the company's savior
News of the availability of the meal kits comes by way of Seattle engineer Josh Chadd, who shared with GeekWire what he knew about the service. Amazon's Meal Kits site currently lists 17 delivery options, including Tacos al Pastor with Pork; Roast Chicken with Tarragon-Mushroom Sauce; and Wagyu Beef Burger with Bacon Jam and Sweet Potato Fries. Chadd was pleased with a recent order of Steak Au Poivre, which serves two and is listed at $18.99. Vegetarian options are listed at $15.99.
"The steak was an 8-oz. serving packaged by Corfini and was at least of USDA choice quality," Chadd said of the Steak Au Poivre. "It was not an odd or awkward cut which is often the case with other services. The peas were very fresh with no blotches and tasted very sweet. The onion came pre-diced. It also came with fresh green peppercorns which I've never seen in another service even with a similarly named recipe. Overall the finished meal was a 9 out of 10 for any meal I've made at home even with my own ingredients."
"Everything about the meal was good, but the parmesan fries and the pepper cream sauce were the highlight for me," he added before noting that almost every part of the packaging was easily recyclable. The service appears to have been made available to select AmazonFresh customers sometime in late June.
The news comes just over a month after Amazon's acquisition of high-end grocery chain Whole Foods for $13.4 billion. Together, the moves indicate the company's desire to dominate the future of food retail. They also make sense in the present. As Fortune points out, 81 percent of people who have shopped at Whole Foods more than once are also Amazon customers, and more than half of repeat Whole Foods shoppers are Amazon Prime members.
Amazon's imminent full-scale entry into the meal kit market is bad news for companies like Blue Apron. On Monday, after word spread that Amazon was already offering meal kits in select markets, Blue Apron's stock fell to a new low of $6.45 per share, well below its initial public offering price of $10 per share. If Amazon is able to replicate the quality that led Chadd—who has used Blue Apron as well—to give the service such a sterling review, it's hard to imagine Amazon won't dominate the meal kit market as thoroughly as it has online retail.