Amazon New York City Headquarters Plan Scrapped? HQ2 in Long Island City in Jeopardy After Local Opposition
Amazon is re-evaluating its decision to build a campus in New York City, The Washington Post reported on Friday, citing two anonymous sources.
It noted that the company's plan to build its HQ2 campus in Long Island City (located across the river from Manhattan in Queens) had faced opposition from local activists and politicians.
Amazon has not yet bought office space for the New York headquarters, and officials in other cities have been more enthusiastic about hosting the company.
"The question is whether it's worth it if the politicians in New York don't want the project, especially with how people in Virginia and Nashville have been so welcoming," one of the sources who spoke with The Post said.
"We're focused on engaging with our new neighbors—small business owners, educators and community leaders. Whether it's building a pipeline of local jobs through work force training or funding computer science classes for thousands of New York City students, we are working hard to demonstrate what kind of neighbor we will be," company spokeswoman Jodi Seth told The Post when asked if the New York deal was at risk of failing.
Governor Andrew Cuomo, who has touted the deal to bring Amazon to New York, criticized state Democrats.
"For the State Senate to oppose Amazon was governmental malpractice. If they stop Amazon from coming to New York, they're going to have the people of New York to explain it to," he said on Friday, according to Capital Tonight reporter Nick Reisman.
Cuomo has promoted the 25,000 jobs Amazon is expected to bring to New York City.
But other lawmakers representing New York City have raised concerns about the $3 billion in tax incentives and the rent increases expected to accompany the arrival of its headquarters.
In addition to raising concerns about the tax breaks given to Amazon, critics have noted that the company has said it would not support employees who seek to unionize.
Mayor Bill De Blasio, who has also championed the Amazon deal, responded to the company's stance on unionization by saying, "This is my message to Amazon: Welcome to New York City; This is a union town. There's going to be tremendous pressure on Amazon to allow unionization, and I will be one of the people bringing that pressure."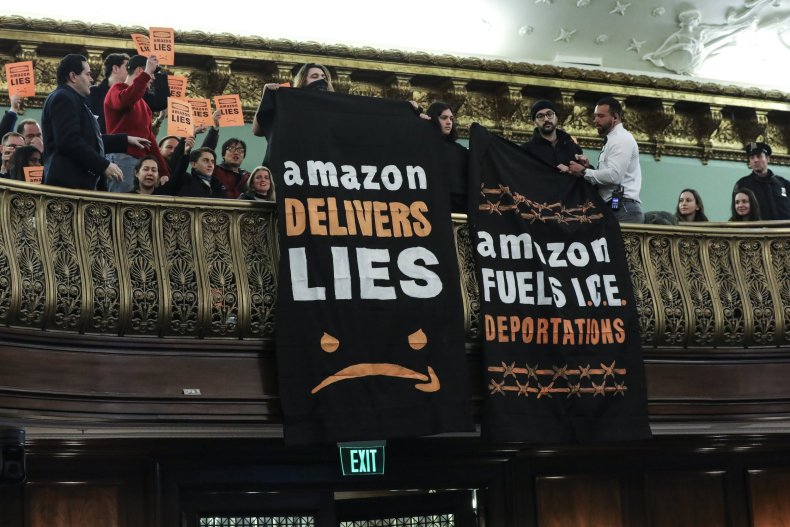 The Post report came days after Democrats nominated State Senator Michael Gianaris, a vocal critic of the Amazon project, to the Public Authorities Control Board, which must unanimously approve the Amazon plan.
"Since the Governor and the Mayor announced the Amazon deal, I have joined many to fight it. We rose up and held the line. When a corporation is anti-union, pro-ICE and seeks billions in corporate welfare, we must fight back. It's not over, but I'm proud of the values we fought for," Council Member James Van Bramer told Newsweek.
While New York officials have publicly disagreed about the proposal, Virginia legislators have moved ahead with their plan for the construction. On Tuesday, embattled Virginia Governor Ralph Northam approved legislation that offered as much as $750 million in subsidies to the company.
Cuomo, de Blasio and Gianaris and another critic of the deal did not immediately respond to Newsweek's request for comment.
This story has been updated to include comments from elected officials.