'No Music For ICE': Bands Are Boycotting Amazon Over Tech Giant's Ties To Immigration Agency
Hundreds of musicians have taken a pledge to boycott festivals and events funded by technology giant Amazon over its ties to the embattled U.S. Immigration and Customs Enforcement agency.
According to organizers of the #NoMusicForICE campaign, more than 1,000 artists have vowed not to perform at Amazon-sponsored events.
Starting on Black Friday, however, organizers say bands plan to enter into "phase 2" of the initiative, with artists sending Amazon takedown notices demanding that the company remove their music from its digital and streaming platform. It is unclear how many artists are participating in phase two of the campaign.
Among the artists who have signed onto the initial Amazon boycott are indie bands and artists Speedy Ortiz, Deerhoof, Downtown Boys, CAKE, Atmosphere and Immortal Technique, according to a Medium post published by organizers.
"We've had this in mind from day one," Sadie Dupuis of the band Speedy Oritz told Billboard in a recent interview. "The hope is that by making a bunch of noise around it now, we either get people committed to not using it, to not collaborating with them, or get Amazon to say, 'hey, artists are pulling from our service, maybe we reconsider these contracts'."
In a list of demands for Amazon published online, artists say they would like to see the technology giant terminate its existing contracts with government agencies "that commit human rights abuses" and "reject any future engagements with such bad actors.
The list also calls on ICE to specifically stop providing cloud services to organizations like Palantir "that power deportations." Palantir is a data analysis company with major contracts with ICE and its software is hosted in the AWS cloud.
"We will not allow Amazon to exploit our creativity to promote its brand while it enables attacks on immigrants, communities of color, workers, and local economies," a statement on the campaign's website states. "We call on all artists who believe in basic rights and human dignity to join us."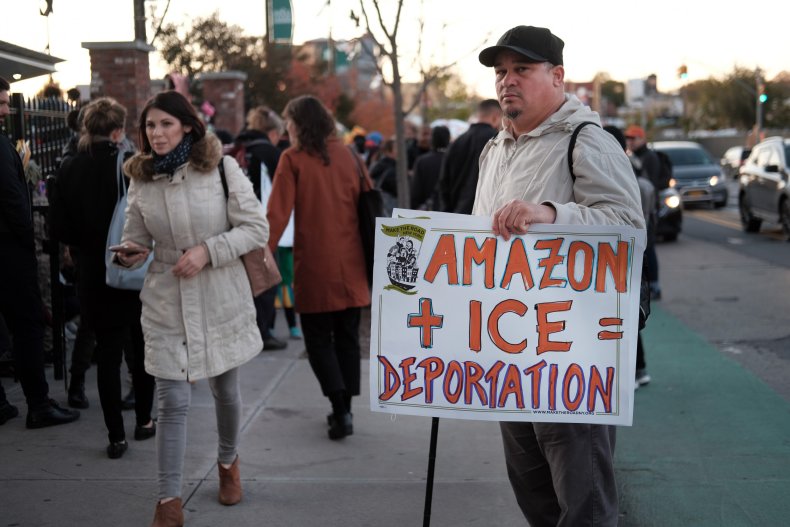 Phase two of the initiative, organizers said in their Medium post, is "an escalation, another step in musicians acting in solidarity with the numerous groups across the country protesting to shut down ICE and end family separations, deportations, and other horrors."
"Amazon is aggressively trying to compete in the music sales and streaming markets, with mixed results," they write. "Based on a few numbers for major 'rock' acts an industry insider shared with us recently, Amazon Streaming accounted for only around 4% of first week streams. Amazon MP3 digital sales equated to 3% total of album sales, excluding ticket/album bundle sales. Pulling down your music kicks Amazon where it already hurts, and it's easy to do."
In recent months, calls for Amazon to stop allowing its services to be used to used to help ICE arrest and deport immigrants have grown, with more people across the country and around the world vowing to boycott the technology company unless it promises to takes a stand against the immigration agency.
Newsweek has contacted Amazon and ICE for comment on this article.