Calls To Boycott Amazon Prime Week To Save Staff From Being 'Stuck at Work'
A call for consumers to boycott Amazon Prime Day because workers will allegedly be "stuck at work" for 13-hour shifts has gone viral on Reddit, where it received over 30,000 upvotes.
Several Redditors said this week would be "the perfect time" for workers to go on a nationwide strike when "they [Amazon] need you the most."
A leader from the Amazon Labor Union (ALU) told Newsweek that the claims made in the latest Reddit post are "totally correct," while a spokesperson for Amazon told Newsweek that its employees are "not allowed to work more than 12 hours per day."
Amazon Prime Day, the online retail giant's biggest annual sales event, is officially on from today through tomorrow, July 13. But some deals have kicked off earlier than July 12.
In a post that's received 30,300 upvotes and nearly 2,000 comments since it was shared on the online forum about a week ago by a Redditor (whose account has since been deleted), a user claiming to be a "Tier 3 Amazon Associate" (who are among the company's hourly workers) said: "I'm asking you all to help me spread the word on 'Don't buy during [Amazon] prime week' Next Monday the 11th [July 11] all the way to the end of the week! Don't force us, employees, to be stuck at work from 5 am till 6 pm away from our families."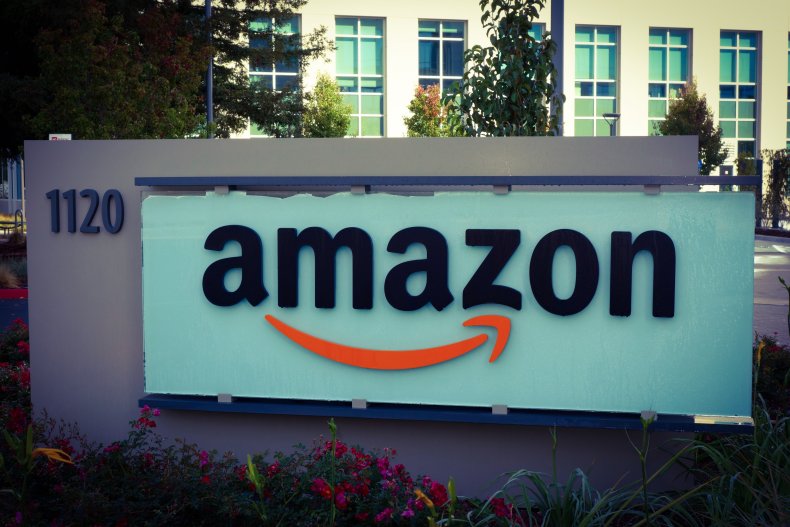 The latest post comes amid an ongoing objection hearing held by the National Labor Relations Board since June 13 to consider Amazon's bid to overturn a historic election in April this year. The election saw workers at an Amazon warehouse in the New York City borough of Staten Island vote to unionize, marking the first successful U.S. organizing effort in the history of Amazon.
President Joe Biden expressed support for the unionizing of Amazon workers following the landmark election in April. In his remarks at the national conference of North America's Building Trades Unions, Biden said "the choice to join a union belongs to workers alone," adding: "And by the way: Amazon, here we come. Watch."
In a comment that received 8,400 upvotes in the latest Reddit post, user FastFeasting said: "Prime week is the perfect time for Amazon workers nationwide to strike. What better time than when they need you the most?"
Kelnozz claimed: "Most people can't afford to strike, they miss more than a day then they miss rent. They [Amazon] put us between a rock and a hard place so we can't fight for ourselves," in a comment that got 422 upvotes.
BabyfaceJezus commented: "That's why we must help each other. Unionizing is about support. Lean on the union. We can only go far together, U know?," in a comment that received 163 upvotes.
Jason Anthony, the lead organizer for the ALU, said the claims made in the latest Reddit post are "totally correct but it varies by location, for example here in NYC Prime Week Our MET [mandatory extra time/overtime] is one of our days off but not everyone is affected by this. In other words, [workers] will be [on] 5 days [of] 11-hour shifts in NYC."
Anthony said the ALU believes workers "should go on strike" because the working conditions inside Amazon's warehouses are "not ideal," especially during the summer when it is "80 or 90 degrees [Fahrenheit] outside" and "being inside it [feels] much worse."
He added: "These workers are required to be hydrated all the time due to physical movement throughout the day and [at] some point they will need to go to the bathroom and there's no air conditioning in [any] of the facilities."
Sharing an image (seen just below) of a facility showing a packaging belt with a couple of small fans, Anthony said: "This is what we have here in NYC."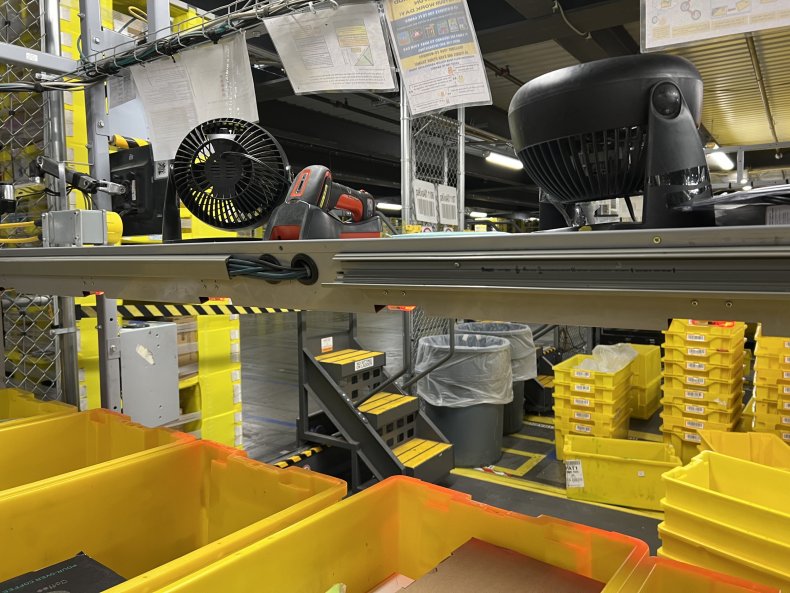 Asked whether the claims in the aforementioned Reddit post are true, an Amazon spokesperson, Sam Stephenson, said: "We're not able to investigate this specific situation," because the user has deleted their Reddit account.
"While customer demand does increase at certain points in the year, our employees are not allowed to work more than 12 hours per day, and we work with each employee to be as flexible as we can, depending on their needs," Stephenson added.
No employee, "no matter the tier" of their employment, may work more than 12 hours in a day or 60 hours in a week, the Amazon spokesperson reiterated.
He said shift schedules are set by site management based on "business requirements" but typically "frontline employees work 10 hours a day, four days a week."
Employees working overtime hours are compensated "according to state and federal overtime regulations," he said.
According to the U.S. Office of Personnel Management (OPM), "No statutory or regulatory limits apply to the amount of overtime work a manager may require an employee to perform."
But they must receive overtime pay for work beyond 40 hours "at a rate not less than time and one-half their regular rates of pay" under the Fair Labor Standards Act (FLSA).
The OPM adds: "If an employee refuses to perform overtime work, the agency may discipline the employee for failure to report for scheduled overtime duty."
Asked how many hours of overtime Amazon workers are required to fulfill in a year, Stephenson said: "Employees are not given specific overtime hours in a year to complete" and they can "use their time off options to cover mandatory extra time."
The company tries to "provide mandatory extra time notice as far in advance as possible," he said. "Employees are expected to work those hours if they do not request the time off or already have time off scheduled. Additionally, we work with employees individually to support reasonable accommodations when needed."
In response to the ALU's latest comments regarding working conditions, Stephenson said: "The health and safety of our employees is a top priority and, while it's uncommon to find climate control in similar buildings across much of the industry, our fulfillment centers [packaging warehouses] are built with climate control and HVAC [heating, ventilation and air conditioning] systems designed to keep employees comfortable and safe all year round."
He claimed Amazon's teams are trained to follow "robust safety procedures" when operating during warmer weather, adding that the company's policies "meet or exceed industry standards and OHSA [Occupational Safety and Health Administration] guidance."
The spokesperson said: "The safety and well-being of our employees is always a top priority. We recognize that helping employees be safe in physical roles takes a lot of focus and investment," explaining that Amazon has invested "hundreds of millions of dollars in safety in many different ways," from a team of more than 8,000 "dedicated safety professionals" to training and technology.
The ALU's Anthony also claimed that "not all Amazon employees are treated fairly and equal," adding that Amazon "treats you like a second class citizen" if you are a member of the Black, Latino or LGBTQ community.
In response to Anthony's allegations, Stephenson said: "That's not true—we consistently hire and welcome people from all backgrounds, and we don't tolerate any discrimination or unequal treatment," pointing to the company's official position on diversity, equity and inclusion outlined at the Amazon website.
Asked whether Amazon would support its workers going on strike, Anthony said: "Of course Amazon won't support that because everything is profit over safety," adding that: "All Amazon employees will face some kind of retaliation by the company" should they choose to go on strike.
Amazon reportedly fired two employees who were linked to efforts to unionize at the Staten Island warehouse, CNBC reported in early May.
Back in March 2020, Amazon fired a worker (Christian Smalls, the now head of ALU) who organized a walkout at the Staten Island warehouse to demand greater protection against COVID-19.
Amazon said at the time that Smalls received several warnings for violating social distancing guidelines. The company said he showed up to the protest despite being told to remain at home for 14 days with pay because he had come into contact with a co-worker who tested positive.
Smalls is due to testify at the Amazon objection hearing today at 10 a.m. ET.
Asked whether Amazon supports its employees going on strike, Stephenson said there are "many established ways" by which employees can voice their opinions internally, and "we also respect the right for some to make their opinions known externally."
He explained: "We have an open-door policy and encourage discussions between our employees and managers" and workers "normally speak with managers one-on-one or during group meetings."
Stephenson said workers can also use "an online platform visible to all employees at their site" where they can post questions, comments and concerns and "leaders respond within 48 hours."