How to Watch 'Hunters': Amazon Prime Nazi-Hunting Thriller Raises Questions About Revenge and Justice
A new, twisted thriller aims to raise questions about one's moral compass. Hunters, an Amazon Prime prestige series that was released Friday, follows a group of Nazi hunters in 1970s America, led by Al Pacino's Meyer Offerman, who believe they're bringing justice to Holocaust victims.
After just a few hours on the streaming service, fans on Twitter had already spoken joyfully about the series. Some claimed it had all of the makings for a classic, involving thriller while others pointed to the show's understated comedy, which brings an air of whimsicality to the otherwise dark narrative.
Logan Lerman (previously seen in the 2012 film The Perks of Being A Wallflower) stars beside Pacino as a newborn Nazi hunter following the death of his grandmother. In the first episode, Lerman's character, Jonah, loses his grandmother to a mysterious murder in their home. Eventually, as he's trying to track down the killer, Jonah finds himself caught in the middle of a brutal shadow-war involving Nazis hiding in the United States.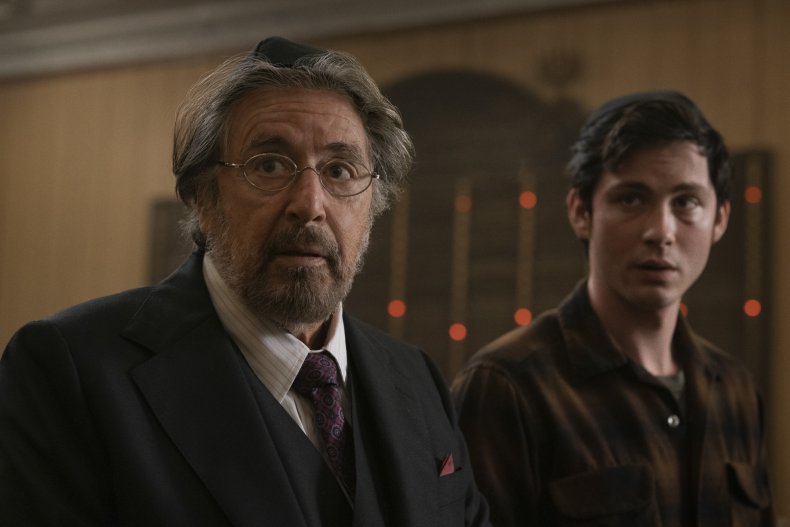 Created by writer and showrunner David Weil, the series is executive produced by Jordan Peele, famed director of Us and Get Out.
All 10 episodes of Hunters' first season are now available to watch on Amazon Prime Video, which comes bundled with a subscription to Amazon Prime. The online shopping service is around $120 a year, and can be paid monthly.
Amazon now offers a membership to just Amazon Video, though. Similarly to Netflix, viewers can pay $8.99 per month to access all of Amazon's original content, including The Marvelous Mrs. Maisel, the Shia LaBeouf-starring film Honey Boy, Fleabag and Jack Ryan. In addition, Amazon Video streams television shows and movies that are not created by the platform. All season of Sex and the City can be streamed now, as can The Farewell and Magic Mike.
Early viewers were quick to praise several of the performances in Hunters. Lerman, who started his career in Hoot and Percy Jackson and The Olympians: The Lightning Thief, was singled out by some for successfully stepping into a heavy, adult role.
Pacino was also praised for his next big streaming service appearance, following Netflix's The Irishman.
Professional critics, meanwhile, have greeted Hunters with more of a mixed reception. Brian Tallerico, writing for RogerEbert.com, noted, "I recommend the show—it's smart and unpredictable—but I don't recommend watching too many consecutively. It's a lot."
Rolling Stone's Alan Sepinwall was similarly torn, if a little less enthusiastic. "Throughout the half-season Amazon made available to critics, I toggled back and forth between thinking the show was good or bad—occasionally in the same moment."