Amazon Questions Validity of Signatures in New York City Workers' Drive to Unionize
A group of Staten Island, New York, Amazon workers reached the required number of signatures to hold a union election at their warehouse, a National Labor Relations Board (NLRB) spokesperson said, but a company spokesperson said it is questioning the validity of the signatures, according to the Associated Press.
"We're skeptical that there are a sufficient number of legitimate signatures, and we're seeking to understand how these signatures were verified," Amazon spokesperson Kelly Nantel said.
Newsweek reported that the Amazon Labor Union, not affiliated with established labor unions, withdrew an earlier petition in November after failing to garner enough signatures.
Christian Smalls, the organizer of the unionization group, told AP that they "quickly bounced back," working to gather more signatures to meet NLRB's 30 percent threshold. The election will be held sometime after February 16.
"That was the celebratory moment for us yesterday, the fact that we were able to achieve that even after facing the withdrawal," Smalls said.
AP reported that Smalls was fired after organizing a protest in March of 2020 over greater COVID-19 protections.
The Staten Island vote will follow a do-over vote, reported by Newsweek, that will take place next month at a Bessemer, Alabama, Amazon facility.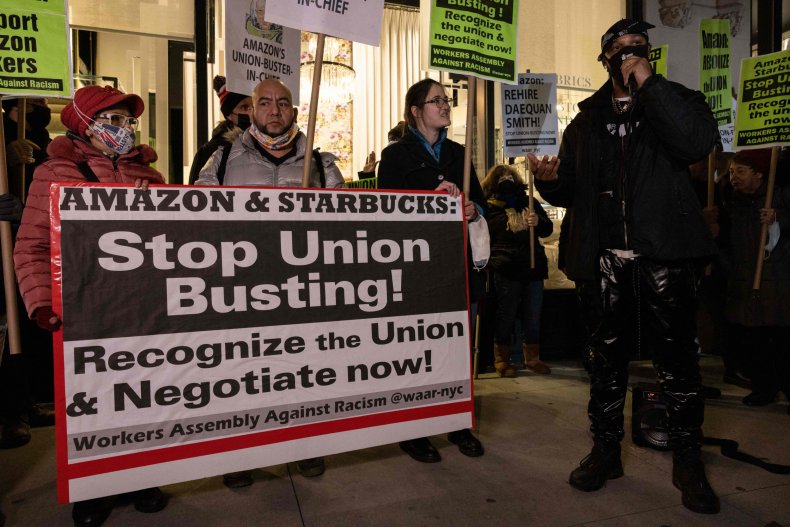 The Retail, Wholesale and Department Store Union said in a statement that Amazon tainted the outcome of the Bessemer's April election.
Newsweek reported that Lisa Henderson, the regional director for the NLRB, released a 20-page decision objecting to the Amazon plant placing a mailbox by the entrance, claiming it "highjacked the process."
"The employer's flagrant disregard for the board's typical mail-ballot procedure compromised the authority of the board and made a free and fair election impossible," Henderson wrote in a statement.
Newsweek reported that Amazon reached a settlement with the NLRB, agreeing that the company wouldn't retaliate against workers who attempt to unionize and management can no longer threaten or call police on employees who organize on Amazon property during their off-time.
The settlement also outlines changes Amazon will make when reacting to its 750,000 U.S. workers unionization attempts.
"Whether a company has 10 employees or a million employees, it must abide by the National Labor Relations Act," NLRB General Counsel Jennifer Abruzzo said in a statement. "This settlement agreement provides a crucial commitment from Amazon to millions of its workers across the United States that it will not interfere with their right to act collectively to improve their workplace by forming a union or taking other collective action."
AP reported that Amazon is the nation's second-largest private employer, behind only Walmart.