The Amazon Rain Forest Is Once Again on Fire, and This Time It's Worse
The Amazon rain forest, which saw devastating wildfires last year wipe out massive amounts of vegetation, has caught fire once again, and experts are predicting the damage could be even worse.
Brazil's National Institute for Space Research (INPE) released satellite data on August 1 that recorded 6,803 fires in the Amazon in July, a 28 percent increase from this time last year, German broadcaster Deutsche Welle (DW) reported. Within the first 10 days of this month, the region saw more than 10,000 fires—up 17 percent from the same period in 2019.
August, the beginning of the region's dry season, had more than 80,000 fires rage throughout Brazil in 2019, over half of which occurred in the Amazon. The number of fires went down in September, but the damage had already taken its toll. Experts warned last year that with the amount of trees wiped out by the fires, greenhouse gases would increase in the atmosphere, speeding up climate change.
Deforestation, or the process of clearing land for economic development, continues to be the number one culprit behind these fires. One element of this process is the slash and burn method, which is cutting down trees, letting them dry out and then setting them ablaze.
The fires resulting from slash and burn spread to surrounding forests as a result of the dry climate. This was the primary cause of the massive wildfires seen in August and September 2019.
But someone has to be "using the match," Ane Alencar, director of science at the Amazon Environmental Research Institute, told DW, adding that there are "no natural fires in the Amazon."
The majority of blame is being cast upon Brazil President Jair Bolsonaro, whose administration has repeatedly announced its commitment to deforestation.
Bolsonaro attempted to enact damage control last year after facing criticism for his handling of the Amazon fires, first implementing a 60-day ban on using fire to clear land in the region. In July, he announced that agricultural burning in the Amazon could not begin until November 2020, the end of the dry season.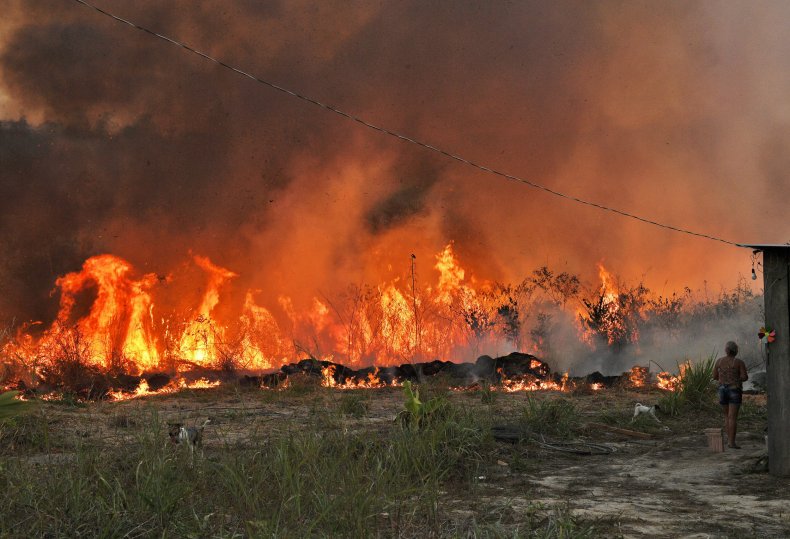 During an August 11 meeting with other South American leaders, the president touted his administration's efforts in preventing wildfires, asserting that deforestation had dropped last month by more than 25 percent, compared with July 2019.
"We are making big, enormous efforts to fight fires and deforestation, but even so, we are criticized," Bolsonaro told members of the Leticia Pact, which was formed last year among Amazon countries in an effort to protect the rain forest.
But INPE data shows that the region's deforestation increased in the first six months of 2020 by 25 percent, with at least 1,200 square miles of forest being cut down by June. And the number of fires detected so far this year is already higher than the same period last year, Alencar told DW.
"For this fire season, it seems that we lost the battle against deforestation," she said. "We had two days, July 30 and August 1...with more than 1,000 hot pixels, which are a measurement of fire activity in the region. And those were very high for that period."
Bolsonaro argued during the meeting last week that this data was false.
"Tropical rain forest doesn't catch fire. So this story that the Amazon is burning is a lie, and we have to fight it with real numbers," he said. He told Leticia Pact members they wouldn't find "any spot of fire" if they were to fly over the rain forest.
Experts dispute this claim as well. While the rain forest could appear untouched if viewed from above, wildfires are still burning through vegetation growing beneath the forest's canopy, threatening 40 to 50 percent of all trees.
"A considerable part of the Amazon forest has been consecutively degraded, and it's invisible to our eyes," Alencar told DW.
When this undergrowth is wiped out, the forest becomes even more vulnerable to wildfires. During the end of this dry season, the new fires are even more of a threat to areas damaged by last year's wildfires, which could permanently change the Amazon's vital landscape.
Newsweek contacted the INPE and Bolsonaro's administration for comments but did not hear back in time for publication.