Amazon Stops Selling 'Daddy's Little Slut' Children's T-shirt After Fierce Backlash: 'What in the Fresh Hell Is This?'
Amazon has removed a children's T-shirt with "Daddy's Little Slut" printed on it after a backlash on social media.
The online retailer confirmed that the item, sold by a third-party, had been removed from its store after The Independent first reported on the move.
A link to the item sold by Onlybabycare that was shared on social media also now leads to an error page.
Journalist Yashar Ali, who was written for New York Magazine and HuffPost, was the first to share a picture of the children's T-shirt.
"Available for sale on @amazon: 'Daddy's Little Slut' t-shirt...for children," Ali tweeted. "Posting here in hopes it'll expedite removal from Amazon."
Responding to the obscene T-shirt, actress Isidora Goreshter tweeted: "What in the fresh hell is this? Take me off this planet. Willing to carpool."
"Amazon makes it very hard to contact them, but I just wrote through chat," Kendra Wagner tweeted. "Said it sexualized children and promoted pedophilia."
"Holy crap this is real," said screenwriter Eric Haywood beside a blushing emoji.
CBS News correspondent Diane King Hall also hit out at Amazon over its hosting of the product.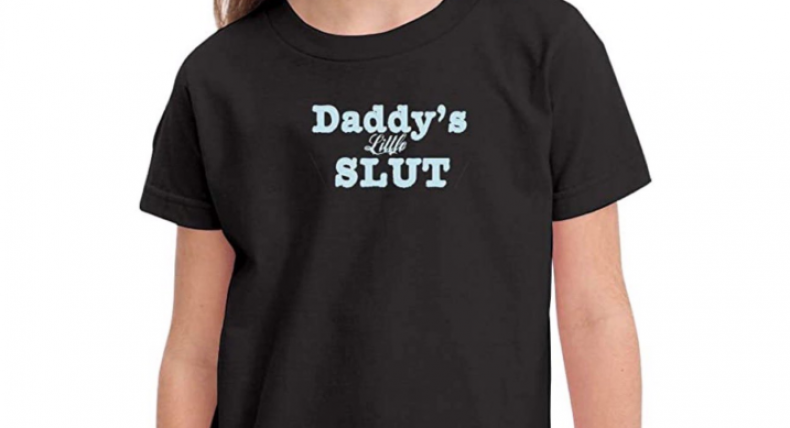 She said: "You've got to be kidding me! @amazon take this shirt down now!"
Responding to Ali's tweet, entrepreneur Anthony Citrano said: "FWIW, these are programmatically generated. They take a billion phrases and create a billion listings across all product types (shirts, mugs, etc).
"And that right there is a great example of why such a "spray and pray" approach is really stupid."
In a statement to Newsweek, an Amazon spokesperson said: "All sellers must follow our selling guidelines and those who do not will be subject to action including potential removal of their account. The product in question is no longer available."
Onlybabycare, the seller of the "Daddy's Little Slut" t-shirt, does not appear to have been removed from Amazon.
Its store page is still online and flogging a range of clothing, mostly aimed at children. But it is also selling a cap for men and women reading: "Black Guns Matter."
The Independent reported that the "Daddy's Little Slut" t-shirt was sold from June this year and was on sale at $18.
It also reported that a description of the product claimed it was suitable for "little girls or boys" and could be worn at birthday parties, weddings and other events.