Amazon Removes 'Holocaust Wound' Item From U.K. Site After Blowback From Auschwitz Memorial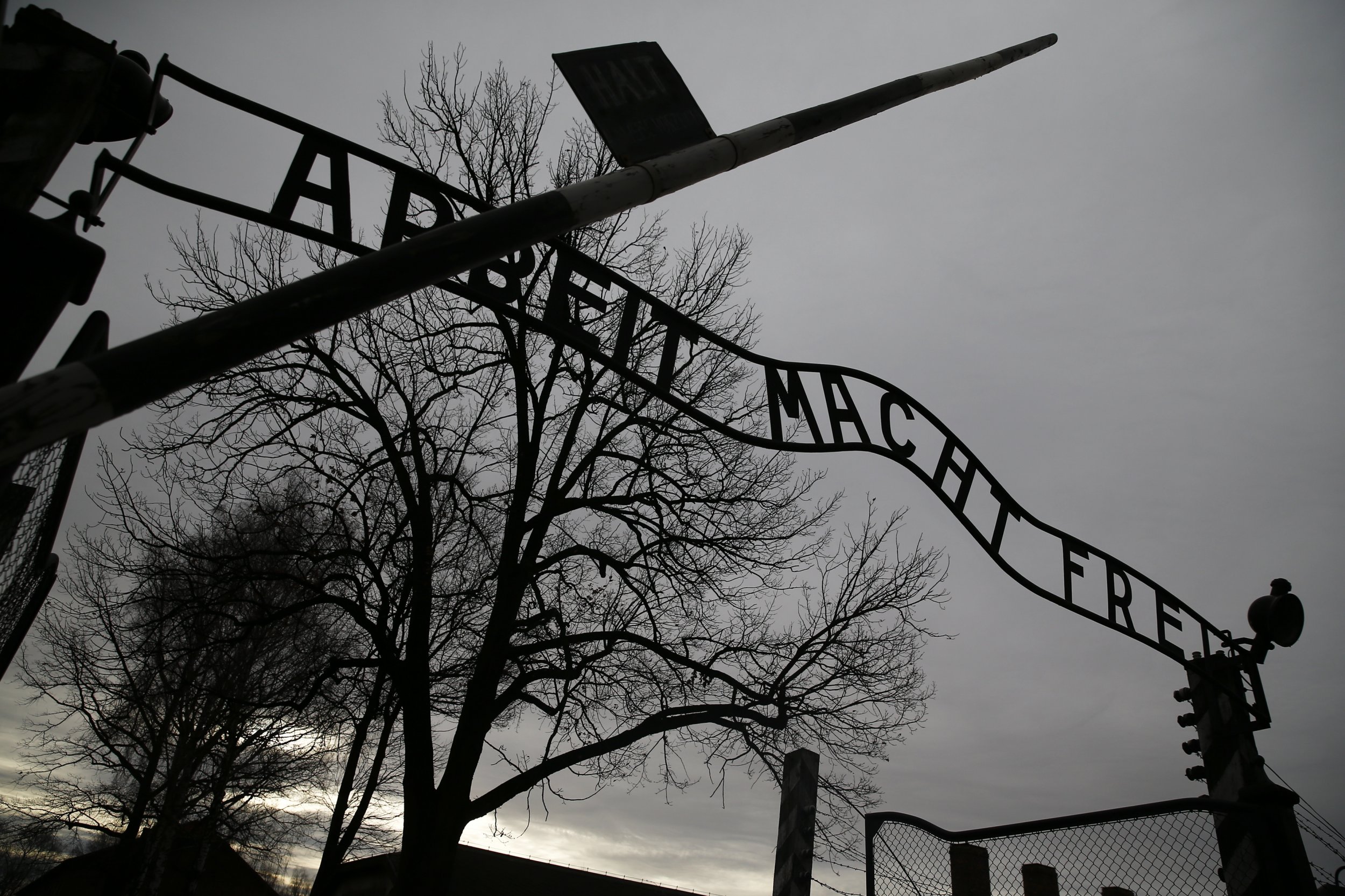 An item called a "Holocaust wound" is no longer for sale on Amazon UK after the British arm of the online retailer was criticized for listing it. The link to the product—which now returns a message reading, "Looking for something? We're sorry. The Web address you entered is not a functioning page on our site."—was tweeted out on Monday by the Auschwitz Museum and Memorial along with its assessment.
"Dear @AmazonUK: is selling 'a Holocaust wound' really appropriate? This is rather disturbing & disrespectful," the memorial wrote succinctly on its social media account. The Auschwitz Museum and Memorial is located on the site of the infamous Nazi concentration camp complex in German-occupied Poland, where approximately 1.1 people were murdered, the vast majority of them Jews. Visitors—which number over a million annually in recent years—can tour the main camp as well as Auschwitz-Birkenau to learn about the Holocaust through preserved structures as well as exhibitions.
Though the "Holocaust wound" page no longer loads on Amazon UK, the preview image and text in the memorial's tweet is still visible. The description begins: "Holocaust wound. Derbe burn for half his face as latex application. 3D Burn! Acid attack, Krasser sunburn or wound a burnt offering to be burst bliste…" The description ended with, "...blisters over half his face," according to Buzzfeed, with derbe being German for rough and krasser meaning stark. The code-switching was perhaps the result of a translated description from the product's seller, which appears to be a Germany-based store called Horror Shop. It offers costumes, makeup and accessories for Halloween and theme parties.
After the memorial sent its missive, several other Twitter users replied to echo the disapproval. "Shocking and disgraceful. Will never use Amazon again," one wrote, and another added, "Amazon please remove this or I will cancel my prime subscription." Other comments included: "This is why we need to learn and understand history"; "Dear #AmazonUK I think @AuschwitzMuseum is being rather polite. How can you possibly accept this?"; "This is not appropriate at all. I don't get offended but this is just sick." and "Horrible to profit off a part of a painful history! @AmazonUK have you any decency?"
At some point thereafter, the product disappeared from Amazon UK's online shelves and the Auschwitz memorial tweeted, "Reaction makes sense. The item has been removed from @AmazonUK. Thank you all for your support."
"We were not the only one who reacted in this case. We rather noticed complaints of others and joined them," Pawel Sawicki, a spokesman for the memorial, told Buzzfeed. "However it's good that the item was removed from the stock. Selling such objects is at least inappropriate, disturbing and disrespectful to the memory of the victims of the Holocaust."
But the memorial was not content to leave it at that. Less than eight hours later, it sent a message to what appears to be the same Horror Shop's Twitter account, very similar to its original note to Amazon UK. The company responded at midday Tuesday EDT, explaining its error: "@AuschwitzMuseum thank you very much for the info. All of our english translations are done via a script so this error was not on purpose."
That link still works, but when searching for the product by item number on the German Horror Shop website, it now appears with the name Brandopfer wunde, which an online translation says means "fire victims wound."
The "Holocaust wound" incident comes just a few months after Amazon and Amazon UK reportedly removed three Holocaust denial books—Holocaust: The Greatest Lie Ever Told, by Eleanor Wittakers, The Hoax of the Twentieth Century: The Case Against the Presumed Extermination of European Jewry, by Arthur R Butz and Did Six Million Really Die? The Truth At Last, by Richard Harwood (a pseudonym for Richard Verrall).
"We strongly urge you to remove books that deny, distort and trivialize the Holocaust from your store," Robert Rozett, director of the Yad Vashem libraries, reportedly wrote in a letter to Amazon CEO Jeff Bezos. "Holocaust denial literature is freely available for purchase over Amazon. Many of the items appear with glowing readers' reviews and recommendations for further reading in the same vein."
The online retailer was also criticized by other groups, including the World Jewish Congress, for the availability of Holocaust denial titles. The WJC sent several letters of its own, and its CEO and executive vice president, Robert R. Singer, published an op-ed on the subject in the Los Angeles Times.
"The three titles that you removed…are blatantly anti-Semitic works penned by some of the most notorious bigots of our time, and we commend you for recognizing the potential harm of enabling their accessibility on Amazon," Singer wrote in a letter thanking Bezos after the books were taken down. "We are also gratified to note that Amazon has removed numerous other Holocaust-denying items from its website. It is encouraging to know that Amazon is endeavouring to enforce its own standards and guidelines prohibiting the sale of material that 'promote or glorify hatred, violence, racial, sexual or religious intolerance.'"