Amazon Removes Proud Boys Merchandise Displaying 'Stand Back and Stand By' Phrase
Amazon says it is working to remove merchandise supporting the white supremacist group the Proud Boys from its marketplace. The move comes after screenshots of clothing items displaying the phrase, "Stand Back, Stand By" along with the initials "PB" went viral on Twitter.
Sold by Stand Back Stand By, Be a Proud Boy, the merchandise began popping up on the retail giant's website early Wednesday morning. Men's and women's T-shirts, long-sleeved shirts, and tank tops displayed the phrase in bright yellow lettering on a black shirt, while other items added "Trump 2020" and the number 45 squared. At one point, a black and yellow flag that read "Proud Boys" in large block letters was also sold.
"All sellers must follow our selling guidelines and those who do not will be subject to action including potential removal of their account," an Amazon spokesperson told Newsweek in an email. "We are removing these products."
The items are no longer available on the Amazon website. It is unclear if the brand account has been suspended.
On Amazon's Seller Central website, the retailer's policy on offensive and controversial material states: "Amazon does not allow products that promote, incite or glorify hatred, violence, racial, sexual or religious intolerance or promote organizations with such views."
Amazon lists "violence, intolerance and hate" as examples of products that it prohibits. The retailer also points out that it reserves the right to make a determination on the historical value of an item.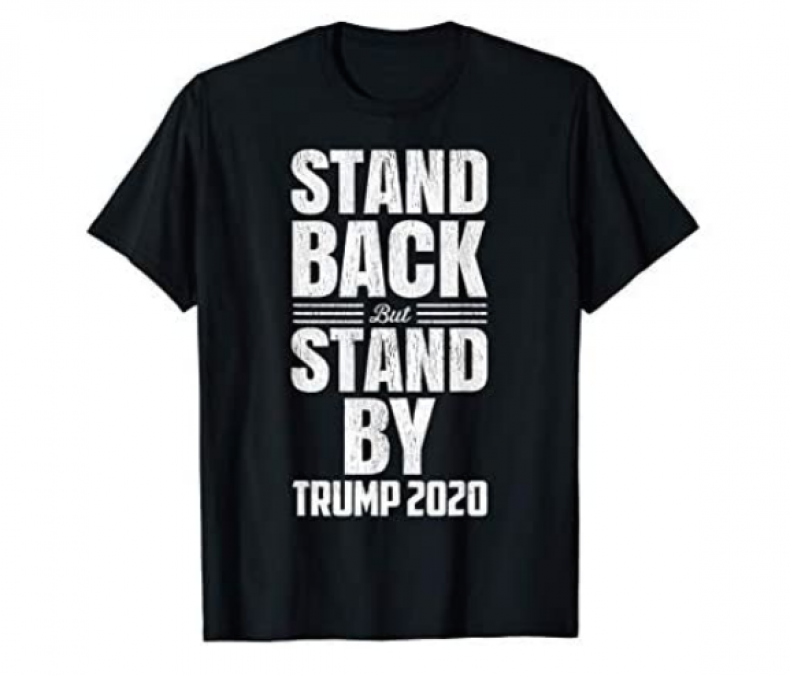 President Donald Trump's failure to condemn white supremacy in the U.S. and his "stand back and stand by" response toward the far-right extremist group—which has incited violence at anti-police brutality demonstrations across the country—was one of the most controversial takeaways from the presidential debate. The Proud Boys have since embraced the slogan, praising it on free-speech social media platforms like Telegram and Parler.
The Proud Boys are labeled a hate group by the Southern Poverty Law Center.
Since the debate, several members of the Trump administration have attempted to justify the president's statement. Donald Trump Jr., the president's eldest son, said that "stand by" may have been "a misspeak," while Trump's campaign aid Jason Miller told The New York Times that he was clearly asking them to "knock it off."
Asked why he told the hate group to "stand by," Trump said to reporters at the White House on Wednesday that he doesn't know who the Proud Boys are, but advised them to "stand down" and "let law enforcement do their work."
"Law enforcement will do the work more and more as people see how bad this radical liberal Democrat movement is and how weak," Trump said. "Our law enforcement is going to come back stronger and stronger."