Amazon Reveals Robot Army in Its Warehouses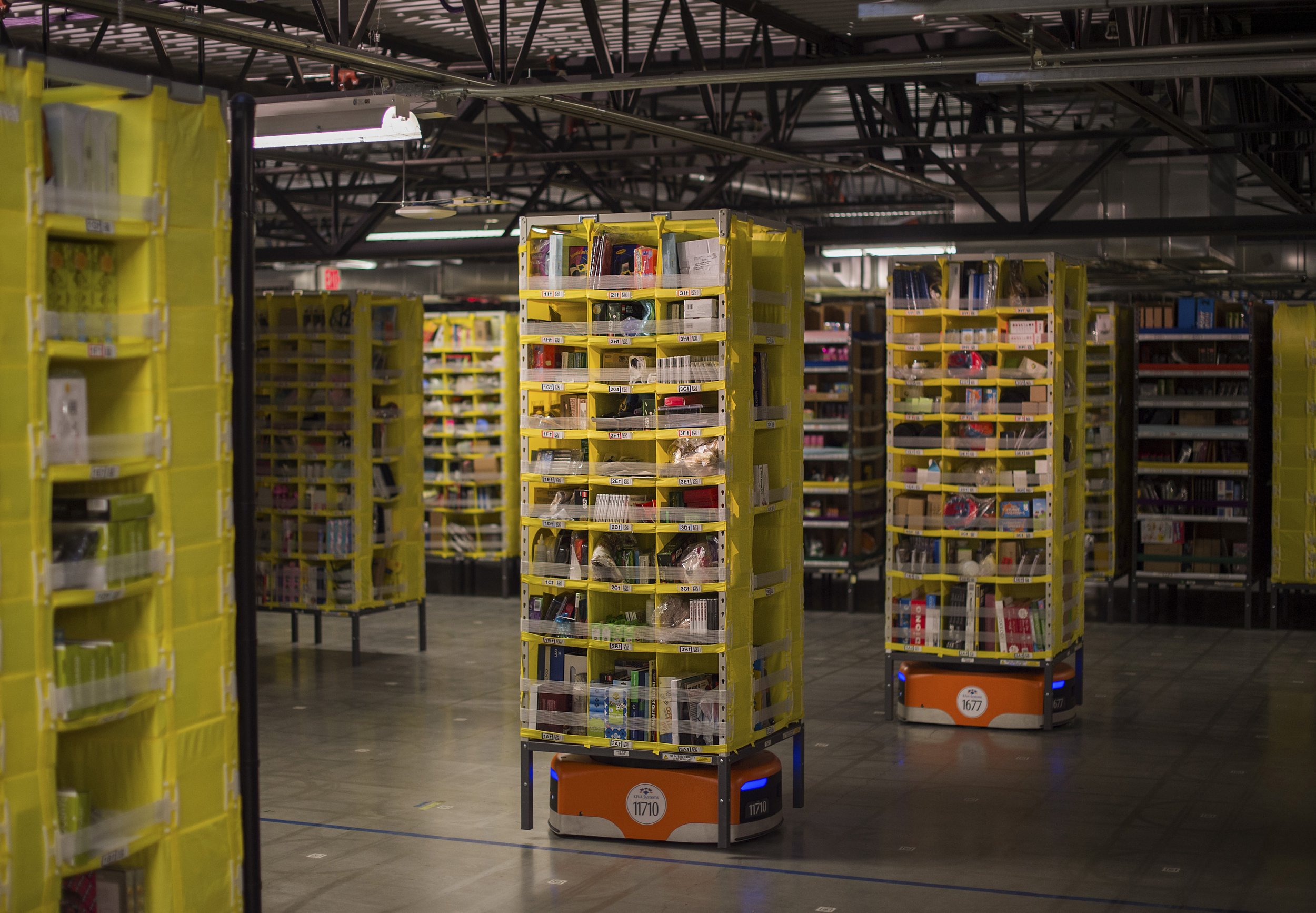 Amazon opened the doors of one of its latest-generation warehouses in Tracy, California on Sunday, revealing their army of bustling robots bringing goods out of storage and taking them to employees.
The robots, which weigh 320lbs and come in at just 16 inches tall, are being used to allow Amazon to increase the speed at which it processes customers' orders.
Amazon bought the automated sorting system called Kiva in early 2012 for $775 million, a start-up which focused on creating robots to work in large warehouses to help complete online orders. Amazon began using the robots in July this year, and now there are 15,000 of them, spread across 10 of the company's warehouses
Video footage from inside the warehouse shows the squat, orange robots moving around tall storage shelves and bringing them to employees to sort. It was released just one day before 'Cyber Monday', which last year saw customers ordering 426 items from Amazon per second.
According to Amazon's vice president of worldwide operations Dave Clark, using robots gives Amazon two major advantages. Firstly, because they no longer need aisles between the shelving units for humans to walk down, the items can be stored more closely together meaning the company can hold more stock. Secondly, using robots to pick up the items saves time, meaning that orders can be processed more efficiently.
"Kiva's doing the part that's not that complicated. It's just moving inventory around," Clark says. "The person is doing the complicated work, which is reaching in, identifying the right product, making sure it's the right quality, making sure it's good enough to be a holiday gift for somebody."
The Tracy warehouse, or 'fulfillment centre', opened last year and stocks about 21 million items in total which, according to Clark, will increase to 26 million once the warehouse has been fully equipped with Kiva robots.
However, many fear that the increased reliance on these robots will reduce the need for human labour leading to job losses. The company has already been heavily criticised for the way it treats its workers.
Bex, co-founder of Amazon Anonymous, a group set up by those who are unhappy that the company does not pay a living wage to warehouse workers, told Newsweek: "Given Amazon's dodgy history on how it treats its workers, serious questions need to be raised about their strategy to implement this new technology . Will a transition trample on workers' livelihoods and leave their staff out in the cold at a moment's notice?"
However, Clark says that robots are "not about eliminating jobs", insisting that the increase in productivity will result in more growth, and with growth comes more jobs. He insists that of the 4,000 workers employed at the warehouse, 2,500 were hired to deal with the extra Christmas orders.
This year, 'Cyber Monday', reportedly Amazon's busiest day of the year, falls on the first day of the Christmas month, and is also the first day of a boycott organised by Amazon Anonymous over criticisms about the company's business practices. They are also targeting Amazon because of their alleged tax avoidance.
Today, Amazon Anonymous published a list of alternative retailers for people not shopping at Amazon this Christmas, acknowledging that "whilst it can be hard to go cold turkey, there are better places to shop".
So far, Amazon is due to lose and estimates £2.5 million this December as more than 10,000 customers pledge to boycott the company.
"There's no doubt that technology can help improve how businesses run - if only Amazon's robots could also automate that they pay their fair share of tax in the countries they do business in," Bex told Newsweek.