Police Are Monitoring Black Lives Matter Protests With Ring Doorbell Data and Drones, Activists Say
Amazon's Ring doorbell cameras, drones and a number of other surveillance technologies are being used by law enforcement agencies to monitor communities across the U.S. including Black Lives Matter protests, activists say.
According to a new searchable database called the Atlas of Surveillance, Amazon Ring has video-sharing partnerships with more than 1,300 law enforcement agencies across the U.S., including the Los Angeles Police Department in California, the St. Louis Metropolitan Police Department in Missouri and the Louisville Metro Police Department in Kentucky.
The partnerships involve an agreement that allow the departments "special access" to Amazon Ring's Neighbors app, which provides users with crime and safety alerts.
According to the database, drones are used by more than 1,000 law enforcement agencies: the Boston Police Department has three drones, while the New York Police Department operates 14. Other surveillance technologies being used include facial recognition, currently used by more than 350 agencies, according to the database.
Drones can be used to monitor all kinds of events, including protests and forest fires, Lawrence Valliere, the police chief in Westfield, Massachusetts, acknowledged to MassLive. Valliere said his department's two drones have been "invaluable" in helping police understand the nature of unfolding incidents.
The Electric Frontier Foundation (EFF), a nonprofit digital rights group, launched the database last month with the help of the Reynolds School of Journalism at the University of Nevada, Reno.
The EFF said the database was the "largest-ever repository of information on which law enforcement agencies are using what surveillance technologies."
The group said it focused on the "most pervasive" technologies being used, such as body-worn cameras, face recognition, cell-site simulators, automated license plate readers, predictive policing, camera registries, and gunshot detection.
It said: "Law enforcement surveillance isn't always secret. These technologies can be discovered in news articles and government meeting agendas, in company press releases and social media posts. It just hasn't been aggregated before."
But it added "our research only reveals the tip of the iceberg and underlines the need for journalists and members of the public to continue demanding transparency from criminal justice agencies."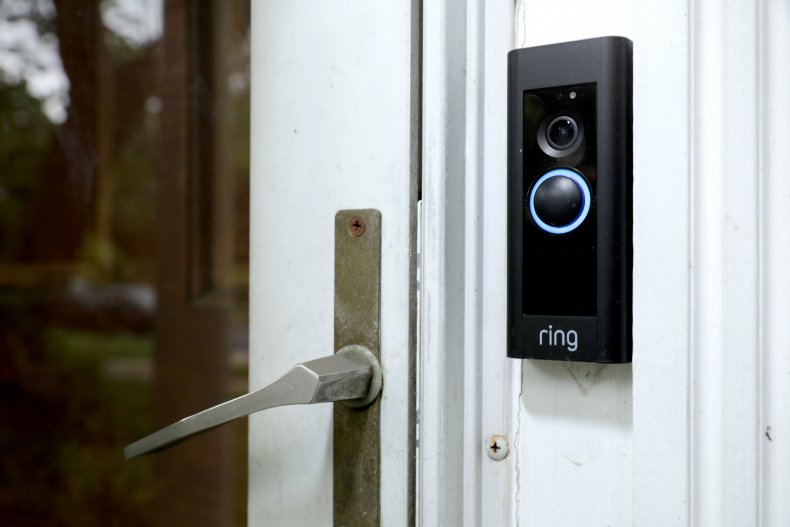 Dave Maass, a senior investigative researcher in EFF's Threat Lab, said that the research revealed a "sprawling spy state that reaches from face recognition in the Hawaiian Islands to predictive policing in Maine, from body-worn cameras in remote Alaska to real-time crime centers along Florida's Gold Coast." Maass has been contacted for additional comment.
In June, as protests against police brutality and racism sparked by the police killings of George Floyd, Breonna Taylor and others were taking place across the U.S., the EFF urged Amazon Ring to end its partnerships with police, warning that its doorbell cameras could be used to identify protesters.
"Ring continuing to grow partnerships with police departments during the current protests make an arrangement already at risk of enabling racial profiling even more troubling and dangerous," the group said in a post on its website.
"These partnerships allow police to have a general idea of the location of every Ring camera in town, and to make batch-requests for footage via email to every resident with a camera within an area of interest to police—potentially giving police a one-step process for requesting footage of protests to identify protesters."
The group added that even if the owner of the Ring camera refuses to hand over footage of protests, it won't stop law enforcement from getting it.
"If a Ring camera captures demonstrations, the owner is at risk of making protesters identifiable to police and vulnerable to retribution," the EFF added. "Even if the camera owner refuses to voluntarily share footage of a protest with police, law enforcement can go straight to Amazon with a warrant and thereby circumvent the camera's owner."
In a statement to Newsweek, a Ring spokesperson said: "Absent an exigent or emergency circumstance, Ring does not disclose customer information in response to government demands unless required to do so to comply with a legally valid and binding order, such as a search warrant. Unless prohibited from doing so or there is clear indication of illegal conduct in connection with the use of Ring products or services, Ring notifies customers before disclosing customer information."
The EFF also called out Amazon's hypocrisy in sharing a statement expressing solidarity with the Black community when Ring "plays an active role in enabling and perpetuating police harassment of Black Americans."
Fight for the Future, a nonprofit advocacy group, has also been campaigning for an end to Amazon Ring's partnership with police, saying the surveillance gives law enforcement "unprecedented power."
"Because Amazon's surveillance partnerships with police operate with almost no oversight or accountability, we don't know exactly how police are leveraging these partnerships to conduct surveillance of protesters. But it's not hard to figure it out," Evan Greer, the deputy director of Fight for the Future told Newsweek.
"Amazon is blanketing our neighborhoods with more and more cameras and giving police VIP access to request the footage in exchange for marketing their devices. The result is a privately owned panopticon that police can use to monitor protesters almost anywhere they go by sending automated requests for footage to thousands of camera owners around a city."
She added: "All of this happens without any need for a warrant or probable cause beyond police claiming that a crime has occurred in a given area."
A Ring spokesperson said: "Police can only submit video requests to users in a given area when investigating an active case. Ring facilitates these requests and user consent is required in order for any footage or information to be shared. Local police are not able to see how many Ring users received a request, who declined to share, or which users opted-out of future requests."
However, Greer says focusing only on how Ring cameras can be used to monitor protesters is "missing the point."
"The real danger of these devices is the way that they exacerbate existing racist discrimination in American cities," she said.
"This type of police surveillance is primarily used to target people for low-level crimes like trespassing and package theft––the types of crimes that should be prevented by tackling systemic poverty and racism rather than by continuing to expand a failed model of over-policing and surveillance. We can't end police violence without ending police surveillance."
This article has been updated with comments from a Ring spokesperson.