Amazon Slammed for Alleged Photo of 'Dystopian' Motivation Messages
An image showing a positive affirmation that is allegedly meant for Amazon employees has gone viral on the Reddit forum "Oddly Terrifying" and stirred a conversation among viewers.
"Amazon won't let us listen to music or sit down but we get these 'motivational' messages all day long," claimed the title of u/regian24's post, which amassed more than 55,000 votes since it was shared on Wednesday. You can view it here.
An icon for WorkingWell is displayed on the bottom left of the screen, which features a technique for a "mind moment."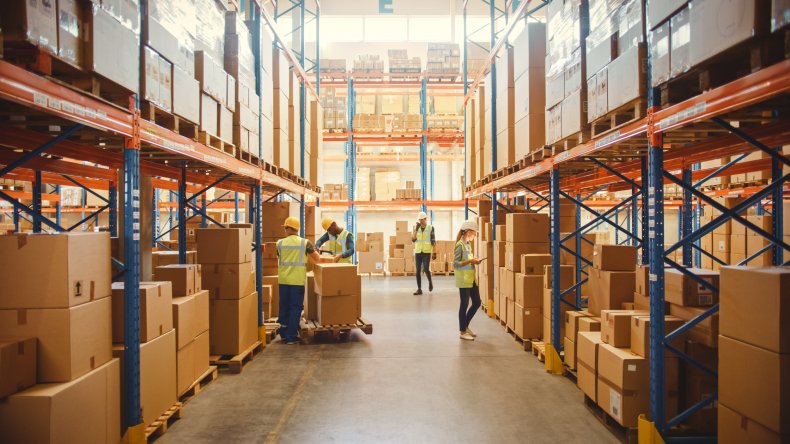 What is WorkingWell?
WorkingWell is, according to a press release issued by Amazon, a program launched in May 2021 meant to provide physical and mental activities, wellness activities and support for healthy eating habits.
"The program is part of the company's investment of more than $300 million into safety projects in 2021, and its mission to be Earth's Safest Place to Work," the release said.
"Mind Moment: Positive Affirmation" the screen read, as shared on Reddit.
Next to the affirmation is a timer with the instruction to repeat the affirmations until the timer ends:
"Even in chaos, I can feel peaceful."
"I notice the good."
"While socially distant, I am emotionally close," the affirmations read on the screen.
A sticker on the screen noted that cellphones are not permitted and needed to be stored in the break room.
Redditor Reactions
Many Reddit users blasted the affirmations in the comments section.
"Don't forget: you're here forever," a top comment read.
One Reddit user said they recently quit their job at Amazon, though they "snuck" their headphones in.
"I worked in pack, there's no way in hell I'll be standing for 10 hours a day not able to keep my mind busy," they wrote. "Thankfully my managers were cool people and didn't care either but I've been written up over it before."
"Wow," another Redditor wrote. "That is dystopian as f**k."
A Reddit user called it "scary," while one wrote that it gave off "1984 vibes," alluding to George Orwell's novel "Nineteen Eighty-Four."
"[It] seems like they are trying to re-educate you into some form of machines who love their hard labor job," wrote a commenter.
"If you need positive affirmation at your job, then it really sucks," another commented.
Newsweek reached out to Amazon for further comment.
The forum "Oddly Terrifying" is home to other content that left Reddit users stunned or uncomfortable.
A video that was first taken in 2018 shows a "massive" bull moose walking along a highway in Alaska. It resurfaced and quickly went viral on Reddit.
One man claimed to have found an unsettling message in his girlfriend's loft, which was his name accompanied by a pentagram, a symbol used in many cultures and religions.
Another post contained an image of an X-ray that shows a nail stuck inside the person's head.