Amazon Shares Primed to Eclipse $1,000 Mark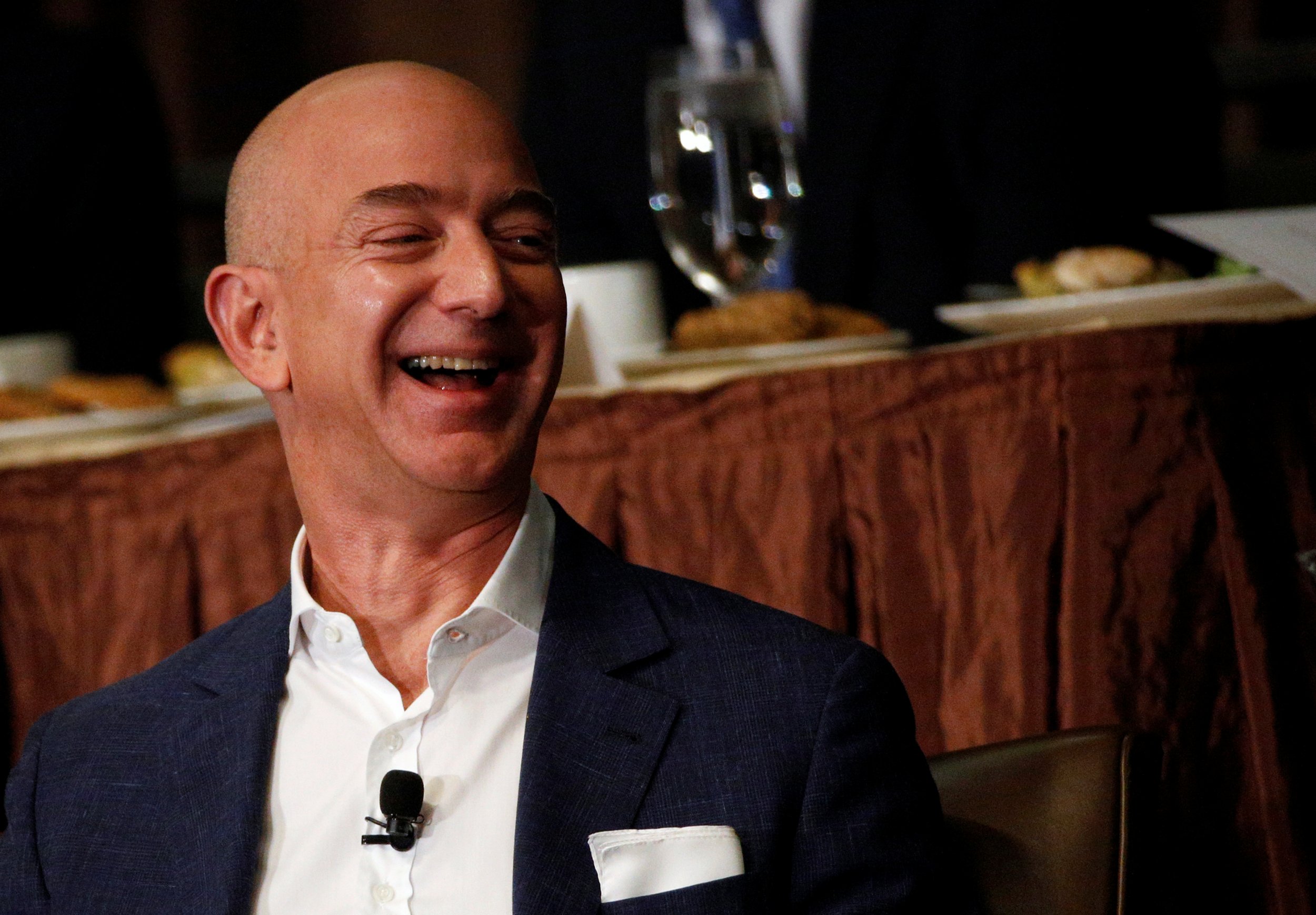 The world premiere of Wonder Woman is still one week away, but the mightiest Amazon on the planet is already kicking ass on Wall Street. Shares of Jeff Bezos's company soared toward the $1,000 mark in morning trading on Thursday.
If you purchased Amazon stock when the company went public on May 15, 1997, and never sold it, you may be reading this piece from your private island in the Mediterranean. Amazon (AMZN) went on sale that day just over 20 years ago at $18 per share. At the time of this writing, the stock was up more than $17 in just one day, to $998.50 per share. No tech stock in history—not Apple, not Microsoft—has ever increased in value so much over the course of its first two decades.
As ubiquitous as Amazon has become in consumers' daily lives over the past decade or so, the stock was relatively modestly priced just six months ago. On November 14, five days after the presidential election, the company closed at $719.07 per share. Since then, with Thursday's peak price of $998.50, the stock has soared nearly 39%.
Ten years ago, Exxon Mobil had the world's largest market capitalization (price of stock multiplied by number of shares) and only one tech company, Microsoft, ranked in the top 10 (it was seventh). Currently five of the world's 10 largest companies in terms of market cap are tech stocks: Apple, Alphabet (a.k.a. Google), Microsoft and Amazon comprise the top four and Facebook ranks eighth. Exxon Mobil is sixth, directly behind Warren Buffett's massive holding company, Berkshire Hathaway. Amazon's current market cap of $476.4 billion is nearly double that of General Electric ($241.6 billion), which only 13 years ago had the largest market cap in the world.
Related: Can an inn save Newfoundland's Fogo Island?
Thanks to the vitality of Amazon as well as Apple and other Silicon Valley- and Seattle-based titans, the NASDAQ composite hit an all-time high Thursday morning and is up 15% this year. It is poised to close positive for the 16th time in 19 trading days this month, which would be its winningest lunar cycle since September 1996.
Amazon's innovations and incursions into existing marketplaces make news on a daily basis. On Monday, the disruptor company, whose headquarters are in Seattle, announced it would offer live television channels on its video platform, Amazon Prime, in the United Kingdom and Germany. On Wednesday, Amazon, whose Kindle product ravaged the traditional brick-and-mortar book publishing industry, opened a 4,000-square-foot bookstore inside the Time Warner Center in midtown Manhattan. Only a few years ago, a massive Borders bookstore had been forced to close on that same site due to the Kindle's popularity. "Amazon is not happening to book selling," Bezos, who would later purchase The Washington Post, said. "The future is happening to book selling."
The future is also happening to malls, cable television and even grocery stores. At every turn, Amazon is poised to be at the helm of that future. If its ever-escalating stock price is any measure of its potential—and it is—even the princess Diana of Themyscira and her golden lasso would be powerless to contain its growth.