Amazon Summit Can Strengthen Biden's Relationship with Brazil's Lula | Opinion
When Brazilian President Luiz Inácio Lula da Silva comes to Washington this week, President Joe Biden will have the opportunity to forge a historic partnership to end deforestation in the Amazon. To succeed, Biden will need to marshal the full power of the American government and economy.
Deforestation in Brazil accounts for around 25 percent of global forest loss, one of the largest sources of climate pollution. It accelerated under the disastrous policies of Lula's predecessor, Jair Bolsonaro. Scientists warn the Amazon may be nearing a catastrophic and irreversible tipping point that could turn the region into a dry savannah. Brazil's forests regulate our climate by removing and safely storing massive amounts of carbon from the atmosphere. Failing to end deforestation will make it nearly impossible to keep global warming in check. The Amazon is among the most biodiverse places on Earth and home to over 1.5 million Indigenous peoples, whose rights were trampled by Bolsonaro and his cronies.
Fortunately, stopping deforestation is one of Lula's highest and most popular priorities. During his first two previous terms in office, Lula cut deforestation in the Amazon by 72 percent, mainly by enforcing existing conservation laws and fighting corruption. Today, his ambitious forest agenda faces stiff domestic opposition from agribusinesses and powerful factions in the Brazilian Congress.
Brazil needs America's help eliminating economic incentives for deforestation. Right now, deforestation pays. Criminal syndicates set forests ablaze, often in violation of local law, to sell cleared land to producers of agricultural commodities, including cattle and soy. These commodities are exported and processed into thousands of products in our grocery stores. Unwittingly, consumers are providing criminals huge profits and we must do our part to break this destructive pattern.
Stopping tropical deforestation is an issue President Biden has talked about many times—including on the campaign trail and during global climate summits. He pledged to mobilize $20 billion for the Amazon, but that promise remains unfilled. Now is the time to turn words into action by moving boldly on three fronts.
First, Biden should close U.S. markets to commodities grown on deforested land, just as the European Union decided to do. European companies must soon investigate and disclose their connections to deforestation or risk penalties. The president should convene leading U.S. CEOs to join him in urging Congress to adopt similar legislation, such as the bipartisan FOREST Act. Biden should also instruct U.S. agencies, including the Securities and Exchange Commission, to make sure new climate-related financial regulations apply to emissions from tropical forests as this would require companies to disclose and manage climate risks from deforestation.
Second, Biden should deliver on his $20 billion campaign promise. Specifically, he should work with Congress to pass the bipartisan AMAZON21 Act, which would authorize $4.5 billion in results-based payments to tropical forest countries that actually reduce deforestation. Other countries, such as Norway, the United Kingdom, and Germany, are already pioneering this approach, which was endorsed by the international community in the 2015 Paris climate agreement.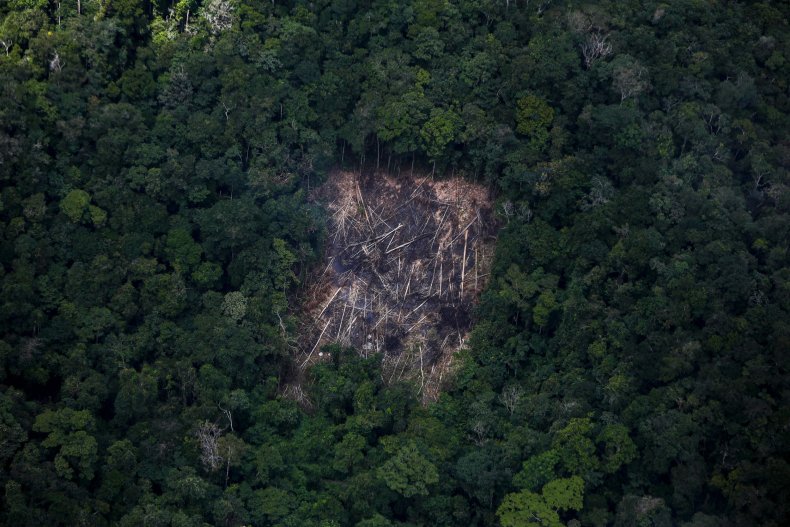 In 2021, President Biden helped launch the LEAF Coalition, a $1.5 billion (and growing) partnership between donor governments and global corporations to finance emission reductions from tropical forests. The United States should invest big in LEAF and other existing instruments such as the Amazon Fund, a Brazilian-managed account created by Lula for forest-friendly economic growth and support for Indigenous peoples, the proven guardians of the Amazon. In his forthcoming budget proposal to Congress, President Biden should fight for a 400 percent increase in funding for international forest conservation to keep a promise he made to the world in 2021. The budget the president signed in December contained no such increase.
Third, President Biden should offer Brazil help building its rural economy while also reducing emissions from its agricultural sector. Investments in key technologies (such as precision agriculture) would give farmers access to better data regarding weather, soils, and animal health. Investments in agricultural innovation, such as plant-based and cultivated meat, would create jobs, and reduce emissions as well. President Biden should also instruct U.S. export credit agencies to partner with American companies to disseminate best practices for climate-smart agriculture through green banking and farmer education programs. These U.S. investments would allow Brazil to grow its economy without destroying forests.
No U.S. president has talked more than President Biden about the importance of protecting the Amazon. He deserves credit for understanding why the future prosperity of our country depends on it. President Lula is the best partner the United States could wish for on forests. Lula is offering us a chance to help the Brazilian people achieve their goal of permanently conserving Brazil's forests, in partnership with Indigenous peoples. President Biden should seize this opportunity by committing to bold U.S. action. If he does, he will go down in history as the most conservation-minded American president in at least a century.
Nigel Purvis is CEO of Climate Advisers. He served as a senior U.S. climate negotiator, environmental diplomat, and executive director of a bipartisan commission on climate and tropical forests.
The views expressed in this article are the writer's own.