Workers remain trapped at an Amazon warehouse in Edwardsville, Illinois, after the building suffered a partial collapse during a tornado, damaging the building's roof and walls.
Search and rescue efforts are still underway early Saturday morning, with an evacuation taking dozens of workers via bus to a local police station to a local Pontoon Beach Police Department station. It was not immediately clear how many people are still inside the warehouse.
The City of Edwardsville issued a statement to Newsweek on Saturday morning confirming "fatalities at the site."
"Efforts are being made to notify next of kin at this time," the statement said. "Search and rescue operations are continuing at this time."
A press conference is scheduled for 5.45 a.m CST (6.45 a.m. ET).
Aisha White, who was on the phone with a family member in the building when it collapsed, told local TV station KMOV.: "The tornado was hitting the back of the building, the trucks were coming in, I told him to jump out the truck and duck. We watched the building go up, stuff hitting the cars, I told him I was on my way."
Severe weather swept across parts of the central United States overnight, with at least 19 tornadoes affecting Arkansas, Kentucky, Tennessee, Missouri and Illinois.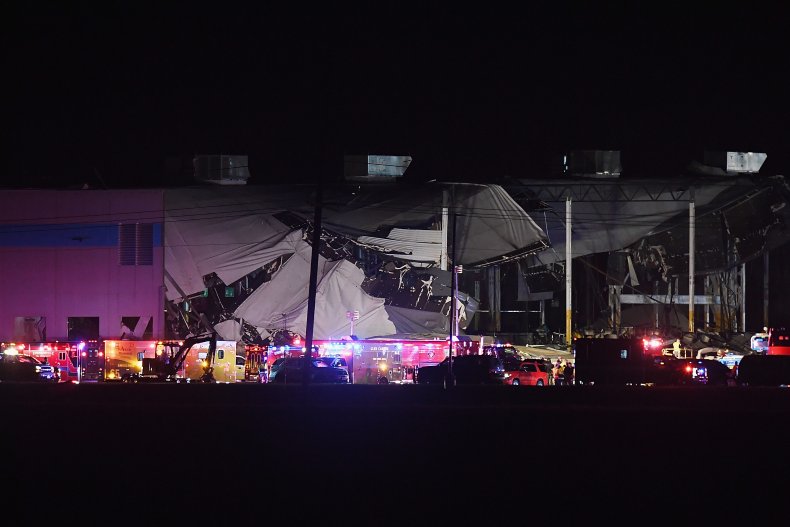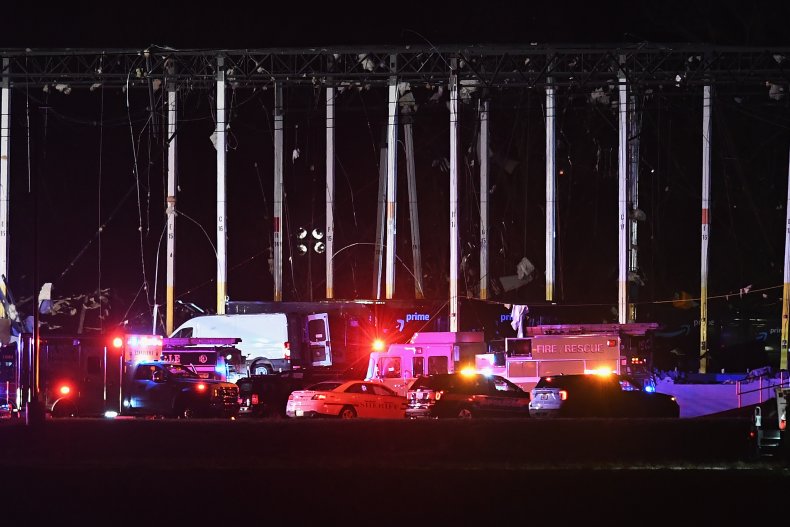 "Strong wind" gusts of up to 40 miles per hour had been forecast for Southern Illinoisan.
More than a dozen agencies were on the scene in Edwardsville, including the Madison County Mass Casualty Team. The first evacuations took place around three hours after the incident was first reported.
Charles Jaco, a journalist for local news outlet MetroSTL, tweeted before the evacuations: "Emergency response officials in the IL suburbs of St Louis say '50 to 100' Amazon workers are trapped under rubble or inside a mammoth Amazon warehouse/fulfillment center in Edwardsville, IL after walls collapsed following a tornado."
Newsweek has contacted local police for the latest.
KMOV investigative reporter Susan El Khoury, who was near the scene, said it looked "like almost half the building is damaged."
An Amazon employee told KMOV that he initially believed the power was off when he arrived for work.
"I didn't realize the back of the building was gone," he said, describing downed power lines and smashed cars.
In a statement, Amazon spokesperson Richard Rocha said: "The safety and well-being of our employees and partners is our top priority right now. We're assessing the situation and will share additional information when it's available."
Illinois Governor JB Pritzker tweeted about the incident at the warehouse early on Saturday morning, offering his support for those affected.
"My prayers are with the people of Edwardsville tonight, and I've reached out to the mayor to provide any needed state resources," Pritzker wrote.
"Our @ILStatePolice and @ReadyIllinois are both coordinating closely with local officials and I will continue to monitor the situation," the governor said.
Meanwhile, one person was killed and, at one stage, 20 others trapped at the Monette Manor nursing home in north-east Arkansas when the building collapsed.
Craighead County Judge Marvin Day said: "It looks like it's pretty much destroyed."
"It happens quick but apparently there was a little bit of time with tornado sirens going off," Day said.
Three people died in Tennessee and a one further death has been reported in Missouri.
Update 12/11/21 06.08 a.m. E.T.: This article was updated to include a statement from the City of Edwardsville.