Amazon Warehouse Workers Say Company Isn't Actually Providing Promised Paid Sick Leave
Amazon warehouse workers affected by the COVID-19 pandemic have alleged that the company is failing to pay them for the sick leave they were promised.
Although the company promised to pay employees who have been diagnosed with the virus up to two weeks of pay, multiple workers who meet the standards for sick leave say they have not received pay or only got a reduced amount, according to a Wednesday report from CNBC.
"We do not feel safe in our building anymore," a worker at an Indiana facility who asked to remain anonymous told the outlet. "And the pay we do get if we test positive is only 60 percent of our pay. Amazon is not taking care of us."
In a statement to Newsweek, Amazon spokesperson Kristen Kish did not comment on reports that workers were being shortchanged, but insisted that all workers who had been "diagnosed with COVID-19 or placed into quarantine" would receive up to two weeks pay.
Kish added that workers sent home with a fever would be given "up to five hours" of their pay for the day, which would equate to a little under 60 percent of an eight-hour day. An earlier report from Buzzfeed suggested that workers who were told to stay home due to fevers were not given any pay by the company.
The company is "continually revisiting policies" during the pandemic, Kish said, and other measures intended to contain the spread of the virus at company facilities were also said to be in place.
"Implementing daily temperature screenings in our operations sites is an additional preventative measure Amazon is taking to support the health and safety of our customers and employees, who continue to provide a critical service in our communities," Kish said.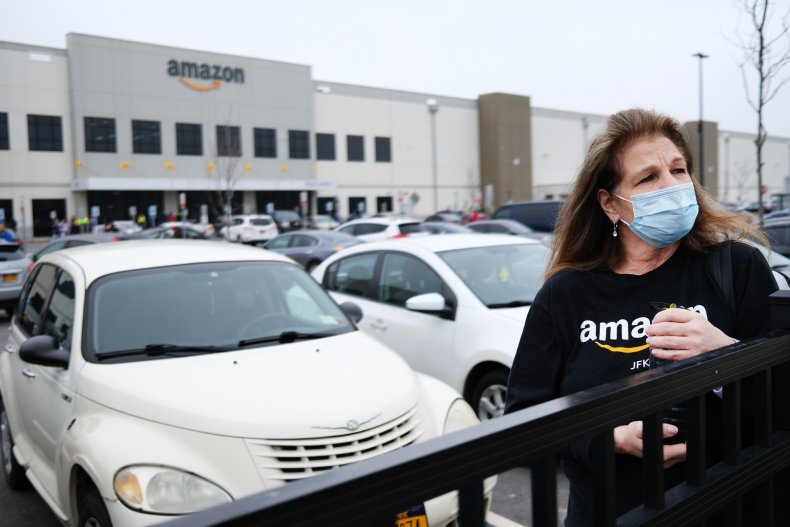 Temperature checks have been used to screen people in many settings, but medical experts have warned that the virus can be easily spread from infected people who do not have fevers or show any other symptoms.
Workers who are quarantined at home and filed for unemployment in lieu of compensation from the company also said they feared the move could cost them their jobs, despite being allowed to apply according to Labor Department guidelines during the pandemic.
Dave Clark, Amazon's senior vice president of worldwide operations, announced that the company would be hiring thousands more employees in response to demand caused by the pandemic in a blog post last week. Personal protective equipment was said to be provided for current employees.
Clark also insisted that the employees were being supported, saying that workers who test positive for the virus or are diagnosed by a doctor when they can't get a test would get "extra paid time off" without specifying if they would be paid their usual paycheck.
"If someone would rather not come to work, we are supporting them in their time off," Clark wrote. "If someone is diagnosed or comes to us who is presumptively diagnosed (but unable to get a test), we are giving them extra paid time off."