Amazon Extends $2 Hourly Bonus Pay As Jeff Bezos' Fortune Comes Under Renewed Scrutiny
A $2 pay raise that Amazon introduced to compensate employees in the United States and Canada for their continued work during the coronavirus pandemic was extended through May 30, the company said on Wednesday. The extension was announced as Amazon CEO Jeff Bezos' massive fortune came under renewed scrutiny after a study showed he was on track to become one of the world's first trillionaires.
"We've extended the increased hourly pay through May 30. We are also extending double overtime pay in the U.S. and Canada," Amazon spokesperson Timothy Carter told Newsweek. "These extensions increase our total investment in pay during COVID-19 to nearly $800 million for our hourly employees and partners."
The bonus was first announced on March 16, and later extended to the middle of May, according to Recode.
Amazon is also providing "leave of absence options, including expanding the policy to cover COVID-19 circumstances, such as high-risk individuals or school closures," Carter added. "We continue to see heavy demand during this difficult time, and the team is doing incredible work for our customers and the community."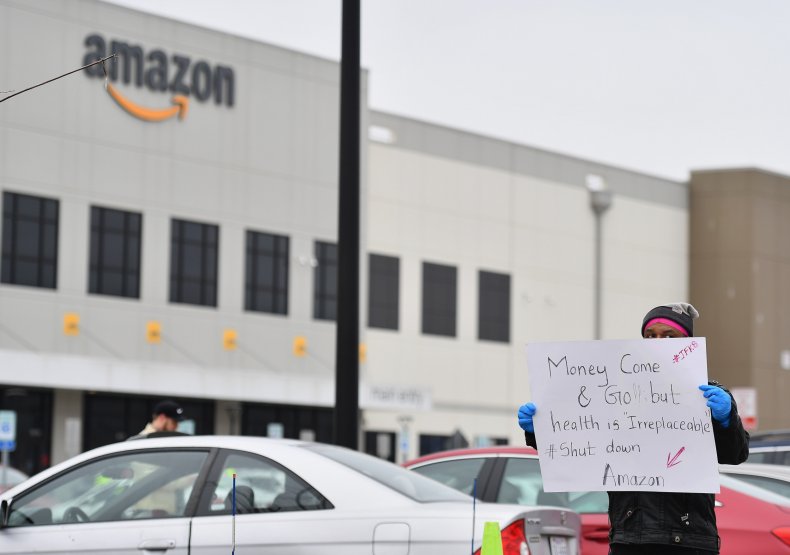 News of the planned pay-raise expiration came as a Comparisun study, which projected that Bezos would soon become one of the world's first trillionaires, began circulating online among workers and the company's critics.
Vermont Senator Bernie Sanders was one of many to call out Bezos on Twitter Thursday. "Here's unfettered capitalism at work," the former Democratic presidential candidate said. "Jeff Bezos, the owner of Amazon, has increased his wealth by $30 billion during the pandemic. His response: end the hazard pay increases that Amazon warehouse workers have received, despite hundreds of them being infected with the virus."
Senator Elizabeth Warren of Massachusetts, who also repeatedly criticized Bezos during her presidential campaign, joined Sanders on Thursday in commenting on the plan to end Amazon's pay raise. "This is immoral," she said on Twitter.
The study that attracted widespread attention this week was published by Comparisun, an informational platform for business owners and entrepreneurs, in 2019. The study said Bezos was likely to become the world's first trillionaire by 2026. However, updated estimates published Thursday by MarketWatch showed that Bezos would actually achieve that rare trillionaire status closer to 2030.
Unlike the many companies that have struggled to stay afloat because of business restrictions imposed during the pandemic, Amazon reported a 26 percent increase in sales for the first quarter of 2020. Meanwhile, Bezos remained at the top of Bloomberg's "Billionaires Index" Wednesday, with his net worth estimated at about $143 billion. According to a report released last month by the Institute for Policy Studies think tank, Bezos' wealth increased by about $25 billion from the start of 2020 through April 15.
In a news release announcing Amazon's first-quarter earnings, Bezos said the company's projections indicated it could see $4 billion in operating profits during the second quarter. "We expect to spend the entirety of that $4 billion, and perhaps a bit more, on COVID-related expenses getting products to customers and keeping employees safe," Bezos said in the release.
Despite the company's public statements about investing in safety and sanitation equipment, employees have continued to speak out against what they have called unsafe working environments. While some workers have protested the company's response to the pandemic by refusing to show up to work, one executive resigned outright after the company's alleged decision to fire whistleblowers who asked for safety improvements in the workplace.
A spokesperson told Newsweek Amazon planned to continue investing in personal protective equipment and sanitation efforts for its workers.