Amazon Faces Multiple COVID-19 Complaints to Safety Watchdog About Working Conditions
Amazon workers have made multiple complaints to the Occupation Safety and Health Administration (OSHA) citing concerns over COVID-19.
OSHA had received 35 complaints related to Amazon Fulfillment Center, Amazon-Whole Food Shoppers, Amazon Robotics, and Amazon Logistics sites as of May 18.
A spokesperson told Newsweek the agency, part of the Department of Labor, was taking "swift and decisive action to protect America's workers" amid the coronavirus pandemic.
It has received complaints across various industries as workers fulfill their duties while attempting to adapt to the threat of coronavirus.
In response to the complaints, Amazon spokesperson Lisa Levandowski told Newsweek the company was "committed to ensuring a clean and safe workplace" and that "safety is our top priority."
"We've implemented over 150 significant process changes—from enhanced cleaning and social distancing measures to new efforts like disinfectant spraying," Levandowski said.
"We've also distributed personal protective gear like masks across our entire operations network. We'll continue to invest in safety, pay, and benefits for our teams who are playing an invaluable role in getting items to communities around the world."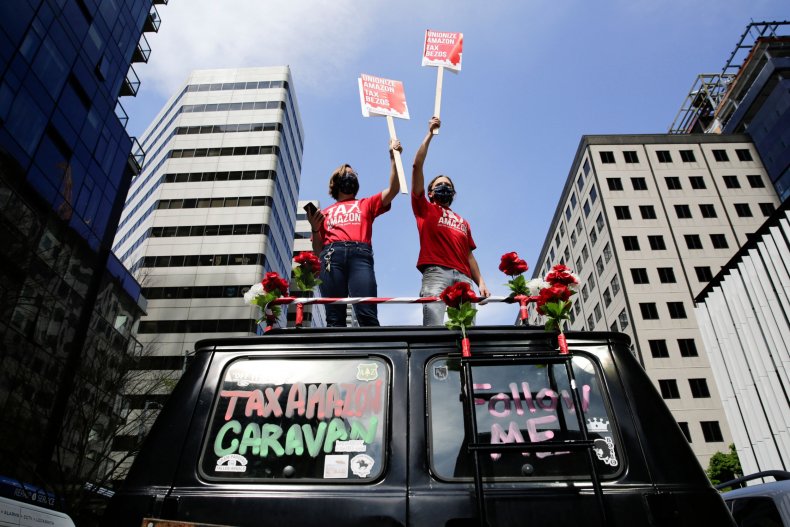 Details of the complaints come after Democratic Reps. Rashida Tlaib and Debbie Dingell, both representing Michigan, called for a nationwide investigation into Amazon sites, citing concerns raised with them by constituents.
Writing on Twitter, Tlaib shared a message to Amazon founder and CEO Jeff Bezos: "Just in case you were unaware, you just p***** off two Congresswomen from Mich & we don't play. Your corp needs to focus on worker safety. They deserve better than this."
Amazon subsequently invited the pair to visit any of its facilities to see conditions, stating they are calling for safety measures "that are already in place."
Responding to the OSHA complaints, Dingell told Newsweek: "Workers matter, their voices matter, and we must listen to their reports. OSHA must take these reports seriously, and take serious action to ensure everyone has access to a safe and healthy workplace."
Tlaib also reiterated calls for a probe into Amazon sites, while suggesting there may be more workers wishing to make complaints but who had not filed them.
"Workers deserve to be heard and they deserve a thorough investigation. No one should be forced to work it in unsafe conditions," she told Newsweek.
OSHA confirmed it had received a letter from Tlaib and Dingell calling for an investigation.
A spokesperson said OSHA "is investigating all complaints and responding appropriately" while "working diligently" to ensure employers are meeting safety obligations.
Amazon workers have held protests during the coronavirus pandemic, with demonstrations at sites in Michigan and New York. Some chose to call in sick on May 1 to demand improved conditions.
COVID-19 cases nationwide continue to rise, with more than 1.5 million confirmed across the U.S. The below graphic from Statista shows the worst-hit states.