Amazon Workers Prepared to 'Fight' After Company Claims Unions Aren't Good for Employees
Amazon workers say they're prepared to "fight" their notoriously anti-union employer after the company urged employees not to unionize at the tech giant's largest New York City warehouse.
In a statement sent to Newsweek, Connor Spence, the vice president of membership of the Amazon Labor Union, said despite Amazon's steadfast pushback on unionization, the group is ready to fight.
"Executives would rather churn through the workforce to save money than give the human beings they employ a chance at a stable, long-term job. Constant, often erroneous firings are the only thing Amazon wants to do 'quickly and nimbly,' and you better believe our union is going to interfere with that," Spence wrote.
"Our worker-led union will force Amazon to consider the well-being and dignity of its employees when making business decisions, instead of just the bottom line. Amazon will tirelessly fight against us for it, but that's a fight we're ready for," he added.
In a Thursday statement, Amazon claimed that unions are not the "best answer" for their employees as workers at the Staten Island warehouse and three neighboring facilities prepared to file for an election with the National Labor Relations Board.
"Our employees have the choice of whether or not to join a union. They always have. As a company, we don't think unions are the best answer for our employees," Kelly Nantel, Amazon's national director of media relations, told Vice News' Motherboard in a Thursday statement.
"Every day we empower people to find ways to improve their jobs, and when they do that we want to make those changes—quickly. That type of continuous improvement is harder to do quickly and nimbly with unions in the middle," Nantel added.
On Thursday, the Amazon Labor Union announced that more than 2,000 hourly employees have signed cards authorizing the union to represent them for the purpose of collective bargaining. Organizers expect several hundreds more to join them by the time they plan to file next Monday.
The union said it's fighting for "higher wages, job security, safer working conditions, more paid time off, better medical leave options, and longer breaks" in a press release.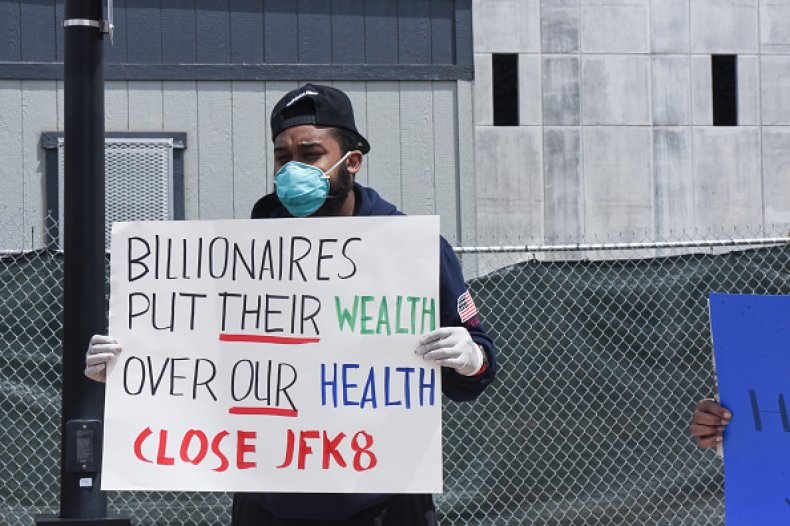 Amazon workers have repeatedly spoken out against the working conditions at warehouses, calling the work "grueling" and describing the company's treatment of employees as just "another machine."
Christian Smalls, a former Staten Island warehouse worker who is now the president of the Amazon Labor Union, led a protest last year against the working conditions employees faced at the peak of New York City's COVID-19 outbreak.
After two employees contracted the virus, Smalls and other workers had walked off the job demanding that Amazon thoroughly sanitize the warehouse on Staten Island and offer pay to affected employees while the building was being cleaned.
Smalls was fired after leading the walkout, although Amazon claims he was fired not for his organizing efforts but for violating the company's social distancing guidelines.
If the National Relations Board validates the imminent request from the Amazon Labor Union, it will mark the second unionization vote at an Amazon warehouse in less than a year.
In April, Amazon workers in Bessemer, Alabama called for a historic vote, which garnered national attention and the support of President Joe Biden, to unionize but were ultimately defeated by the country's second-largest employer.
If the Staten Island workers vote to unionize, they would be the first in the nation to do so at Amazon—a company notoriously known to be anti-union.
Over the last six months, Amazon has battled the workers' effort in New York City, displaying anti-union messages throughout the facility and sending messages to workers arguing why they shouldn't sign authorization cards, telling employees they would "give up the right to speak for yourself."
In August, the National Labor Relations Board found that Amazon illegally questioned workers at the New York City warehouse and unlawfully confiscated union materials from employees.