Amazon received enough votes against unionization Friday to block the effort in Alabama, which could have been a catalyst for employees to pursue union membership across the country.
The vote count against unionization surpassed 1,608, the simple majority needed for the effort to succeed or fail. It came after some big names, including Senator Bernie Sanders and President Joe Biden, lent their support to the effort, which sparked Twitter feuds between the company and those backing the employees looking to unionize.
The vote took place by mail over several months because of the coronavirus pandemic, and the public tally, which was broadcast over Zoom, began Thursday. This was the largest effort by Amazon workers in America to unionize, and nearly 6,000 employees were eligible to vote.
Counting is still ongoing, so the actual support for and against the movement is still unknown. As of Friday morning, there were 1,798 votes opposing the union and 738 votes in favor.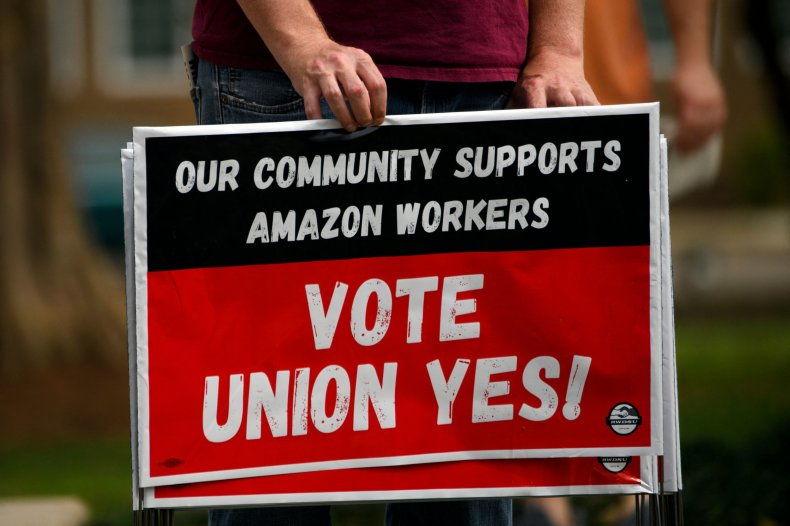 The Retail, Wholesale and Department Store Union (RWDSU) plans to challenge the results and accused Amazon of interfering with employees' right to vote in a "free and fair election." It is asking the National Labor Relations Board to consider setting aside the results because Amazon's conduct created an atmosphere of "confusion, coercion and/or fear of reprisals."
"Amazon has left no stone unturned in its efforts to gaslight its own employees," Stuart Appelbaum, president of the RWDSU, said in a statement. "We won't rest until workers' voices are heard fairly under the law. When they are, we believe they will be victorious in this historic and critical fight to unionize the first Amazon warehouse in the United States."
Amazon distributed pamphlets to employees, created a website instructing them to vote against the unionization effort and held mandatory meetings, according to CNBC.
Sanders visited the Bessemer, Alabama, facility in March to drum up support for the effort and said the employees' actions in Alabama could have a ripple effect across the country. That's why, he said, Amazon was working to defeat the effort.
"If you pull this off here, believe me, workers all over this country are going to be saying, 'If these people in Alabama could take on the wealthiest guy in the world, we can do it as well,'" Sanders said.
LaVonette Stokes, an employee who voted against unionizing, told NPR that the union the workers were asked to join wouldn't give them anything Amazon wasn't already offering. She added that there were a lot of employees who "never have issues."
Amazon denied that it won the election by using intimidation tactics and said employees heard "far more" anti-Amazon messages from the union, policymakers and media outlets, compared with anti-union messages they heard from the company.
"And Amazon didn't win—our employees made the choice to vote against joining a union," the company said. "We're not perfect, but we're proud of our team and what we offer and will keep working to get better every day."