Amazon's Abusive Practices Put Profits Above Workers. It Has to Stop | Opinion
Amazon's appalling management practices were thrust into the spotlight again during the tornados that swept through the Midwest earlier this month. Amazon workers in the region said they were given little to no training in case of tornados, and some even reported being expected to work through storm warnings, forcing them to choose between job security and personal safety. When a deadly tornado hit an Amazon warehouse in Edwardsville, Illinois, six Amazon workers lost their lives.
The Occupational Safety and Health Administration responded quickly, opening an official investigation into the incident. But sadly, this is just the latest example in a long line of alleged worker abuses committed by Amazon. The company regularly puts profits before people. Time and time again, we hear reports of inhumane labor practices from this trillion-dollar mega-corporation.
According to official government reports, Amazon employees are injured on the job at above-average rates. They have also been held to ridiculously strict time schedules––so strict that workers aren't given enough time to go to the bathroom. Many have resorted to urinating in bottles to keep on schedule.
Amazon management practices appear illegal, too. The New York Times recently uncovered evidence that the company wrongfully terminated employees and incorrectly distributed benefits. Meanwhile, the National Labor Relations Board continues to clash with Amazon over its suspect efforts to undermine lawful organizing efforts.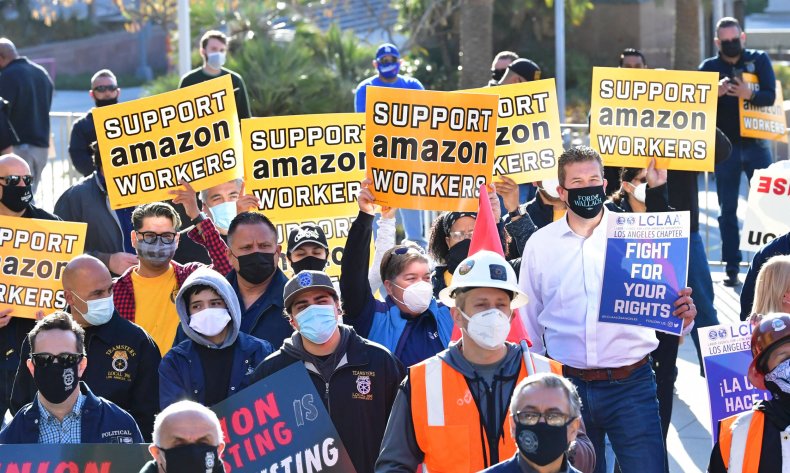 Some of these stories sound like they are from the 19th century. They bring back bad memories of a time when there was no accountability and crony businessmen could get away with horrendous treatment of workers.
Amazon is one of the wealthiest corporations in the world. Because of the increased reliance on shipping during the pandemic, tech titans made over $360 billion last year.
If Jeff Bezos can afford to take a private rocket into space, he should be able to treat his employees like human beings.
With enormous resources at its disposal, Amazon should be a shining model of humane labor practices for other corporations to imitate. Instead, it's a prime example of everything that's wrong with free market fundamentalism: the prioritization of efficiency over people and of profits over community.
Nowhere is this more apparent than in Amazon's sickening relationship with the Chinese Communist Party (CCP). While the company paints itself as a woke human rights champion, it simultaneously markets texts covering up the genocide of Uyghur Muslims in Xinjiang and actively censors criticism of Chinese propaganda.
When CCP General Secretary Xi Jinping came out with a new book, Amazon acted as the CCP's lackey, actively scrubbing anything other than five star reviews and ultimately taking down reviews altogether to maintain the party leader's ego––and its access to lucrative Chinese markets.
Amazon disregards the law and rigs search results in India, and it has no problem blacklisting conservative books in the U.S. But because China represents over 40 percent of worldwide Kindle sales, Amazon administrators are perfectly willing to toe the Communist line.
Given Amazon's mistreatment of workers here in America, it should come as no surprise that it actively collaborates with a genocidal regime in exchange for market access and profits. But it's disgusting nonetheless.
Amazon must not be able to get away with immoral mismanagement and blatant hypocrisy any longer. Department of Labor officials can and should investigate and, if necessary, crack down on the company's inhumane and potentially illegal labor practices. That is exactly what Senator Sherrod Brown (D-OH) and I recently urged them to do.
And we must no longer tolerate nationless entities that aid and abet hostile regimes. If Amazon wants to headquarter in the U.S. and benefit from the protection of the U.S. government, it should not be allowed to work at the beck and call of the Chinese Communist Party. When companies become propagandists for genocide in exchange for bigger profit margins, they undermine the national interest.
It's time the American people were reminded that everyone is accountable to the law in this country, no matter how wealthy they are. This isn't the 19th century anymore.
Marco Rubio, a Republican, is the senior U.S. senator from Florida and chairman of the Senate Select Committee on Intelligence.
The views expressed in this article are the writer's own.