Ambassador Bridge Blockade Has Halted $650M of Goods From Coming Into U.S.
The Canadian protester blockade at the Ambassador Bridge has prevented at least $650 million worth of goods from coming into the U.S. since demonstrators protesting COVID mandates arrived at the border on Monday night.
On Thursday, Canadian truck drivers will enter their third full day of protest at the bridge, demanding the federal government revoke its vaccine mandate for cross-border truck drivers, which went into effect on January 15.
The Ambassador Bridge connects Detroit, Michigan with Windsor, Ontario, Canada, and is a crucial supply chain path that facilitates trade between the two nations.
"It is estimated that 10,000 commercial vehicles cross the bridge each day to deliver $325 million of goods, with approximately $50 million worth of automotive parts," Michigan Governor Gretchen Whitmer's office told Newsweek.
On Thursday, Whitmer called on Canada to reopen the bridge crossing, stressing the "unacceptable" toll it would take on the state's economy, which relies heavily on its auto industry.
Ontario is home to a number of plants of major auto manufacturers, like Ford and Toyota, who were forced to shut down production this week due to the blockade.
"In Michigan, our economy continues to grow because of our hardworking people and innovative small business. Now, that momentum is at risk," Whitmer said in a statement.
"The Ambassador Bridge is the busiest land border crossing in North America, used by tens of thousands of commuters and truck drivers carrying hundreds of millions of dollars of goods every day," she added. "Countless Michigander rely on this daily flow of goods and people to get things done."
The governor called it "imperative" that Canadian governments on all levels work to de-escalate the blockade to "safely reopen traffic."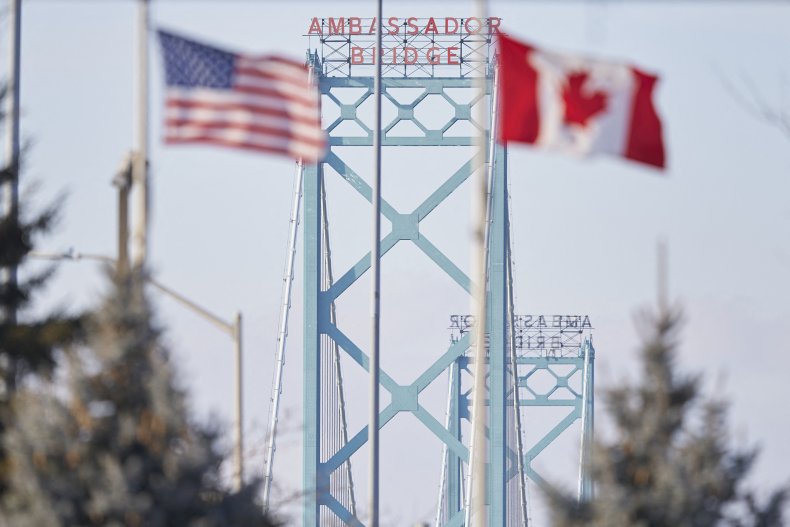 Protests in Canada have continued in the nation's capital of Ottawa for nearly two weeks and swarms of trucks and other vehicles have caused a gridlock in the downtown core. On Monday night, some of those demonstrators helped expand efforts to the Ambassador Bridge.
Despite pleas from Prime Minister Justin Trudeau urging protesters to go home, the group has vowed to remain in place until all COVID restrictions in Canada are lifted.
The Ontario Trucking Association has warned that the protests are obstructing "essential trade arteries" that transport goods, food, medicine and important industrial parts—the latter which accounts for 15 percent of the daily goods that passes through the border.
Arthur Wheaton, the director of labor studies at Cornell's School of Industrial and Labor Relations, told Newsweek that if the blockade persists, the economic fallout will soon spill out from the auto industry and into other areas.
"The auto industry creates an awful lot of money in sales tax revenue for these states. If that starts getting hit, then individual state budgets get hit and then the teachers don't get the money for their schools," he said. "It is just this huge cascading effect where it just snowballs and causes all sorts of damage and attention."
On Wednesday, Trudeau told Parliament "Blockages, illegal demonstrations are unacceptable, and are negatively impacting businesses and manufacturers."
"We must do everything to bring them to an end," he said without signaling that he would change his stance to meet with protest organizers.