Ambassador to China Gary Locke Talks Chen, Drama In China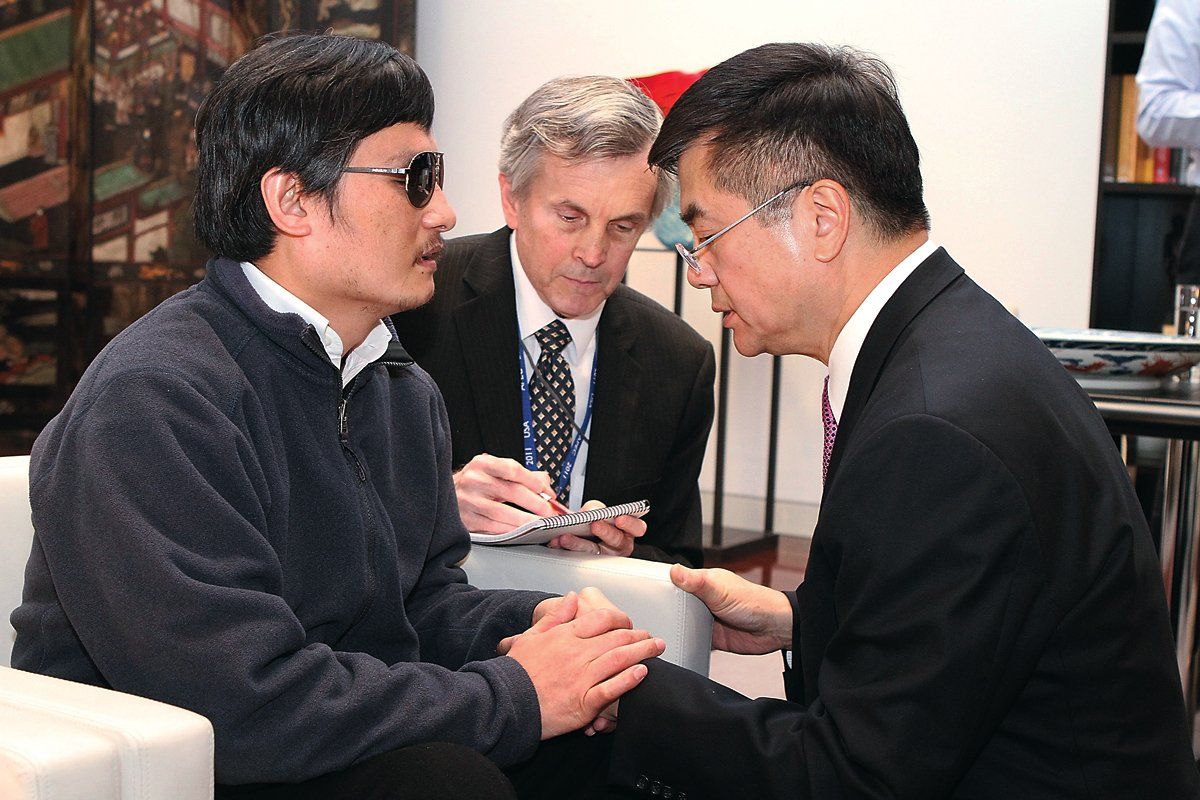 The American ambassador Gary Locke was at an afternoon meeting in Beijing, away from his office at the American Embassy, when he received a cryptic email on his BlackBerry: "Return to the embassy's secure communications area immediately." The ambassador rushed back. It was Feb. 6, and Locke was stunned to learn that a senior Chinese policeman had arrived at the U.S. Consulate in the southwestern city of Chengdu, telling officials there that he wanted to go to the U.S. because he feared for his life.
Wang Lijun, known as the Eliot Ness of China for his ruthless campaign against organized crime, told a riveting story of how his one-time mentor, a local party secretary by the name of Bo Xilai, was out to kill him because he knew too much about the alleged poisoning and murder of a British businessman, Neil Heywood, who had known Bo and his wife. It was "fascinating, eye-popping revelations," Locke told Newsweek in an exclusive interview. "My first reaction was 'oh, my God, I mean OH, MY GOD!'"
The next 120 days in the life of the new ambassador—which included dealing with diplomatic fallout after the daredevil escape of blind activist Chen Guangcheng—would be nothing short of historic.
Given Bo's stature within the Communist Party, Wang's presence at the consulate presented a delicate situation. Upping the stakes, Bo—realizing that Wang had gone to the Americans—dispatched armed security forces to surround the U.S. Consulate in Chengdu. But Wang was not about to surrender to Bo and instead summoned people he trusted to escort him out of the embassy and onward to Beijing—away from the clutches of the local party chief and his cronies. (Later, Wang was charged with treason, Bo was purged from the top echelons of the Communist Party, and Bo's wife was charged in the murder of Heywood.) "It felt," Locke said, "like something out of a spy thriller."
The 62-year-old Chinese-American would soon find himself at the center of further extraordinary events that would demand the highest degree of diplomatic dexterity by the ambassador, who, when Wang showed up, was just six months into the job.
Locke, whose father emigrated to America from China and fought at -Omaha Beach during the Allied invasion of Normandy, grew up in public housing for families of veterans. After graduation, he went to Yale and then Boston University, becoming a prosecutor before entering politics. Locke served two terms as governor of Washington—the first Chinese-American in the nation to win a gubernatorial election—and then went on to be secretary of commerce. One of his biggest challenges came in 1999, when, during a WTO meeting in Seattle, police appeared to lose control of protesters. "Locke took charge, called out the National Guard, and led the response that quelled the riots," his then-chief of staff Joe Dear recalled. "He was calm, cool, and extremely focused on getting it right—exactly what you want from a leader in a tough situation."
In 2003, after Locke gave the Democratic rejoinder to President George W. Bush's State of the Union address, he got threatening emails and the FBI uncovered a plot to assassinate him. (A member of a white supremacist group had gotten so far as the reception at his government office.) "It was very unnerving," Locke said, recalling his worry for his children's safety. "The guy evidently thought that it wasn't appropriate for someone of a minority background to be the governor of Washington State." Though he says it wasn't concern over safety that prompted it, Locke decided to take a break from politics shortly afterward, going to work for a Seattle law firm with a focus on China.
Locke campaigned for Hillary Clinton when she ran for the Senate, introducing her to the large Chinese-American population in New York; he also served as her state co-chair in Washington during the 2008 elections, and his admiration and fondness for his boss appear genuine, if slightly breathless. "Sharp and strong-willed," "funny," "incredible," "amazing" are just some of the descriptors. (During the interview, Locke also recalled the rather inglorious moment with his boss when, shortly after his daughter Emily was born, Hillary Clinton picked up the girl, who then burped up on her suit jacket.)
When he got the nod to take the Beijing job, inheriting the position from Jon Huntsman, who had decided to seek the Republican nomination for president, his thoughts went to his father, who had recently died. "He would've been most proud to see his son return to the land of his birth, and of our ancestors, as a representative of the U.S." But he was gratified that his wife, Mona, a former reporter for an NBC affiliate in Seattle, and his three children would get to experience where his family came from. "For all of us, it was a sense of excitement and adventure," he said.
Locke first visited China in 1988 with his parents. "In rural parts of China, it's like stepping back into the era of my grandfather or great-grandfather—not much has changed," he said. At the same time, China is undergoing a rapid transformation, visible in the upward-striving city skylines, in clothing, and in the standard of living. As a global economic engine, China is unrivaled as a partner for the U.S. "We've come a long way since Nixon's first visit to China, or [President Jimmy] Carter's reestablishment of diplomatic relations," Locke said.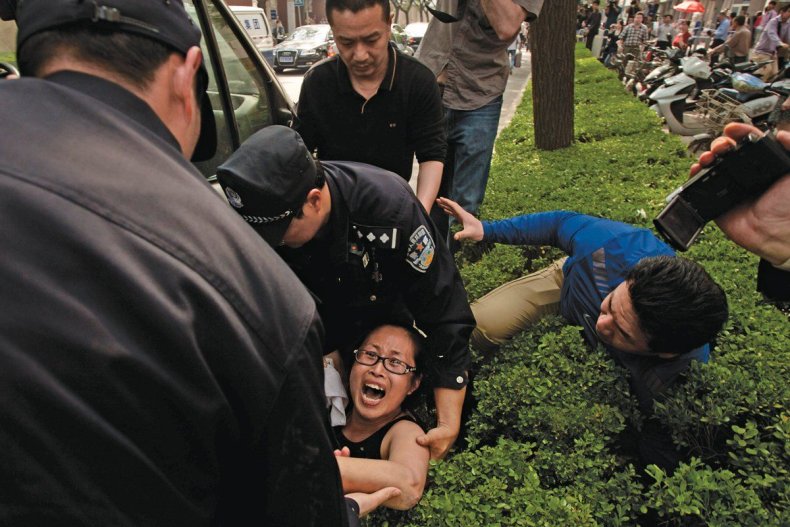 The sensational murder story implicating the ambitious local party chief Bo Xilai was just the first test of diplomatic relations during Locke's young tenure; two and a half months later came the much more complicated case of Chen Guangcheng. In April, the blind activist pulled off a daring escape from extralegal house arrest in the province of Shandong, fleeing to Beijing where, after a dramatic car chase, he sought refuge at the U.S. Embassy compound. Locke, on vacation in Indonesia, was once more summoned back to the embassy on urgent diplomatic business. This time, though, the stakes were much higher.
Suffering from gastrointestinal bleeding and broken bones in his left foot after a fall during his flight, Chen, at first, wasn't looking to leave China. What he wanted was "a normal life," a chance to study, and assistance to transmit and publicize a letter to Chinese Premier Wen Jiabao. Locke agreed to help.
Chen, who has been blind since the age of 1, told Newsweek that he dictated his plea to a Mandarin-speaking State Department officer. (Locke himself doesn't speak Mandarin but Cantonese, a dialect quite different from Mandarin. He believes it's actually an advantage because it emphasizes that he's American, not Chinese.) In the letter, Chen urged a Chinese government investigation of his family's brutal treatment at the hands of local -officials; the Americans subsequently delivered the letter to the Chinese premier. (Chinese officials did not want to comment on the letter or its contents.)
Even if Chen's story—like Wang's—was an indictment of the behavior of local officials rather than the central government, Chen presented a conundrum for both Beijing and Washington. Officials were busy preparing for high-level talks scheduled for the following week between Secretary of State Clinton and senior Chinese officials in Beijing, and Chen's decision to seek refuge at the embassy echoed the events of 1989, when, following the Chinese government's bloody crackdown on protesters at Tiananmen Square, dissident astrophysicist Fang Lizhi and his wife lived for more than a year at the U.S. Embassy before going into exile. In some ways, Chen and the American officials were at odds: Chen wanted to blast out this plight, using the embassy as "a pirate radio," in the words of one official dispatched from Washington; the Americans, on the other hand, wanted discreet resolution to an issue that now overshadowed long-planned-for talks.
Despite telling a friend that life outside the compound was feichang bu anchuan —"extremely unsafe"—Chen left the U.S. Embassy to get treatment at a Beijing hospital a few days later. But once there, he lost heart about his decision to stay in China. Cut off from the Americans, surrounded by Chinese secret police, he began to fear for his and his family's safety, tearfully telling Newsweek by telephone that he wanted to leave with Clinton on her plane when talks had concluded. His comments only added further tension to the talks, especially since the Americans were reluctant to advocate too strongly for Chen to the Chinese government. Looking back on the negotiations, one official told The New York Times, "The days of blowing up the relationship over a single guy are over." In a letter to the paper, Perry Link, professor emeritus of East Asian studies at Princeton University, warned against "a serious misconception" that has hampered U.S.-China policy for years. "Chen Guangcheng, like other people who stand up to abuse in China, is not 'a single guy.' Mr. Chen's rights advocacy has earned him a considerable following in China, and last month his dramatic escape expanded that following many hundreds of times."
Still, for the first two days of negotiations, Clinton didn't bring up Chen, and when she finally did, it ignited Chinese anger. Eventually, though, after intense negotiations—with Locke and his deputy chief of mission, Bob Wang, talking to Chen and Assistant Secretary of State Kurt Campbell dealing with the Chinese officials—Chen, his wife, and their two children were finally allowed to leave the country for New York on May 19.
Professor Jerome Cohen, a specialist on Chinese law at New York University and a close friend of Chen's who helped the activist get a fellowship at his university, said he was impressed by Locke's handling of the situation. "Locke," he said, "is not an empty suit. He's very sincere."
Locke, who clearly prefers carrots to sticks, is "always looking for the win-win," he said. "You can't let the other side see themselves getting nothing, getting beaten [because then] why would they want to work with you again?"
But some observers wonder whether such can-do optimism will be enough.
"Ambassador Locke has a lot of courage; he has guts," said Bob Fu, the head of a Texas-based Christian human-rights advocacy group that's been in close touch with Chen and other activists. "But all these emergency negotiations were about just one case. After it's resolved, the Chinese government's old ways can continue. The strategic game hasn't changed."
Fu said he is worried about the Chinese authorities settling scores with those who are left behind.
Last week, Chen's brother, Chen Guangfu, apparently escaped from the village where he had been kept under guard, and made his way to Beijing in search of a lawyer for his son, Chen Kegui, who was taken into police custody after he took up a knife to defend his parents when intruders, likely plainclothes policemen, burst into their home and began beating people.
Neither American nor Chinese officials are interested in the American Embassy in Beijing turning into a springboard for a wave of dissidents going to the West. When asked to comment on the Chen case, officials at the Chinese foreign ministry faxed back a terse reply that said, in part, that the U.S. "should seriously draw a lesson from this incident" and "rethink its policies and actions" in the interest of Chinese-American relations. Clinton, for her part, has assured Beijing, "I don't anticipate seeing any case like this again."
When Locke first arrived, Chinese social-media sites had been abuzz with comments about his unassuming demeanor; pictures of him carrying his own backpack and buying Starbucks coffee proliferated. Now, post-Chen, government-run papers paint a less flattering portrait. "Ever since he flew in economy class, carrying his own backpack and buying coffee with coupons, putting on a charade of being a regular guy, what we have seen is not an ambassador to China who is prudent in his words and actions, but a standard-issue American politician who goes out of his way to stir up conflict," one Beijing paper was reported as saying. Locke, though, seemed unruffled by the slights, and undaunted by any challenges ahead. "I've been through WTO riots in Seattle, massive earthquakes, major floods … forest fires," he said. "I just try to be as even-keeled and calm as possible."