Amber Alert: Hania Noelia Aguilar Search Police Release Footage Showing Man Walking Near Missing Lumberton Girl
The FBI has released surveillance camera footage of a man walking alone in the same area of Lumberton, North Carolina, that missing girl Hania Noelia Aguilar was kidnapped.
Aguilar, 13, was abducted from outside her family's mobile home on Monday morning just before 7 a.m. by a suspect wearing a black hoodie with a yellow bandanna over his face. A witness heard Aguilar scream.
The suspect forced Aguilar, an eighth grader at Lumberton Junior High School, into her relative's SUV that was parked in the driveway and drove off.
Police have since recovered the vehicle, a green 2002 Ford Expedition, and are scouring it for evidence, but Aguilar is still missing. An Amber Alert was issued. The green Ford Expedition was discovered on Quincey Drive in Lumberton.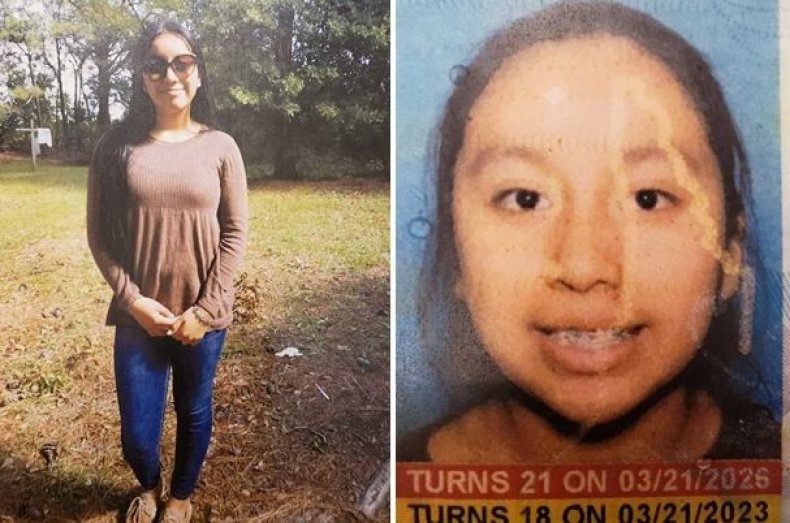 "Investigators have been collecting surveillance video from homes and businesses near Hania's home at Rosewood Mobile Home Park since she was kidnapped on Monday," the FBI said in a release.
"Yesterday, we released several images of the SUV, which assisted in the discovery of the vehicle. Today, investigators need your help to identify a person seen walking on surveillance video near the kidnapping scene."
In the surveillance footage released by police, a man in what appears to be light-colored shoes, a light-colored shirt, and a hoodie is seen walking alone near to the scene of the kidnapping.
The FBI said the man is seen walking down Lambeth Street and then turning left on Highway 41/Elizabethtown Highway towards the Rosewood Mobile Home Park in which Aguilar lived with her family. Several vehicles were seen on the video driving by.
"The foot traffic at that time of the day was actually very light, and this is actually the only individual we saw out walking at that time of day in this part of the neighborhood," said FBI Agent Andy DeLarocha, WRAL reported.
Aguilar is described by the FBI as a Hispanic female, five feet tall, and weighing approximately 126 pounds. She has black hair and brown eyes. She was last seen wearing a blue shirt with flowers and blue jeans.
Police ask anyone who may have seen the man or with any other information to get in touch. The Lumberton Police Department has set up a special tip line at (910) 272-5871.
"I don't have words to describe how I feel," Aguilar's mother Elsa Hernandez told ABC11. "Return her to me because I miss her. She's a good, sweet girl...I need her. I am suffering for her. Her sisters are too."
This article was updated to include a quote from Aguilar's mother.