Amber Alert Issued For Stephnie White, Teen Abducted In New York State
An Amber Alert was issued early Tuesday morning after a teenage girl was abducted in New York state.
Stephnie White was abducted on Niagara Falls Boulevard in North Tonawanda at around 7 p.m. on Monday night, according to the North Tonawanda Police Department.
Police described her as a white female, aged approximately 17, with short brown hair and brown eyes. She is around 4 feet and 10 inches tall and weighs about 160 pounds.
The girl was last seen wearing a black Deadpool sweatshirt with red and black pajama pants and black and white high-top sneakers.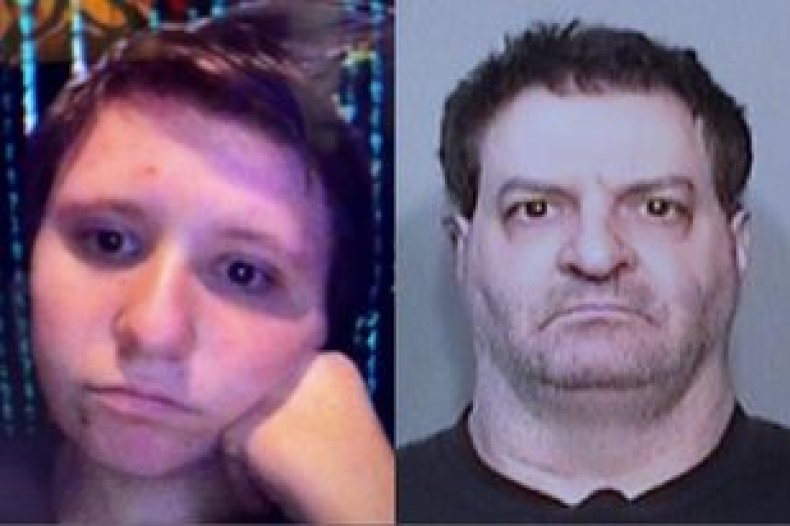 The suspect wanted has been identified as 50-year-old Michael D. Mesko.
He is described as around 6 feet 1 inch tall, weighing around 220 pounds, and having short brown hair and brown eyes.
He also has a surgical scar on the right side of his neck and a tattoo of a wolf on is right ankle.
Police have also identified a vehicle they are looking for.
It is described as a blue Nissan Rogue with the license plate number HPS3840.
Mesko and the vehicle were last seen traveling on Niagara Falls Boulevard, police said.
Anyone with information about the abduction is asked to call the North Tonawanda Police Department at 716-692-4111 EXT 1 or call 911 to provide information on a report or sighting.
The Amber Alert System provides law enforcement nationwide the ability to notify the public of missing children who are believed to have been abducted.
The New York State AMBER Alert Plan can be activated when a law enforcement agency has reasonable cause to believe that a child (under the age of 18) has been abducted and the child is believed to be in danger of serious bodily harm and/or death.
Amber stands for America's Missing: Broadcast Emergency Response and was created as a legacy to 9-year-old Amber Hagerman, who was murdered in January 1996 after being kidnapped while riding her bicycle in Arlington, Texas.
It began after Dallas-Fort Worth broadcasters teamed up with local police to develop an early warning system to help locate abducted children. Other states and communities set up their plans and the idea was adopted across the U.S.
As of December last year, there were 86 Amber plans throughout the country. According to the system's website, 1,029 children have been rescued specifically because of the Amber Alert system.