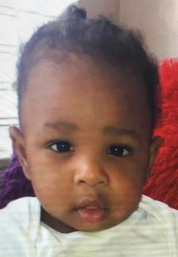 An Amber Alert was issued in New Jersey Wednesday morning for a 10 month old boy believed to have been abducted by his father. Reign Berry, missing from Paterson, New Jersey, was described as 2 feet tall and 23 pounds.
Authorities said Reign's father, George Berry, violated a restraining order Wednesday morning, WABC-TV reported. The 30 year old allegedly punched the baby's mother before taking the child and leaving in a silver Chrysler Town and Country with the license plate tag N47JRM. The car was found in Paterson, though neither George Berry nor Reign had yet been located.
George Berry was described as 5 feet 7 inches and 160 pounds, with tattoos on his arm and neck, according to CBS.
Amber Alerts are issued in New Jersey when "there is reason to believe that a child has been abducted and may be in danger of death or serious bodily injury."
Anyone with information was asked to call Paterson Police at 973-321-1111 or 911.