Amber Alert Virginia Update: Isabel Hicks, 14, Believed to be in 'Extreme Danger' Police Say
Virginia State police issued an AMBER Alert for 14-year-old Isabel Shae Hicks this weekend after local authorities tried to locate her for several days, according to the Louisa County Sheriff's Office.
Hicks was described as a white female with blonde hair and blue eyes, about 4'11'' and 120 pounds, last seen at her residence in Bumpass, Virginia, late at night on Sunday, October 20. Police warn potential passerby to contact law enforcement immediately rather than approaching either Lynch or her abductor.
Louisa County Police said they believe Hicks was taken by 33-year old white male Bruce Lynch, whom they believe armed with a 9-millimeter handgun and may have had recent suicidal ideations. Hicks is 5'10'' and about 190 pounds with brown hair, brown eyes and a beard. He has cross tattoos on both upper arms and a tattoo of his name, Bruce, across his back.
He could be driving a "light blue, almost silver looking" 2003 Toyota Matrix with a Virginia license plate reading "VEM9071," "UXW3614" or "249-9UT." The rear passenger door handle is missing on the vehicle, according to the sheriff's office.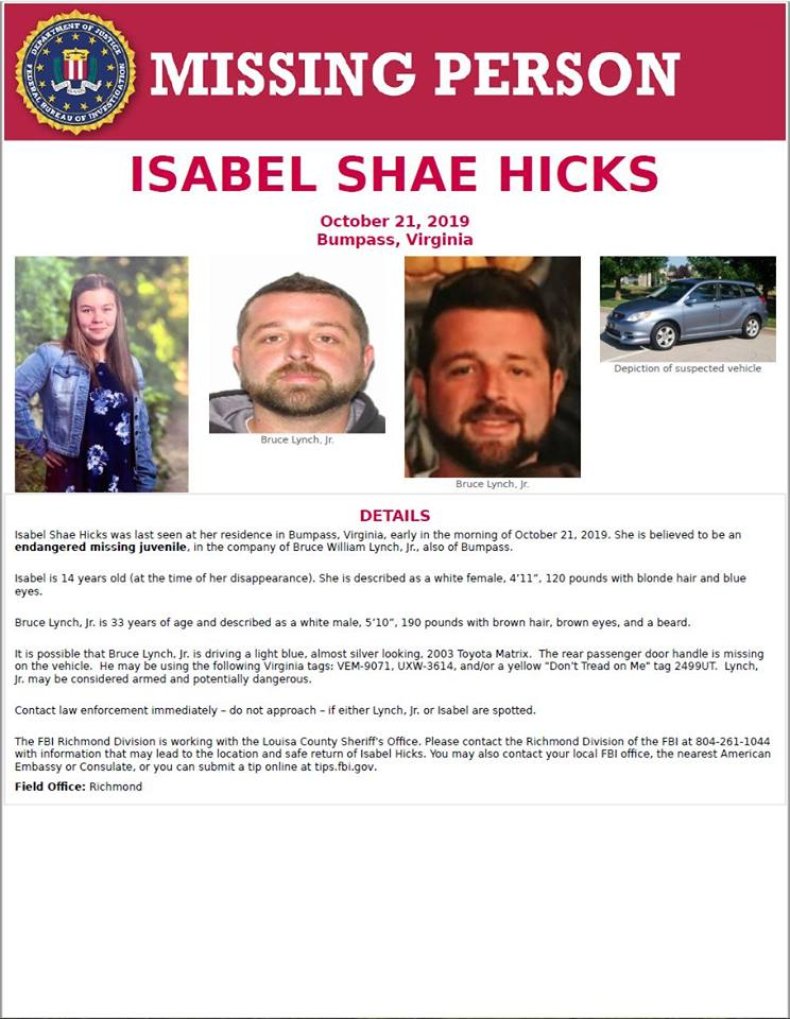 Investigators received information that the pair could be traveling out of state and staying in areas where they could camp, though the Louisa County Sheriff recently told deputies in neighboring West Virginia's Logan County that the two may be in the area, according to local station WSAZ News.
There are three active AMBER Alerts for children across the United States, including two for Isabel Hicks. Dulce Alvavez of Bridgeton, New Jersey, also appears to be missing since prior to September 17, 2019. Alvarez, a hispanic female, is five years old with black hair and brown eyes. She was last seen wearing a yellow shirt with a Koala Bear on the front, black and white pants and white sandals, according to the alert.
More than 200,000 children under age 21 were reported missing in 2018, according to Stastista. The Federal Bureau of Investigations (FBI) lists current cases on its site for kidnappings and missing persons. Aranza Maria Ochoa Lopez, a five-year-old, was allegedly removed from a mall in Vancouver, Washington. The FBI is offering a reward of up to $10,000 for information leading to her recovery. Other rewards are outstanding for Karlie Lain Gusé, Karla Rodriguez and dozens of other children, according to the FBI.
Anyone with relevant information can contact the Richmond Division of the FBI, at (804) 261-1044, which is working with local authorities on the case.