Amber Heard Accused of Editing Injury Photos by Johnny Depp's Lawyer
Johnny Depp's lawyers have openly accused Amber Heard of editing photos of her alleged injuries to make her "face look more red."
Camille Vasquez, Depp's attorney, grilled Heard during her cross-examination on Tuesday and pointed out inconsistencies in Heard's previous testimony. As part of the line of questioning, Vasquez showed the court images of Heard that she claimed have been "edited."
Depp is suing Heard for $50 million in lost earnings after Heard wrote a 2018 op-ed stating she was the survivor of domestic abuse. The article never mentioned Depp by name but his team argue the insinuation resulted in extensive financial losses and damaged his profile.
Part of evidence provided by Heard's team against Depp has been photographs seemingly showing bruises and other injuries on Heard's face—but Vasquez wasn't convinced.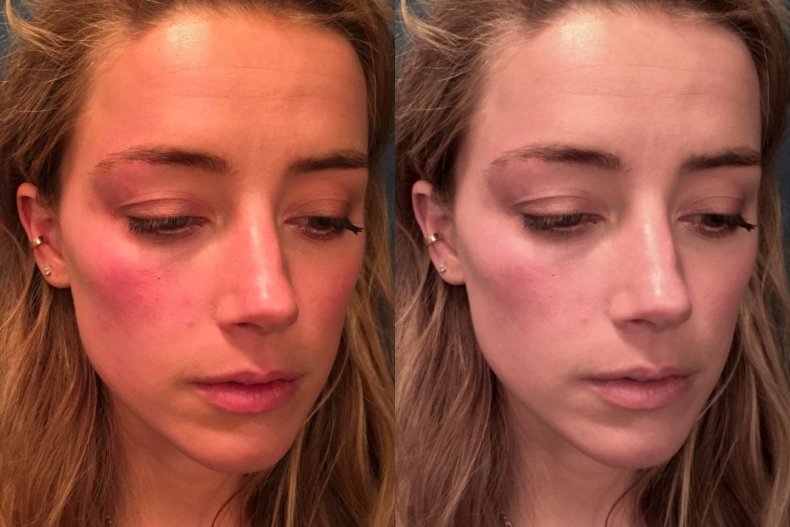 When two pictures were presented side by side, Heard claimed they were two separately taken photos with different lighting. "The light is on in both of these pictures though," Vasquez argued. Heard responded by saying one of the lights is a "vanity light."
"Isn't it true you just edited these photographs?" Vasquez said to Heard. "And you just enhanced the saturation from one of these photos to make your face look more red."
Heard denied both claims, stating that she has "never edited a photograph."
Social media users questioned Heard's testimony, with some seemingly convinced that the two images shown in court are the same picture.
TikTok user @crystaldmayfield posted the full interaction between Heard and Vasquez. "Amber Heard Photoshopped Her Injury Photos" was the TikTok user's assessment.
The exchange between Vasquez and Heard was widely shared online with @iubililalila's video getting 1.9 million views. She wrote, "It's the same picture omg" and hundreds of people agreed with her in the comment section.
"It is the same photo. every hair strand is exactly the same," one user wrote while another added "it would be impossible to turn on a light and have your hair identically in the same position, there is something called gravity." Another suggested that Heard could be accused of lying under oath if this was investigated further. "She just testified under oath that she didn't edit it. If the metadata shows she did it's [perjury]."
Over on Twitter many users posted their own evidence which supported the claims that the photos were edited.
@David_Horsemann overlaid the two images on top of each other to show the similarities. Aside from the color differences, the images seem to line up perfectly.
Another user, @psychologygirl7, posted a short video showing how simple it is to edit the original image so that the color of Heard's skin changes.
Vasquez has become a notable figure in the ongoing trial between Depp and Heard, with many social media users praising her performance.
The trial continues on Wednesday May 18. Newsweek's live blog will bring you all the breaking revelations from the Circuit Court of Fairfax County, Virginia.