Johnny Depp's Lawyer Grills Amber Heard on Divorce Fund 'Donation'
A confrontation between Amber Heard and Johnny Depp's lawyer Camille Vasquez has gone viral after the pair argued over the definition of the word "donate."
Heard faced cross-examination from Depp's attorney on Monday, with the lawyer raising the question of what the Aquaman star did with her $7 million divorce settlement. Heard had previously pledged to donate the entirety of the sum to charity but previous court testimony has proved she has yet to fulfill this promise.
The Depp v. Heard trial continued on Monday after a week-long break. Depp is suing ex-wife Heard for $50 million in loss of earnings after she wrote a 2018 op-ed suggesting she was a survivor of domestic abuse.
"You still haven't donated the $7 million divorce settlement to charity. Isn't that right?" Vasquez put to Heard who was continuing to give testimony on Monday.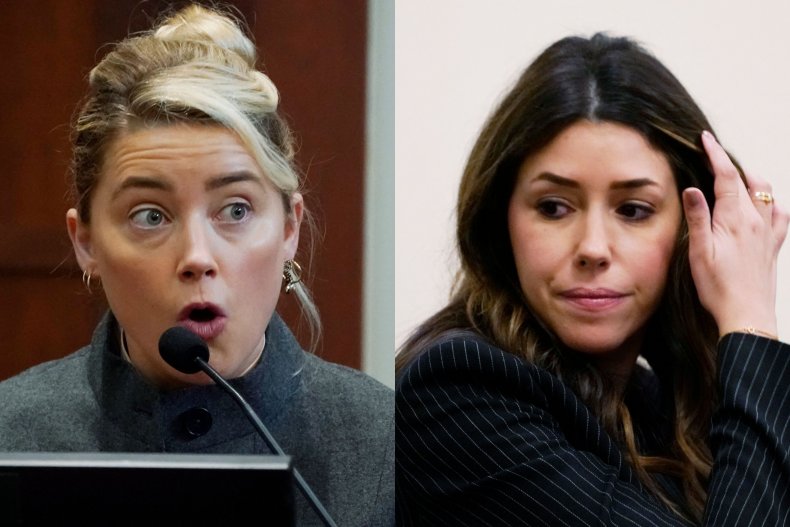 "Incorrect," Replied Heard, "I pledged the entirety⁠—"
"No, Ms. Heard. That's not my question," Vasquez cut Heard off. She went on to clarify that she meant donate, and not pledged.
"I use pledge and donation synonymous with one another. They mean the same thing," Heard said. From the point the back and forth heated up but both women remained restrained in their firm stance.
"That's how donations are paid," Heard told Vasquez and the jury.
Ms. Heard, respectfully, that's not my question." Vasquez continued, "So as of today, you have not donated—paid—$7 million of your divorce settlement to charity, right?"
"I have not been able to fulfill those obligations yet," Heard conceded. Vasquez once again went on the offensive after this.
"And that's because you did want something, didn't you?" Vasquez asked.
"I didn't want anything and I didn't get anything," Heard stated.
The tense line of questioning was one of many moments on Monday that caught the attention of the internet. Vasquez was also discussed online for questioning Heard about her injury claims and for pictures showing her alleged injuries.
The discussion about what Heard did with the divorce settlement went viral online, with the clip being viewed over seven million times when posted on TikTok by Australian media company @news.com.au.
A shorter clip showing Heard and Vasquez locking eyes during the exchange was also shared by @theconfessional369 on TikTok. You can also hear the person recording the video making an excited noise after the tension reaches a peak.
The clip was shared multiple times online with many people weighing in on Heard's definition of "donate."
Reposting the video to her own account, @ladyofwestshire wrote, "Can I pledge my mortgage to the bank, Amber? Jeez, "pledge" and "donate" are not synonymous!" To this @juanacardenas02 suggested: "They need to add "pledge" as a paying option when paying bills.
The Depp v. Heard trial continues on Tuesday and Newsweek will be covering all the breaking stories from the Fairfax County courtroom on our live blog.