Resurfaced Clip of Amber Heard Saying She's Scared To Be a Woman Goes Viral
A 2018 clip of Amber Heard speaking about being a woman in today's political climate has gone viral in the weeks following her loss in court against her ex-husband Johnny Depp, and the media frenzy surrounding her and the trial.
On TikTok, an account that posts videos in support of the Aquaman actress posted clips from a speech Heard did for HagueTalks in October 2018, titled "Why Be a Human Rights Activist?"
One clip from the speech in which Heard says the phrase: "I'm scared now, to be a woman," has clocked up more than 2 million views at the time of writing.
HagueTalks is a foundation of Hague-based international organizations and knowledge institutions that host speaking forums on human rights and activism-related topics.
The Hague in the Netherlands is the permanent home of the United Nations' International Court of Justice.
Other clips of Heard's speech shared by TikTok user @tpwkindness04 have amassed thousands of views on the platform.
On the HagueTalks website, Heard is listed as a speaker who "is a Human Rights Champion of the UN Human Rights Office and an Ambassador for ACLU for Violence Against Women, lending her voice and support to promote the principles of the Universal Declaration of Human Rights."
"With my work with the ACLU and the United Nations I have found myself in a position where I am speaking on behalf of others who might not necessarily have that voice," Heard said in the speech.
"I think it's I think it's important because, simply put if anyone's human rights are denied everyone's human rights undermined."
She then mentioned being "scared" to be a woman in the United States amid the rise of polarizing political ideologies.
"You know I'm scared now to be quite honest," she said. "I am a white woman, I live in the 21st century, I live in the United States so I already won the lottery in so many ways but I'm scared.
"I'm scared as I see increasingly polarized nationalistic and popularized rhetoric flourishing, I see family separated, human rights abuses play out on the national stage without apology or accountability or retribution."
Speaking about former President Donald Trump's family separation policy, Heard continued: "I see children in cages, I see people elected the positions of power that blatantly deny and disregard the basic human rights of women, positions where they are less powerful. I watched them get elected, I watched the tone of the rhetoric change and increasingly strong attitudes whether they're in checkpoints or in the form of these you know Supreme Court nominees, I see a lot of reasons I should be scared.
"But there's hope and what I'm seeing along with this is I think far more powerful."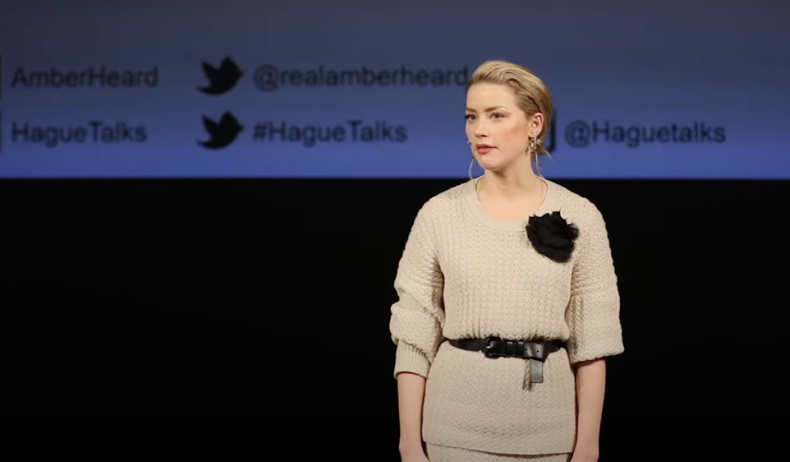 The speech going viral comes following Heard being the center of an onslaught of social media posts in recent months, where old footage has been combed over in search of controversial moments.
The focus intensified from April, when Heard embarked on a six-week court battle with Depp, who had filed a $50 million lawsuit against her over her 2018 op-ed in The Washington Post, in which she said she was a domestic abuse survivor.
During the trial, Heard and Depp leveled a series of accusations at one another, including allegations of domestic violence—claims that each star vehemently denied during their respective testimonies.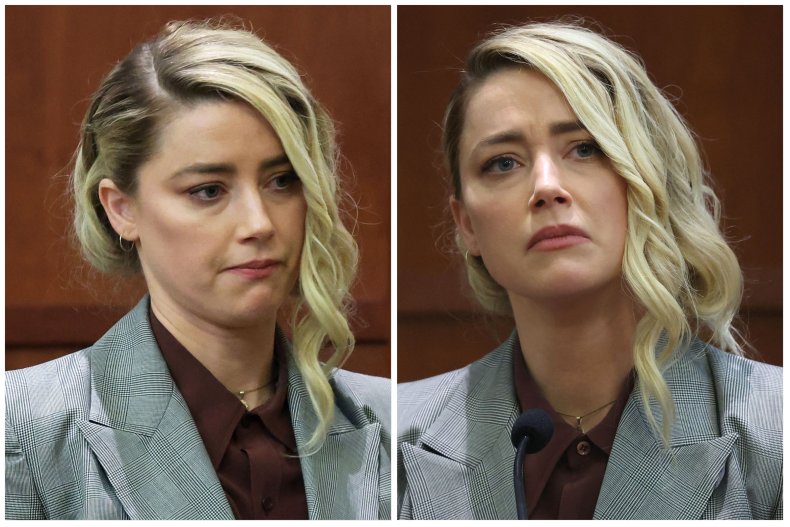 In June, the jury awarded Depp $10 million in compensatory damages and $5 million in punitive damages, after finding Heard's claim to be false and defamatory. The judge adjusted the punitive damages to $350,000, as Virginia law limits the value of punitive damages available.
Heard, who had countersued for $100 million, was awarded $2 million after it was found that Depp's former attorney, Adam Waldman, had made defamatory comments about her.