'Why Can't He Look at Me?' Amber Heard Says Depp's Court Actions Show Guilt
Amber Heard took the witness stand again on Tuesday and amid the redirect of questions, Heard asked of ex-husband Johnny Depp, "Why can't he look at me?"
During the high-profile trial, it has been noted that Depp, who is suing Heard for $50 million for defamation, has hardly looked at Heard while she testified in her defense.
On Tuesday, Heard's attorney, Elaine Bredehoft asked why she believes Depp cannot look at her.
"Because he's guilty," Heard replied. "He knows he's lying. Why can't he look at me? I survived that man and I'm here and I'm able to look at him."
On Monday, Depp's attorney, Camille Vasquez, opened her cross-examination of Heard by saying, "You know why he won't look at you. He told you you would never see his eyes again."
Vasquez then played a recording from a meeting in 2016 after Heard filed a restraining order against Depp. In the recording, Depp said, "I will always be nothing to you. You will not see my eyes again."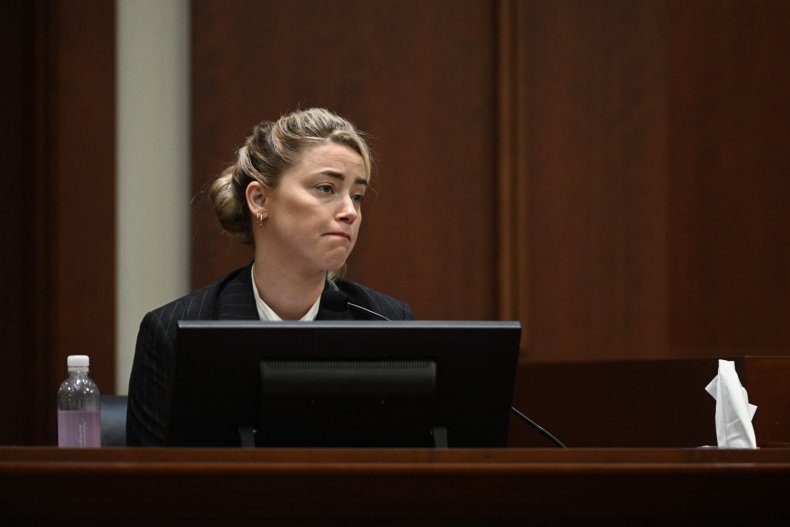 Vasquez then asked Heard if Depp had kept his promise to her. Heard replied, "As far as I know, he cannot look at me."
Heard's defense testimony began on May 4 and continued on May 5 before taking a week-long hiatus. She took the stand again starting on May 16, and throughout her time on the stand, Depp appeared to keep his head down and has noticeably seemed to be doodling or otherwise not looking at Heard.
Julie Grant, a host on Court TV, which is broadcasting the trial, told the U.K. TV show Good Morning Britain that she found Depp's refusal to look up "concerning."
"I thought Amber Heard testified as well as she could," said Grant. "Him looking down most of the time was concerning. Sometimes it can be effective to look like you're not paying attention to a jury. That's a trial advocacy trick."
Grant added, "But to do it for such a prolonged period of time on Wednesday, that to me was a problem. I'm mindful that these two are actors. It's really hard to know what is authentic and what is an act."
Depp's behavior was debated on social media as well, as some people stated that his refusal to look at Heard signified the dynamic between an abuser and the abused.
Eastern Eye columnist Asjad Nazir tweeted, "I have been told abusers stare at victims in court. The Abused can't look at the tormentor. When #JohnnyDepp testified #AmberHeard was staring at him and has done throughout. He refuses to look at her."
Others concurred with Heard that Depp's behavior signified guilt, and one Twitter user wrote a few weeks ago, "The way #JohnnyDepp is behaving is so rude and dismissive. Sitting there head down, doodling. If he was innocent he'd be head up, focused, listening to the testimony. Not his witness though is it? Questionable behavior."
The trial will continue and closing arguments are expected on May 27.
Update 5/17/2022 5:25 p.m.: This story has been updated to include new information and more background material on the trial.