Amber Heard's Expert Witness Compared to Movie Villain After Odd Testimony
One of Amber Heard's expert witnesses caused a huge reaction online after his "villain"-like behavior caused a huge reaction online, and from Johnny Depp during the trial.
Psychiatrist Dr. David Spiegel caught the attention of viewers who were watching the Depp v. Heard trial on Monday. Several of his answers and mannerisms have gone viral online since he took the stand.
The current trial between former married couple Depp and Heard is entering its final week at the Circuit Court in Fairfax County, Va. Depp is suing Heard for $50 million in loss of career earnings after she wrote a 2018 op-ed describing herself as a survivor of domestic violence.
Dr. Spiegel took the stand on Day 20 of the trial and gave testimony for almost three hours. Throughout his time on the stand, social media users, specifically those on TikTok, found moments to highlight. He was also the subject of some scathing reviews on Twitter too.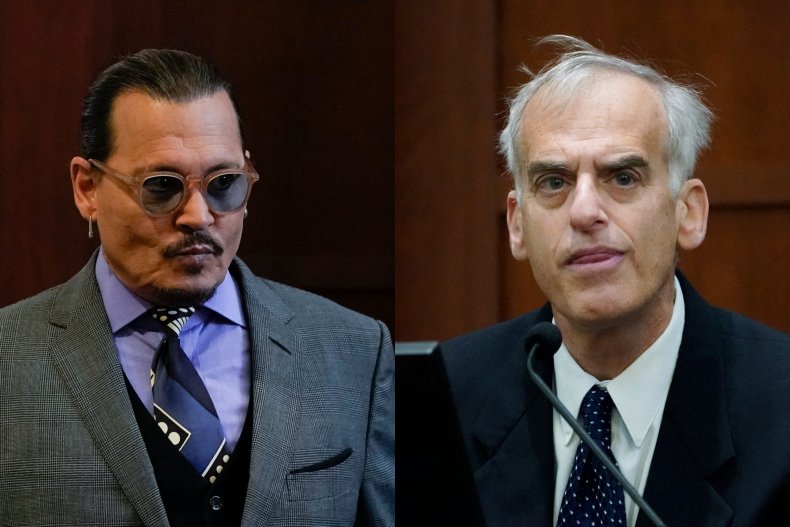 Longtime social media user Ozzy Man Reviews shared his take by sharing a clip of Dr. Spiegel seemingly licking his gums and asking the judge if he has to answer a question. "Seriously tho?! Why do so many witnesses on on the side of Amber Heard feel like f#%king villains?" Ozzy Man asked. "He could be in a horror movie set in the 1940's about a psychiatrist that gets off on issuing lobotomies or something bloody sinister."
In the video which has been viewed over seven million times, Ozzy Man wrote, "I'm officially frightened of medical practitioners after this bloke testified..."
Another video posted by @mculokii has been viewed 8.5 million times compiled several moments from Dr. Spiegel's time on the stand. Dr. Spiegel was told multiple times by Judge Azcarate that he "just needs to answer the questions." The camera pans next to Depp who can be seen laughing on occasions, and holding his head in his hands at other times.
The TikTok user @devotedly.yours also posted a compiled video of Dr. Spiegel and summarized that "Witness number 2 is ready for a fist fight" due to his verbally combative behavior with Depp's legal team.
Popular writer Asjad Nazir spoke out against Dr. Spiegel and decided he "should not be allowed anywhere near a courtroom." She continued on that it was "unbelievable" how Dr. Spiegel provided a professional evaluation of Depp from his movies alone without having met him.
"Anyone who has been convicted or lost a court [case] because of Dr David Spiegel should use his car crash testimony today to file an appeal. Shocking how uninformed and unprofessional he is. Worst professional witness I have ever seen," she wrote.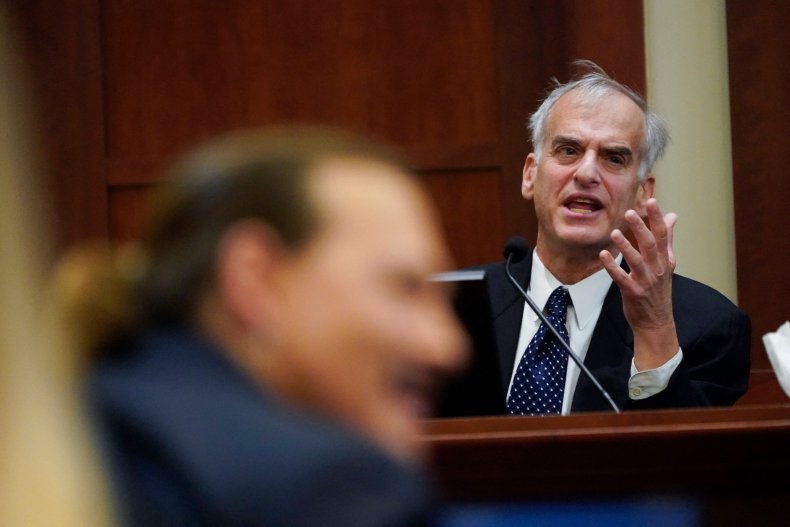 Another Twitter user, @CA_Divorce called his testimony an "ethics violation." He continued, "Spiegel acknowledges the rule against giving opinions about people they have not evaluated but does it anyway."
Elsewhere social media was filled with people commenting on his aggressive nature on the stand. "Dr. David Spiegel is wildin' out on stand. They should just go ahead and dismiss him," @KMilly33 wrote. A TikTok commenter wrote, "This is literally comedy. Johnny payed zero dollars to embarrass Amber's team."
The Depp and Heard trial continues today as the final week of court proceedings continues. Follow Newsweek's live blog for all of the biggest breaking news coming out of Fairfax County, Virginia.