Amber Heard Pal Says Women Who 'Hate' Her Have 'Low Self-Esteem'
Eve Barlow has openly criticized women who hate her friend Amber Heard because of their own "low self-esteem" and jealousy of women with "strength" and "beauty."
Barlow has continued to be a vocal supporter of Heard throughout the current trial between her and Johnny Depp.
Depp sued Heard for $50 million in a defamation suit after Heard wrote a 2018 op-ed about being the survivor of domestic violence. During the trial, multiple media sources reported that Barlow has been banned from attending the court for violating its no-phone policy.
Continuing to speak out on behalf of Heard at a time when the internet seems to be siding with Depp, Barlow has given her take on why women appear to "hate" Heard.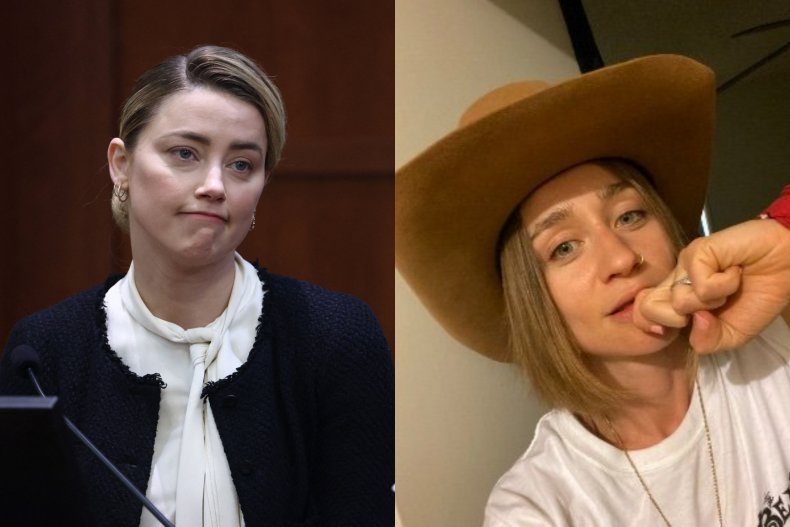 "It's easy for women with low self-esteem to hate AH or justify their prejudice towards archetypal feminine strength/beauty by denying their envy of it," Barlow wrote on Twitter, in response to a question posed by Dr. Charlotte Proudman.
Proudman had asked her Twitter followers if "women hate other women?" and if so, why?
Barlow continued: "They perceive an afforded power that's truly a myth, and excuse their own inefficiency at being resilient against misogyny."
Continuing her point in another tweet, Barlow suggested Heard's privileged position as a celebrity may explain why she's viewed differently to other victims.
"[Amber Heard] had to fight for her life, despite her position and assumed privileges. She still wasn't afforded a savior," she added in a separate tweet. "It's much easier to get behind a woman who plays the damsel in distress than it is to empathize with a woman who has had to liberate herself."
Barlow's comments have divided opinions online with some supporting her hypothesis, but many more criticizing her for it in the comments section.
While @BosmerArcher5 thanked Barlow for voicing her stance, "This is a brilliant and astute take," @toriaulian told Barlow, "for the love of god, come back to reality!"
"So women who don't support Amber Heard have low self esteem? Wow," wrote @0Ciestiel0 who also claimed the "animosity" towards Heard was because for a long time Depp wasn't allowed to share his side.
Meanwhile, @OliverPeed deduced that Barlow's argument has resorted to "you're just jealous of her."
Another Twitter user, @Katiesmith0888 agreed with "I believe this to be true" but other comments supporting Barlow's argument were few and far between.
Barlow has been a consistant supporter of Heard throughout the trial and spoke out against a new TikTok trend on Tuesday. "Anyone actively mocking testimony about abuse is contributing" to silencing survivors, Heard's friend tweeted.
Candace Owens weighed in on the backlash against Heard and related it to the case involving musician Kesha. "Love that everyone realizes what Amber Heard is but it feels appropriate to remind you all that [Kesha Rose] did it first. And Got away with it," Owens wrote on Twitter.
Barlow barbed back at this tweet: "Well I'm glad Candace Owens has now proven how demented you all sound. Kesha was also not a perfect victim. Your misogyny is showing," said Barlow.
The Depp v. Heard trial will resume at 9 a.m. ET on Monday, May 16 and Newsweek will continue to bring you live coverage of all the major developments from the Fairfax County Circuit Court in Virginia.