Law TikTokers' Theory of Amber Heard Juror Identity Goes Viral
Amber Heard and Johnny Depp's blockbuster defamation trial is continuing to make headlines and now the actress' legal team has claimed that one of the jurors was not actually the person summoned to be on the jury.
In June, Heard was found liable for defaming her ex-husband in an article for The Washington Post in 2018 after weeks of brutal testimony from both sides.
However, the Aquaman star's attorneys have now said that her due process was violated and called on the judge to declare a mistrial—and theories on the matter are going viral on TikTok.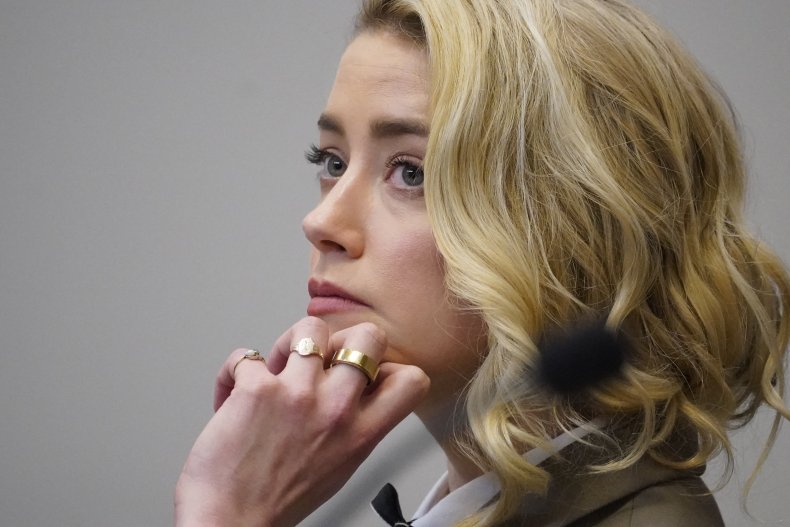 Heard's attorneys have filed court documents claiming that someone who had been originally summoned to serve as a juror in the trial had not appeared and was replaced by someone else.
Juror 15 was apparently born in 1970, but the summons to be a juror was for someone of the same last name born in 1945, court documents dated July 8 said. This meant that the person "was not part of the jury panel and could not have properly served" in the trial.
The documents filed in the circuit court in Fairfax, Virginia, said that "due process was therefore compromised" and as such "a mistrial should be declared, and a new trial ordered."
It is not clear yet if the court was aware of the alleged error prior to the trial and Depp's attorneys have 30 days to respond to Heard's motion.
"Apparently one of the jurors wasn't who they were supposed to be," legal TikTokers the.law.says.what said in a video on the subject.
The TikTok video, which can be watched here, has clocked up more than 300,000 views on the platform.
"The jury summons was sent for a 77-year-old but a 52-year-old with the same last name showed up and sat through the trial for six weeks, and voted in favor of Johnny Depp," they explained.
The couple has said it is possible that the 77-year-old and 52-year-old are related, as they share the same name and address.
"It looks like this 52-year-old lives at the same place as the 77-year-old and given they have the same last name they're presumably related.
"So did they receive the summons it simply mistakenly think it was for the 52 year or did the 52-year-old simply not want their 77-year-old parents who go through a stressful jury process?"
In the court filing, Heard's team also said that it was "deeply troubling for an individual not summoned for jury duty nonetheless to appear for jury duty and serve on a jury, especially in a case such as this."